"Bitterness and anger is still there. People are still suffering from mental problems and blindness."
The Pan Asia Film Festival is the only UK festival to showcase films across the whole of Asia. It celebrates both the individual talents and creative collaborations of filmmakers, storywriters and actors who have a strong foothold in Asian cinema.
2014 saw an impressive selection of hard-hitting drama, from the likes of Unforgiven (Lee Sang-il, Japan); Mary is Happy, Mary is Happy (Nawapol Thamrongrattanarit, Thailand); and Honour, directed by Shah Khan which exposes the threat of honour killing that exists even today among British Asian communities.
In particular, Bhopal: A Prayer For Rain has impressed audiences outright with its compelling storyline and emphatic screenplay.
In what is his first cinematic project, paediatrician turned director, Ravi Kumar has taken on a huge feat by documenting the incidents of the Bhopal gas tragedy that took approximately 2,300 lives in 1984.
At the time, the gas leak caused by Union Carbide, an American-owned chemical plant in the small town of Bhopal, was considered one of the biggest industry disaster's in the world.
What makes the incident even more astonishing is the refusal of Union Carbide to accept any responsibility, blaming instead the factory managers and workers. Compensation for the victims amounted only to $300 per corpse – this is a fraction in comparison to the BP oil spill disaster that took place in 2010.
In an exclusive interview with DESIblitz, Ravi speaks about the necessity to portray the tragedy for newer audiences and younger generations. He agrees that there were big expectations surrounding the film, and he felt pressure to make a film that was deserving for the victims of Bhopal and their families who are still affected by the event even today:
"This was the first fiction film about the Bhopal tragedy. So there were a lot of expectations. Particularly from the Bhopal victims and their families, who were still sensitive to the subject.
"It was essential that we got the technical and medical details absolutely right. Even the costumes, and we knew they would judge us on every detail. I felt we had a responsibility that the story gets out in the world."
Set in English, the film hails an impressive star cast that includes Martin Sheen, who plays Union Carbide owner Warren Anderson, Kal Penn, Mischa Barton and Rajpal Yadav:
"It was great having Martin Sheen on board. He brought the film and story to life. He agreed to do the film within 2 days. He also insisted that he wanted to be a part of the shoot in India," explains Ravi.
The film itself follows the incidents and events that lead up to the night of the gas leak. We become acquainted with the thousands of shanty houses and slums that are built on the wayside of the Union Carbide plant. Dilip, played by Rajpal Yadav, is a sincere and dedicated worker who is struggling to feed his family and pay for his only sister's wedding.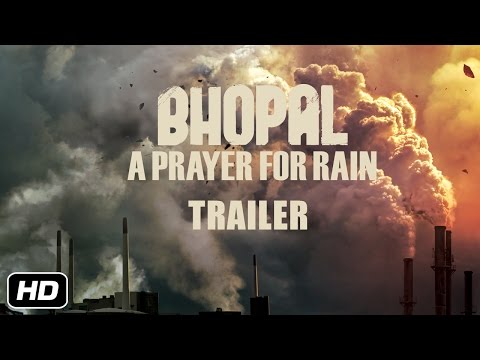 He is rewarded with a job at the factory and works there for as many hours as he can. The factory is in a bad state, there are limited safety regulations in place and the workers are not protected from the toxic concentrations of chemicals they are dealing will. The factory manager however, refuses to admit the pitiful working conditions and pushes his workers even more.
Already suspicious of the big American build and its unacceptable working conditions, journalist Motwani (played by Kal Penn) is tipped off about the potential danger of the pesticide plant following a worker's death, and attempts to recruit a touring American reporter, Eva Gascon (played by Mischa Barton) to help him.
Eva questions Union Carbide owner Warren Anderson about the dangerous chemicals and their effect on the workers. Anderson however talks her down and refuses to believe any ill doing.
Eventually we find that little is done to warn or counter the ensuing tragedy that we know is about to happen, and rather than be saved in time, 500,000 people living in the shadow of the plant are exposed to the lethal toxic gas, cyanide. Speaking about the storyline, Ravi says:
"What we did was compress the time from many years to literally the span of 6 months. We also wanted the audience to socially engage with the characters and build a bond with them – so when the tragedy happened, there was more empathy. Otherwise, the film would have been dry and uninteresting otherwise – and very documentary-like.
"The world is 30 years later, and the acute trauma is less. We can now look at the subject more objectively. We have more research and factual evidence than we did 30 years ago. So the film is more historical.
"We want people to learn from it and do something about it – not like Mischa Barton's character who walks away. Essentially, we don't want to repeat such a disaster ever again. And rather than blaming anyone in particular, we want to learn from our mistakes."
Ravi is hopeful that his film will be a success in raising awareness for younger generations, even in India, who have no idea that such an event took place:
"Although I cannot speak on Bhopal's behalf, I think bitterness and anger is still there. People are still suffering from mental problems and blindness. Even after so long, feelings of injustice linger on and this is towards both Union Carbide and the Indian government."
Through sensitive screenplay and a strong script, Bhopal: A Prayer For Rain is a hard-hitting film that exposes all issues of injustice and suffering that many people across the world suffer day-to-day at the hands of power, greed and corruption.