"He is a monster. He is strong and fun to play, in that sense."
Despite 2020 and 2021 being challenging years for cinema, 2022 should be exciting, especially with an array of upcoming pan Indian movies releasing.
These pan Indian movies will release in various languages. These include Telugu, Hindi, Kannada, Malayalam.
In terms of genres, there is a good mix including action, period, and romance to name a few.
Big stars from the world of Bollywood and South cinema will feature in these upcoming pan Indian movies.
We have put together a list of 10 upcoming pan Indian movies of 2022, which may interest film lovers.
Vikrant Rona (Kannada, Tamil, Malayalam, Hindi, Telugu)
The teaser of Vikrant Rona came out in September 2021, giving the audience a little glimpse of the movie. The spectacular visuals of the movie, make it one to watch out for in 2022.
The film stars Kicha Sudeep (Vikrant Rona) who last came as a villain in Dabbang 3 starring Salman Khan. The language fantasy film is a direction of Anup Bhandari.
The film also stars Jacqueline Fernandez (Racquel D'Costa) and Nirup Bhandari (Sanjeev Ghambria).
The famous Burj Khalifa in Dubai, United Arab Emirates was the venue for the announcement of the film in 2021.
The Kannada actor explained to Gulf News why they chose this location for the initial marketing:
"We wanted to hit the biggest display in the world and there's no bigger display in this entire world than the Burj Khalifa in Dubai."
Will this Kannada biggie produce the same result as K.G.F: Chapter 1 (2018)? Everyone will have to wait and see on February 24, 2022?
Watch the Teaser for Vikrant Rona here: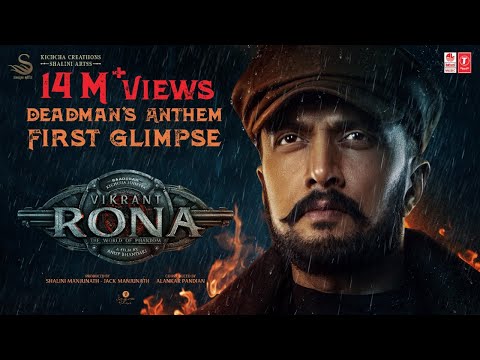 K.G.F: Chapter 2 (Kannada, Hindi, Telugu, Tamil, Malayalam)
When K.G.F: Chapter 1 hit the theatres in December 2018, expectations were of curiosity and a sense of ambiguity.
The pan Indian movie, however, was a massive blockbuster across India, propelling Kannada superstar Yash into a nationwide superstar.
The success has raised the excitement of K.G.F: Chapter 2. This is amongst the best upcoming pan Indian movies of 2022.
The teaser, which was released in January 2021 has amassed over 236 million views and 9.2 million likes on YouTube.
Such statistics showcase the worldwide frenzy for this pan Indian epic, which follows on from the first chapter.
April 14, 2002, will be one date to remember forever when the film releases.
Watch the Teaser for K.G.F: Chapter 2 here:
Adipurush (Telugu, Hindi, Kannada, Tamil, Malayalam)
When T-Series announced the release date of Adipurush, the excitement was real. The epic historical film joins the list of upcoming pan Indian movies that everyone wants to see.
Starring Prabhas (Adipurush), Saif Ali Khan (Lankesh), and Kriti Sanon (Janaki), the movie is a direction of Om Raut. The movie came to a wrap-up in November 2021.
Raut whose earlier movie was Tanhaji (2020), spoke to the Times of India about Prabhas and Saif's body reshaping:
"There is quite a lot of work that is occurring. Saif and Prabhas have undergone an exceptional bodily transformation and there's large motion concerned too."
He continues particularly about Prabhas:
"There is quite a lot of bodily transformation that Prabhas has undergone from an artiste's standpoint".
Saif who plays the antagonist talks to Film Companion about his character.
"The point is that Ravana is India's Satan, he's the demon king. And I guess what drives him is vanity. He is a monster. He is strong and fun to play, in that sense."
Seeing both legendary characters clash on-screen will certainly be a delight to witness. August 11, 2022, is going to be a special day when the film releases.
Liger (Hindi, Telugu, Tamil, Kannada, Malayalam)
Telugu star Vijay Deverakonda has not had a release since his last movie World Famous Lover (2020).
The maverick actor who gained nationwide fame following Arjun Reddy (2017) [Remade in Hindi as Kabir Singh: 2019] is stepping into Bollywood.
Liger is one of the most anticipated upcoming pan Indian movies of 2022.
The movie stars Vijay (Liger), Ananya Pandey (Liger's girlfriend), Ramya Krishnan (Liger's mother), and Ronit Roy (Liger's coach) in important roles.
The biggest surprise, however, is legendary American boxer Mike Tyson making a cameo appearance in this project.
The incredible announcement has raised expectations to a whole new level.
Liger promises to be an edge-of-seat sports drama about Liger's journey from a chaiwallah to an MMA superstar. The teaser has indicated an enthralling technical movie.
Dharma Productions and Puri Connects who have co-produced this film have confirmed that Liger will release on August 25, 2022.
The year 2022 will definitely be a special year for fans of Vijay Deverakonda.
Watch the Teaser for Liger here:
Brahmastra (Hindi, Telugu, Tamil, Malayalam, Kannada)
Brahmastra is one of the most exciting upcoming pan Indian movies to release in 2022. 2018 was the last time we saw Ranbir Kapoor on screen. Hence, the frenzy of this superhero epic.
Brahmastra has a wonderful ensemble cast. This includes Ranbir (Shiva Tripathi), Alia Bhatt (Isha Mishra), Amitabh Bachchan (Professor Arvind Chaturvedi), and Mouni Roy (Damayanti Singhania).
Ayan Mukerji of Wake Up Sid (2009) and Yeh Jawaani Hai Deewani (2013) fame takes the director's chair for this film.
The director in an interview with Variety states, how Brahmastra was his dream project and mentions the core inspiration:
"Brahmastra,' is very inspired by Indian mythology and Indian culture. It is set in the modern world with modern characters, so in many ways, it is a modern mythology of our own."
Indian cinema has seen very few superhero films that centre around Indian mythology. Therefore, it is natural for the film to create a buzz.
Watch the Motion Poster for Brahmastra here:
Pushpa 2: The Rule (Telugu, Hindi, Tamil, Malayalam, Kannada)
Pushpa 2: The Rule will take off from where Pushpa: The Rise – Part 1 left. The second part will give the audience a "closure to Pushpa's life."
Allu Arjun who will also star in the sequel told Koimoi that he was "genuinely charged up", adding:
"I am very enthusiastic to shoot it because I am believing that we can give much more in part 2…"
"We have an amazing opportunity to explore the best in part 2, we are all in a mindset to give our best."
Rashmika Mandanna and Faadh Faasil also have prominent roles in the film, with a host of actors playing supporting acts.
Sukumar will direct the action-entertainment film. Sukumar went on to talk about the story of the film with Pinkvilla, stating:
"It's about the conflict between Pushpa and Shekhawat."
"When I completed the entire script, I felt that Pushpa 2 has a very interesting drama. I promise, I won't disappoint and I hope the audience enjoys the sequel too."
Everyone is keenly awaiting the sequel and reportedly will release in late 2022.
Ponniyin Selvan I (Tamil, Telugu,Hindi,Kannada, Malayalam)
Mani Ratnam is regarded as a legend in Indian cinema with countless unforgettable classics in Tamil cinema.
He is also known for Bollywood movies such as Dil Se (1998) and Yuva (2004). Mani helming Ponniyin Selvan I makes it one of the most awaited upcoming pan Indian movies for 2022.
The epic historical pan Indian action movie, based on the Tamil epic novel of the same name has an ensemble cast.
The film stars Vikram (Aditya Cholla II), Aishwarya Rai Bachchan (Nandini, Mandakini Devi, Oomai Rani), Karthi (Vallavaraiyan Vandiyadevan), and Trisha Krishnan (Kundavai Pirattiyaar).
Ponniyin Selvan I is reportedly the second most expensive Indian and Tamil movie of all time after 2.0 (2018).
Filmed as Part 1, this pan Indian movie will surely be another benchmark for Indian cinema.
Radhe Shyam (Telugu, Hindi, Tamil, Malayalam, Kannada)
Radhe Shyam is a period romantic film and one of the most dramatic upcoming pan Indian movies for 2022.
The movie stars Prabhas (Vikramaditya) and Pooja Hegde (Prerana) in titular roles.
Going by the teaser and trailer, Radhe Shyam is set in Europe, focusing on the epic relationship between Vikramaditya and Prerana.
The movie was scheduled to release in January 2022 but was postponed due to the surge of Omicron variant cases.
According to reports, the producers rejected an Amazon Prime offer of Rs 350 crore (£35 million) for exclusive streaming rights.
This will be great news for everyone desperate to see Prabhas on the big screen.
Watch the trailer of Radhe Shyam here:
RRR (Telugu, Tamil, Hindi, Kannada, Malayalam)
RRR is an upcoming pan Indian Telugu action period drama film. It stars Jr NTR (Komaram Bheem), Ram Charan (Alluri Sitarama Raju) and Alia Bhatt (Sita) in lead roles.
Ajay Devgn also has an extended cameo appearance in this film. The film is directed by legendary director SS Rajamouli whose Baahubali franchise created a new benchmark in Indian cinema.
RRR is a fictional tale about Komaram and Allur who revolt against the British empire. Expectations for this film became huge since its announcement in November 2018.
Despite multiple postponements owing to the pandemic, fans are still looking forward to this film. Famous director Karan Johar predicts RRR to have a massive opening day at the box office:
"I believe RRR is going to open massively. If you read Ormax Media's tracking number, it's close to Rs. 30 crores for day 1 in Hindi – just Hindi. That's huge".
Everyone is hoping that the producers of RRR will lock in a release date for 2022.
Watch the Trailer for RRR here:
Valimai (Tamil, Hindi, Kannada, Telugu, Malayalam)
When we think of big upcoming pan Indian movies of 2022, Valimai instantly springs to mind.
The Tamil action thriller stars Ajith Kumar (Arjun IPS) and Huma Qureshi (Heroine) in lead roles.
The movie was scheduled to release on January 13, 2022, but was postponed due to the rise in Omicron-related cases.
Despite the delay, the hype surrounding Valimai is still intact.
The film brings together Ajith Kumar and director H.Vinoth, whose last film Nerkonda Paarvai (2019) was a critical and commercial hit. It was a remake of the Bollywood film, Pink (2016)
A release date of this pan Indian movie is yet to be confirmed. However, once the release date has been fixed, one expects Valimai to score big at the box office.
Watch the Trailer for Valimai here:
2022 is set to be a fascinating year with these 10 top upcoming pan Indian movies releasing, along with others.
Pan Indian cinema is a phenomenon, which is rising across every industry. It is financially, culturally, and linguistically a fascinating product that brings Indian cinema closer.
So, which of the upcoming pan Indian movies excite you the most? Well, let's hope they all see a cinema release, hopefully without any restrictions.