"Now I'm looking at big wins abroad."
Gautam Singhania is clearly a car lover judging by some of the vehicles in his collection.
The Indian businessman amassed his fortune from Raymond Group, the world's largest producer of worsted fabric. He is currently the chairman and managing director of the company.
His success has seen his wealth skyrocket and his net worth is said to be £1.07 billion (Rs. 9.9 Arab).
Apart from his business ventures, Singhania is passionate about fast cars.
He has a love for speed and many of the vehicles in his collection are specifically built to go fast.
Singhania himself has even modified some of his purchases so that they go even faster than before.
This means some of his cars are very expensive but it also means that they are also exclusive.
We look at some of the top cars in his collection.
Ferrari 458 Speciale
While Singhania has a wide array of luxury motors, one of his most unique vehicles is a Ferrari 458 Speciale.
It is not just any 458 as his has been heavily modified. The car is covered in his company logos and finished in red and white.
To own a Ferrari is one thing, but the businessman took it one step further by racing it.
At the 2014 Ferrari Challenge in Abu Dhabi, Singhania used the car to take part in the race. Not only did he complete the race, but he also managed to bag a spot on the podium.
His Ferrari boasts just under 600 brake horsepower (bhp) and goes from 0 to 62mph in just three seconds.
The standard edition of the Ferrari 458 costs around £200,000 (Rs. 1.9 Crore). However, it is unknown what Singhania's custom version is priced at.
It is bound to be a lot more when considering the modifications needed to make it ready for the racetrack.
As well as being an owner of expensive supercars, Singhania is also capable of racing in them as seen with his Ferrari.
Nissan Skyline GT-R
We know that the businessman is a keen racer and he owns cars specifically built for it.
His Nissan Skyline is one of those vehicles that he uses for racing. On paper, it is not his most expensive purchase but years of modifying has transformed it into a speed demon.
The Japanese sports car boasts 1,000 horsepower and goes from 0 to 62mph in just 2.5 seconds. This is compared to 473bhp that comes from the stock version.
It is no surprise that Singhania has used it to participate in drag races across India. He has won many races and is even a record holder.
He made it into the Limca Book of Records in 2008 when he set the record for the fastest time to drive a quarter mile.
Singhania completed it in 9.2 seconds. Being the competitive man he is, Singhania has spoken about breaking speed records in other countries.
See the Nissan Skyline in Action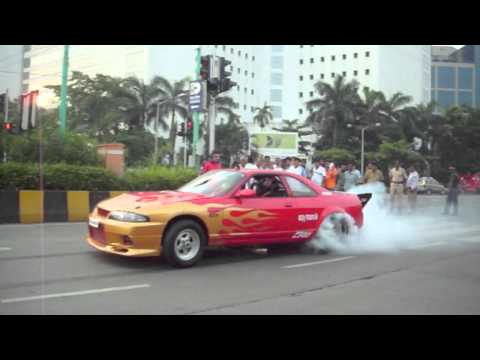 Following his record-breaking time, he said: "Now I'm looking at big wins abroad."
It is not known how much Gautam has invested in his Skyline, but the crimson-coloured car has been customised for one thing. Speed.
Ariel Atom
Gautam Singhania's car collection prioritises speed over comfort and the Ariel Atom is a perfect example.
The British-made car is arguably the least practical in his collection as it has no roof or even doors.
It is all about speed and Singhania showcased it at the 2010 Parx Super Car Show in Mumbai.
The minimalist design is intentional in order to maximise straight line performance.
Gautam's version is a V8 which costs at least £122,000 (Rs 1.1 Crore). This is compared to the £38,000 (Rs. 35 Lakh) price tag of the original one.
However, the price increase means a bigger engine and that means much more power.
When combining the 500 horsepower with the 550kg weight, it makes for a fast accelerating car.
The Ariel Atom goes from 0 to 62mph in just 2.3 seconds, meaning it is quicker off the line than a Bugatti Veyron.
It truly is one of the most unique vehicles to drive and Singhania is one of just a small minority of people who own one.
Lamborghini Aventador SV
Apart from purchasing vehicles that are solely for speed, Singhania is also a fan of the luxury supercar.
One notable motor in his collection is the Lamborghini Aventador SV. Singhania imported the Italian supercar from the UK.
His car is the Superveloce (SV) which is reserved for only the ultimate editions of Lamborghinis. Only 600 of this particular edition exists worldwide.
With a more exclusive edition comes enhanced specs. While the original has just under 700 horsepower, this has almost 750bhp.
It is also 50kg lighter which allows the SV to go from 0 to 62mph in 2.8 seconds. Even with lavish cars, Singhania cannot resist opting for the faster one. The Aventador SV reaches a top speed of 217mph.
The exclusivity of the Aventador SV and enhanced specs makes the price tag heftier.
A normal Aventador costs in the region of £260,000 (Rs. 2.4 Crore) whereas the SV is priced at £315,000 (Rs. 2.9 Crore).
It may be expensive but Singhania's vibrant yellow supercar is sure to stand out on the streets of Mumbai.
Ferrari LaFerrari
While Singhania's collection is filled with unique vehicles, the Ferrari LaFerrari is one which truly showcases his wealth.
The car was introduced at Singhania's 2015 Super Car Show and it made headlines. It was the first one to be bought in India.
The LaFerrari is already limited as only 499 were produced worldwide and Singhania is responsible to introduce the Italian hypercar.
At the event, Singhania said:
"There are only 499 of these cars produced in the world and this is the first one in India."
It is certainly not cheap as the buyer must be willing to part with £1.1 million (Rs. 10 Crore) in order to purchase the lavish motor.
Even if you have the money, you cannot just buy one. Ferrari selects individuals to be owners, which means Gautam is part of a select group.
The one of a kind car is a hybrid which produces a whopping 950bhp and can reach 217mph and beyond.
Singhania is a true petrolhead to be one of a small percentage of people to own the LaFerrari.
McLaren 720S
Although Gautam Singhania owns luxury vehicles like Ferraris and Lamborghinis, he also has a liking for the rare McLaren.
He purchased the McLaren 720S in 2017 and it is a special car. It is one of only 400 launch editions and is arguably one of the most extravagant.
The futuristic design is certain to attract attention as it drives through the streets of Mumbai.
Singhania bought the car to India through Carnet, this allows him to import it into India for a limited period of time.
This sadly means that car enthusiasts may never see Gautam's McLaren as it will spend most of its time in Dubai.
The businessman's purchase is seriously quick as it is powered by a 4-litre V8 turbocharged engine which produces 710bhp.
It did cost £208,000 (Rs. 1.9 Crore) but the McLaren will turn heads whenever Singhania decides to go for a drive in it.
BMW 3-Series
Singhania loves to race and he has a number of cars that have been modified for specific car competitions. When it comes to drifting, he relies on his BMW 3-Series.
He transformed the German saloon into a vehicle made for going sideways. By modifying the car, it was the first drifting car in India.
The chalk-coloured vehicle has given Singhania the opportunity to practice the art of drifting. The motorsport has always been one that has intrigued him.
As the founding chairman of the Super Car Club, Singhania has competed in drifting competitions.
Speaking about drifting, he said: "Drifting as a motorsport has always attracted and intrigued me. I always wanted to learn this form of motorsport."
He is also trying to bring motorsport to India and his BMW is a testimony to car competition.
The car has been modified in order for it to be able to do well during drifting competitions. It is likely that the vehicle is lighter than before.
Watch Gautam drift in the BMW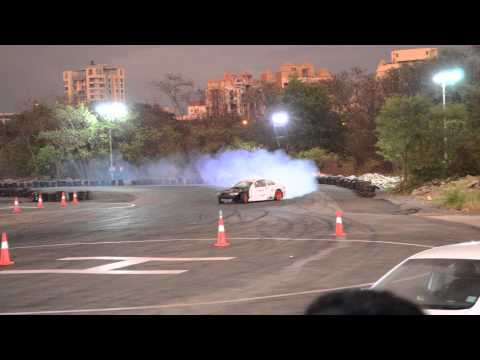 It has also been fitted with chunky tyres so that it is able to survive extreme powerslides across the tarmac.
As it is the first car made for drifting in India, Singhania's BMW is somewhat of a pioneer within the country.
Singhania's car preferences seem to edge towards high performance as opposed to elegance like other billionaires.
His car collection is all about speed but each car has its own unique qualities.
Some are reasonably cheap when bought, but have become more expensive as a result of heavy customisations. Others are expensive and are in an elite class when it comes to prestigious car manufacturers.
Gautam Singhania's car collection is always growing and with new car models releasing all the time, it is difficult to say what will be the next.
It is likely that his next purchase is bound to be a costly one.