You're going to need a neck brace after revving this high-performance cuddly monster!
It won't be long now until the eagerly anticipated Forza Motorsport 6 (FM6) hits the shelves.
The wildly popular video game will no doubt immerse car gamers into what looks to be the most realistic racing simulation to date.
With over 450 cars to choose from, FM6 has more than doubled its last collection to bring you the biggest ever range of shiny cars!
A raft of cars are being introduced in tranches to the Forza garage in a nail-biting marketing ploy as the release date looms.
For Desis the world over, BMWs have always been a massive favourite.
Great news is FM6 has increased its BMW range from 13 to 28 models, with some newbies hot on the scene.
DESIblitz takes a look at the 10 best BMW cars you can be sure to get behind the wheel of and burn some rubber.
1. 1981 BMW M1
This classic Giugiaro-designed sports car definitely has some Italian flair to it and does not look out of place parked next to any Ferrari.
2. 2000 BMW Z8
This German roadster is a stylish design experiment, based on the Z07 concept car. With 0-62mph in 4.2 seconds, you'll need to spend a few bob on the engine to get it up to speed.
3. 2003 BMW M5
Known as the E39 M5, this sporting variant of the 5 series has some serious raw power. Its S62 V8 engine will be a beast on the virtual track.
4. 2005 BMW M3
Fans of aspirated engines will revel at 2005 M3, and this model gives the likes of Porsche a run for their money.
5. 2008 BMW M3
This fourth variant of the M3 series offers a seven-speed double clutch gearbox, so you'll be sure to feel all 414bhp pretty quickly once you see that green light.
6. 2011 BMW 1 Series M Coupé
A solid rival to the VW Golf, you are going to need a neck brace after revving this high-performance cuddly monster through the Nürburgring.
7. 2012 BMW M5
Hopefully Forza will gift us the unrestricted model which can glide up to 186mph with ease. A marvel to look at from any angle, the replays will be immense!
8. 2013 BMW M6 Coupé
Full of carbon fibre, this aerodynamic work of art will be a luxury to handle in a rip-roaring race.
9. 2014 BMW M235i
This range-topping BMW rear-wheel race car has gorgeous surface lines and inwardly protruding angles. Pimping this one up will be great fun.
10. 2014 BMW M4 Coupe
One of the latest BMW models Forza has confirmed and will be a spec hard to beat. With a very aggressive front and 3.0 litre turbo V8 engine to match, you're going to feel every bit of its 2000rpm.
Watch the trailer for Forza Motorsport 6 to get your mouth watering even more: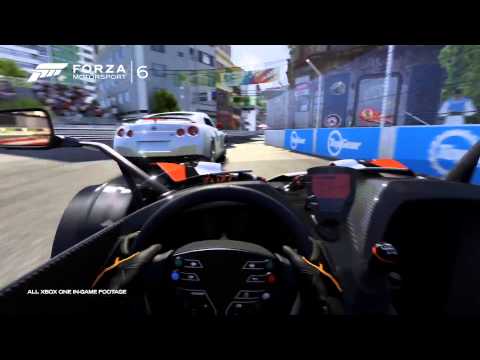 Forza is expected to announce more BMWs line-up before the game officially launches on September 15, 2015.
Until then, rest assured Desis will soon be experiencing the high-octane levels on their Xbox Ones in the above mentioned BMWs, thanks to Turn 10 Studio and Microsoft.