All this new technology helps the Italian sports car reach a top speed of 217Mph.
Kunwar Moeez Khan, aged 39, of Islamabad, imported an 18K gold foil wrapped Lamborghini to the city on Friday, August 31, 2018.
The property developer becomes the first person to bring a gold foil wrapped version of the Italian supercar to Pakistan.
This gold-wrapped Lamborghini is worth Rs. 185 million (£1.16 million) which include import customs duties and taxes paid by Khan to the government.
The incredible looking car has been imported from the UK.
Khan said:
"More than a hundred million rupees has been paid to the government as duty and taxes on this car."
"It has been imported via the UAE from the UK and reached Pakistan three days ago."
Customs officials confirmed the payment of taxes.
They said customs duty, regulatory duty and further taxes were charged on importing the gold wrapped Lamborghini to Pakistan.
Not only is the exterior of Khan's new vehicle unique but the interior will also draw eyes to it.
The gold foil wrapped Lamborghini has custom-made Versace design seats which are also gold.
They are complete with Khan's initials embroidered on them.
His gold foil wrapped Lamborghini Aventador S comes with a new V12 engine which boasts 750 horsepower.
It also features a sophisticated technology with the new LDVA (Lamborghini Active Vehicle Dynamics).
These new dynamics are controlled by a steering system involving all four wheels.
A four-wheel drive makes steering sophisticated.
Every wheel is independent of each other, maximising car control.
It's interior is filled with cutting-edge technology but is also luxurious.
It is crafted using high-quality materials and has an S embroidered on the car's trim, celebrating the car's name.
All this new technology helps the Italian sports car reach a top speed of 217Mph.
The Aventador S is a more enhanced version of the Aventador.
Compared to the first incarnation, this version has been extensively studied to maximise performance.
Check out Kunwar's new car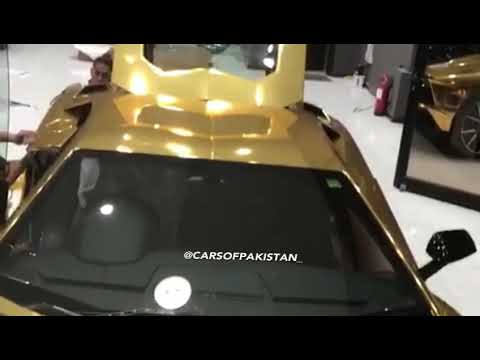 A car wrap is a large vinyl graphic which is directly applied over the original paint of the vehicle.
The application of the wrap allows the appearance of the vehicle to be changed in a short period of time.
It is something that is done to give a person's car a look unique to any other car.
Kunwar's expensive purchase is down to his role as CEO of TopCity-1.
The real estate development company is focused on changing the architectural look of Islamabad for the better.
Kunwar states that his company aims:
"To develop a modern and state-of-the-art housing project as an epitome of sustainable development."
Khan's purchase is the latest in a long line of rare and exotic supercars that he has bought over the years.
He is known to be quite a collector of luxury cars.
The tycoon was also responsible for bringing the first McLaren 650s to Pakistan when he imported it from the UK in April 2018.
In his extensive garage is also a Special Limited Edition Mercedes G63 AMG Brabus 6×6 700 of which there are 15 in the world.
It is also one of the most expensive cars in the world, costing over Rs. 165 million (£1.04 million).