"Our film was a smart adult comedy"
In the hustle and bustle of city life, an aam aadmi (common man) definitely requires a chill pill in his life. This is where Bollywood comedy films can cheer you up.
Not surprising to many, the comedy genre usually does better than others at the box office.
The primary reason for comedy doing well is that they are full-fledged entertainers.
While comedy films in contemporary times are mostly youth-centric in nature, some old gems from back in the days boasted of impeccable storylines.
From Andaz Apna Apna (1994) and Dhamaal (2007) to 3 Idiots (2009), there have been times when our stomach was bursting with laughter.
Many of these films will give everyone ticklish ribs for sure.
DESIblitz brings together a list of the 20 funniest films in the history of Bollywood. Let the belly aches begin:
Padosan (1968)
Director: Jyoti Swaroop
Cast: Sunil Dutt, Saira Banu, Kishore Kumar, Mehmood
Padosan is definitely the top contender when it comes to the best musical comedy film of all time.
Bhola (Sunil Dutt) plays a simple guy who falls in love with his lovely neighbour Bindu (Saira Bano).
He takes help from his friends to impress the girl who is getting closer to her music teacher Master Pillai/Masterji (Mehmood).
Fun and music hit the right chords with this film.
The singing bouts between the characters Bhola and Master Pillai are legendary. Kishore Kumar (Vidyapati/Guru, Bhola's friend) is the soul of this comedy.
The inspiration behind the catchy song 'Ek Chatur Naar' came from Kishore's own home.
Kishore Kumar and Manna Dey did not sing the original song.  Kishore's eldest brother Ashok Kumar sung the original track in the 1941 classic film Jhoola.
Watch the song 'Ek Chatur Naar' here: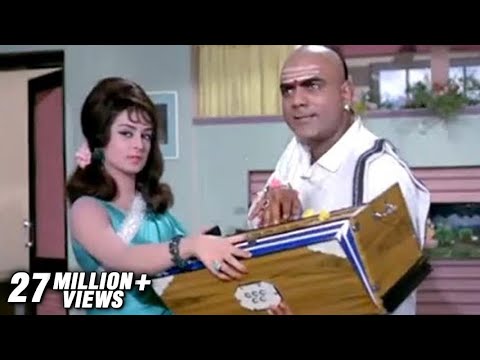 Waris (1969)
Director: Ramanna
Cast: Jeetendra, Hema Malini, Prem Chopra, Mehmood, Neetu Singh
Waris, a comedy action film, is considered as one of the most hilarious movies of the sixties.
The film is about a King's household, features Jeetendra (Ravi), Hema Malini (Geeta), Prem Chopra (Murthy) and Mehmood (Rajan/mother) in the lead roles,
Due to a difference of opinion, the King's son leaves his luxury home.
Following the death of the King, three trusted individuals of his have the difficult assignment of finding the Prince and rightfully crowning him.
One by one, three young men visit the palace, claiming to be the prince (Ram Kumar). Then begins the real funny journey.
The chemistry of Jeetendra and Hema Malini is unmatchable, especially as they were once a much-in-love couple.
Whilst the young Neetu Singh (baby) plays the sister of Ram Kumar (Sudesh Kumar), late Nazima (Komal) portrays his love interest.
Mehmood won 'Best Comedian for Waris at the 17th Filmfare Awards in 1970.
Watch this romantic-funny song from Waris here:
Chupke Chupke (1975)
Director: Hrishikesh Mukherjee
Cast: Dharmendra, Sharmila Tagore, Amitabh Bachchan, Jaya Bachchan, Om Prakash
A film that can be described as a full package with an ultimate star-cast and screenplay is Chupke Chupke. 
The film is also famous to be one of the most simple and remarkable comedy films made in Bollywood.
It was one of the first films to pair both Dharmendra (Dr Parimal Tripathi/Pyare Mohan Allahbadi) and Amitabh Bachchan (Professor Sukumar Sinha) together as college professors with a comic touch.
Sharmila Tagore (Sulekha Chaturvedi) plays the wife of Dr Tripathi.
An interesting fact about this film is that the roles of Amitabh and Jaya Bachchan (Vasudha Kumar) were written later when they both insisted to work in the film.
The late Om Prakash (Raghavendra Sharma) portrays the role of Sulekha's Jija Ji. The main cast cleverly fools Raghavendra in the film, only to find out in the end.
Watch a funny scene from Chupke Chupke here:
Gol Maal (1979)
Director: Hrishikesh Mukherjee
Cast: Amol Palekar, Bindiya Goswami, Utpal Dutt
If any film stands in comparison to Chupke Chupke (1975), then it has to be Gol Maal.
Raved by the critics and audiences alike, Gol Mal is an all-time classic comedy film made in Bollywood.
A job hunt, a fake moustache, a hockey match make up all the confusion and funny moments in the film. The inharmonious laughter and shrieks of the late Utpal Dutt (Bhawani Sankar) are fantastic.
In this film, Amol Palekar who plays Ram Prasad Sharma also acts as his 'twin' Laxman Prasad Sharma. He is a  daydreamer, sports and music fan.
With his alarm set for 5:30 am, he enjoys listening to how Indian commentators Sunil Gavaskar, Bishan Sigh Bedi and Mohinder Amarnath outwit the Australians.
Almost every scene, every action and reaction had a purpose to the story.  There is even a cameo from legendary actor Amitabh Bachchan in the film.
Urmila Sankar (Bindiya Goswami), the daughter of Bhawani, falls in love with Laxma aka Ram.
A famous dialogue from the film is "Maaf Nahi Main Tujhe Saaf Kar Doonga."
Watch this superb comedy acting scene from Gol Maal here:
Chashme Buddoor (1981)
Director: Sai Paranjpye
Cast: Farooq Shaikh, Deepti Naval, Rakesh Bedi, Rami Baswani, Saeed Jaffrey
Set in the early 80s, Chashme Buddoor was the perfect college comedy.
Three close friends and roommates, Siddharth Prashar (Farooque Shaikh), Omi (Rakesh Bedi) and Jomo (Rami Baswani) have their eyes for Neha Rajan (Deepti Naval), with one winning her heart, and two losing.
Omi and Jomo successfully manage to split Siddharth and Neha initially. But when they find out that Siddharth is almost suicidal, the two play their part in reuniting the lovers.
Meanwhile, Saeed Jaffrey who portrays the character of Lallan Miyan features in a parallel plot, trying to recover his money from the three smoking friends.
The film has a lot of laughter and ends on a happy note.
The David Dhawan remake and the digital version of the original film both came out on April 5, 2013.
"Pehle Jaan Pehchaan, Phir Dheere Dheere Dosti, Phir Pyar Mohabbat … Phir Waghera Waghera," "Gundon Ko Ek Lakh Aur Bhale Aadmi Ko Ek Hazaar" and "Naukri Mili Hai … Tankha Nahi," are some of the most famous dialogues from the film.
Watch a comedy part from Chashme Buddoor here:
Angoor (1982)
Director: Gulzar
Cast: Sanjeev Kumar, Deven Verma, Moushumi Chatterjee, Deepti Naval
Angoor had every ounce of comedy one can imagine  With Gulzar directing the film, every actor in the film gave it their very best.
Working under Gulzar's baton was Sanjeev Kumar (Ashok R Tilak: double role), Moushumi Chatterjee (Sudha: Ashok's Wife), Deepti Naval (Tanu: Sudha's Sister) and Deven Verma (Bahadur: double role)
Gulzar had wonderful characters for all the actors, with Moushumi amazing everyone with her speech variation and flawless timing.
The story revolves around a pair of twins who separate during a sea journey. When they grow up, they go their own ways and finally unite.
From then on a journey of fun begins, with even their respective partners mistaking one for the other.
Sanjeev and Moshumi give stellar performances in several crackling scenes, featuring them.
Angoor takes inspiration from the 1968 Bimal Roy flick, Do Dooni Char.
Watch this funny scene from Angoor here: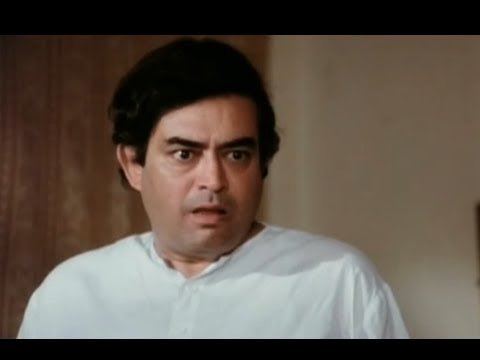 Jaane Bhi Do Yaaro (1983)
Director: Kundan Shah
Cast: Naseeruddin Shah, Ravi Baswani, Om Puri, Satish Shah, Pankaj Kapur
The Kundan Shah directorial debut Jaane Bhi Do Yaaro is one of the greatest dark comedies in the history of Bollywood.
The film is about two professional photographers Vinod Chopra (Naseeruddin Shah) and Sudhir Mishra (Ravi Baswani) who undertake the task of exposing the corrupt world of the rich and famous.
Be it Tarneja, (Pankaj Kapur) or Ahuja (Om Puri), the film reflects the government's inability to curb corruption in the eighties.
At the end of the film, there is a further twist when Vinod and Sudhir are wrongfully sent to prison for the murder of Municipal Commissioner D'Mello (Satish Shah).
Jaane Bhi Do Yaaro, a cult classic, was way ahead of its time.
The National Film Development Corporation of India (NFDC) produced the film.
Watch this hilarious scene from Jaane Bhi Do Yaaro here:
Aankhen (1993)
Director: David Dhawan
Cast: Govinda, Chunky Pandey, Kader Khan, Raj Babbar, Raageshwari, Ritu Shivpuri
Aankhen is a comedy-action film, revolving around Munnu (Chunky Pandey) and Bunnu (Govinda).
Munnu and Bunnu who are the sons of Hasmukh Rai (Kader Khan) are always making jokes and lying. But when Munnu is thought to be no more, everyone accuses Bunnu of killing him.
Meanwhile, when Gauri Shankar (Govinda: double role) travels from his village to the city, he is hilariously mistaken for Bunnu.
Amongst all the drama, Munnu and Bunnu have to save the life of Chief Minister (Raj Babbar) from Sarang (Raj Babbar: double role) and his gang.
Priya Mohan (Raageshwari) and Ritu (Ritu Shivpuri) are the love interests of Munnu and Bunnu respectively.
The movie was the biggest Bollywood hit of 1993, running in cinema houses for twelve weeks.
The title of Aankhen was taken from Dharmendra's 1968 film of the same name. Govinda spoke to a leading daily about this saying.
"It all started from Shola Aur Shabnam which became a hit which was followed by Aankhen again title of his (Dharam ji's) film.
"This continued for long time. I believe the fate of the film, whether it will be a hit or flop, starts from the title of the film."
Aankhen in fact was a remake of Do Phool (1973) starring Vinod Mehra and Mehmood.
Watch this comedy scene from Aankhen here: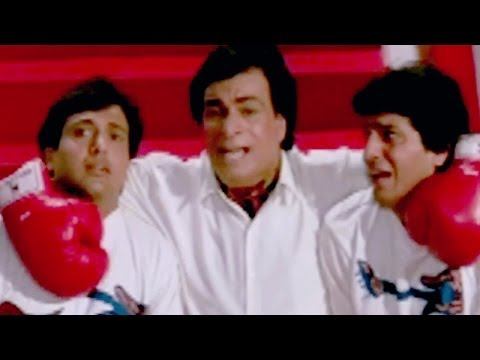 Andaz Apna Apna (1994)
Director: Rajkumar Santoshi
Cast: Salman Khan, Aamir Khan, Karishma Kapoor, Raveena Tandon, Paresh Rawal
The film Andaz Apna Apna is about two-time wasters Amar Manohar (Aamir Khan) and Prem Bhopali (Salman Khan) who the keep fooling their parents.
Both competing to win the heart of a presumed heiress Raveena/Karishma (Raveena Tandon) end up protecting her and the real Raveena Bajaj (Karisma Kapoor) from the criminal Teja (Paresh Rawal).
Teja aka Shyam Gopal Bajaj who has taken loads of money from Crime Master Gogo (Shakti Kapoor) wants to become rich by kidnapping his twin brother Ram Gopal Bajaj (Paresh Rawal).
Teja also has two clumsy cronies, Robert (Viju Khote) and Bhalla (Shehzad Khan) living the in the Ram Gopal household.
But in the end, Amar and Prem save the day, as Ram Gopal Bajaj finally agrees to let Karishma and Raveena marry the two.
While the film did average at the box, it eventually became a cult classic. Even though there are many wonderful dialogues, one between Raabert and Bhalla comes to mind:
"Lekin Sir Aapne Bataya Nahi Aaj Mera Birthday Hai? Happy Birthday Raabert."
Watch an Aamir Khan comedy collection from Andaz Apna Apna here: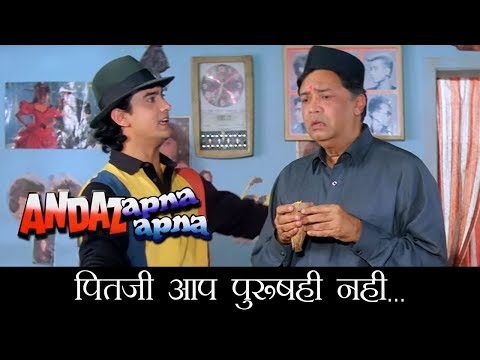 Biwi No. 1 (1999)
Director: David Dhawan
Cast: Salman Khan, Karishma Kapoor, Anil Kapoor, Sushmita Sen, Tabu
Biwi No 1 is a superb film, which has some great comedy, courtesy of Salman Khan (Prem Mehra), Karisma Kapoor (Pooja Prem Mehra: Prem's wife), Anil Kapoor (Lakhan, Prem's friend) and Tabu (Lovely: Lakhan's wife).
Prem who is a married man leads astray when he starts to find his office model Rupali (Sushmita Sen) attractive.
After finding out about the relationship, Pooja gives her husband a choice to make. Prem decides to leave home and live in with Rupali.
To win back her husband, Pooja gets the help of Lakhan and Lovely.
In the end, Prem realising he made a mistake, reunites with Pooja and his two children.
"Are Main Koi Avtaar Hun Kya Jo Bina Maa Ke Paida Hua Hoon" and "Main Haath Nahin Uthana… Laat Marunga Isko" are some of the stomach hurting dialogues from the film.
This comedy film also had an excellent situational soundtrack including "Chunari Chunari and "Jungle Hai, Aadhi Raat Hai."
Watch Karisma's funny comedy scene from Biwi No. 1 here:
Dhamaal (2007)
Director: Indra Kumar
Cast: Riteish Deshmukh, Sanjay Dutt, Arshad Warsi, Aashish Chaudhary and Javed Jaffrey
Dhamaal is an amazing and very funny story of four ordinary individuals who do not complete their university and have no job. They form their own group of con artists, carrying out robbery and other unlawful activities to make money.
The film has many surprising plots, crazy moments, twists and turns. If you are feeling lonely or down, this is a good watch.
As the name suggests, the film does do it's best to make everyone laugh.
Arshad Warsi (Aditya Shrivastav), Aashish Chaudhry (Boman Contractor), Riteish Deshmukh (Deshbandhu Roy) and Javed Jaffrey (Manav Shrivastav) truly shine as the four lovable and funny characters.
Sanjay Dutt (Inspector Kabir Nayak) and Asrani (Nari Contractor) also deliver spectacular performances, playing tough yet funny characters.
Watch this car comedy scene from Dhamaal here:
Hera Pheri (2000)
Director: Priyadarshan
Cast: Sunil Shetty, Akshay Kumar, Paresh Rawal and Tabu
Hera Pheri, a Priyadarshan direction was the biggest comedy blockbuster of the millennium.
It is such a clean comedy outing that remains still funny. Many of us cannot help but trip over this movie every time.
The story revolves around three unconventional individuals, Baburao Ganpatrao Apte (Paresh Rawal), Raju (Akshay Kumar) and Shyam (Suniel Shetty), who get a call from a kidnapper. However, nothing goes according to plan.
Anuradha Shivshankar Panikar (Tabu) also gave an iconic comic performance in the film.
"Yeh Baburao Ka style Hai!" and "Dene Wala Jab Bhi Deta, Deta Chappad Phhad Ke" are famous dialogues from this film.
For this film, Paresh Rawal won 'Best Comedian',at the Filmfare, IIFA and Star Screen awards.
The sequel Phir Hera Pheri came out in 2006, with a few different actors.
Watch Babu Rao comedy scene from Hera Pheri here:
Hungama (2003)
Director: Priyadarshan
Cast: Paresh Rawal, Aftab Shivdasani, Akshay Khanna, Rimi Sen, Shoma Anand
Hungama is an adaptation of the Malayalam film Poochakkoru Mookkuthi (1984), which itself was inspired by Charles Dickens' play The Strange Gentleman (1837).
Priyadarshan is also the director of this film, which creates so much mayhem.
Indian actress Rimi Sen made her Hindi debut in Humgama as Anjali.
The other main actors in the film include Akshaye Khanna (Jitu), Aftab Shivdasani (Nandu), Shakti Kapoor (Kachara Seth), Paresh Rawal (Radeshyam Tiwari), Shoma Anand (Anjli Tiwari) and Rajpal Yadav (Raja).
The story about a bunch of misfits whose misconception about each other's backgrounds end up in a series of chaotic, yet comic outcomes.
The two Anjali's, in particular, create a lot of confusion. Speaking about Hungama, Priyadarshan said:
"It is really difficult to tell about the subject of Hungama as it is totally a situational comedy.
He added: "There are 26 characters in the film and for the audience, it is super fun."
Watch the best comedy scenes from Hungama here: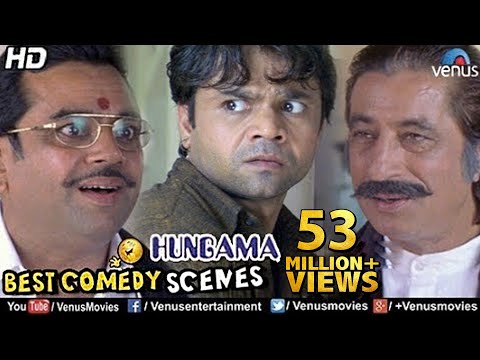 Munnabhai M.B.B.S (2003)
Director: Rajkumar Hirani
Cast: Sanjay Dutt, Arshad Warsi, Gracy Singh, Gracy Singh, Boman Irani and Sunil Dutt
When Munna Bhai M.B.B.S came out it was unknown territory for many. But when people got to watch it, it became a cult classic.
The film stars Sanjay Dutt as Murli Prasad Sharma aka Munna Bhai in the lead role and Arshad Warsi playing the all-important role of Circuit.
At the start of the film, Murli pretends to be a doctor in front of his parents. However, Dr Asthana (Boman Irani) tells his father Hari Prasad Sharma (Sunil Dutt), that Murli is a gangster.
When his father confronts him, the good-natured Murli feels that he has let down his parents.
Thus, in pursuit of revenge, he gets help from Dr Rustam Pavri (Kurush Deboo) to gain admission into a medical college, where Dr Ashtana is the head.
Even though Murli is not a bright student, he wins the hearts of the staff and patients with his 'Jadoo Ki Jhappi' (magical hug).
In the end, Dr Ashthana eventually accepts Murli and allows him to marry his daughter Chinky (Gracy Singh). Appreciating how Murli transforms the lives of many people, even his parents reconcile with him.
Such was the popularity of the film that a British Medical Journal did a review on the film.
The film was remade in several Indian languages.
The film won received many accolades, including four Filmfare and National Awards.
Watch a comedy classroom scene from Munna Bhai M.B.B.S here:
Singh is Kinng (2008)
Director: Anees Bazmee
Cast: Akshay Kumar, Katrina Kaif, Sonu Sood, Neha Dhupia, Jaaved  Jaffrey)
Singh is Kinng was a super hit film at the box office.
The film tells the story of how a Punjabi Villager, Happy Singh (Akshay Kumar) undergoes a series of chaotic misunderstandings to eventually becoming the Kinng of the underworld in Australia.
The film shows Lakhan Singh (Sonu Sood), a.k.a. Lucky, Julie (Neha Dhupia) and Mika (Jaaved Jaffrey) also being part of the underworld.
The film is shot in three key locations including India, Australia and Egypt.
Sonia (Katrina Kaif) who plays the love interest of Happy features in the famous song 'Teri Ore' sang by Ustad Rahat Fateh Ali Khan and Shreya Ghoshal
American rapper Snoop Dogg also stars in the movie wearing a turban for the music video Singh is Kinng.
Watch this comedy scene from Singh is Kinng here:
3 Idiots (2009)
Director: Rajkumar Hirani
Cast: Aamir Khan, R Madhavan, Sharman Joshi, Kareena Kapoor, Boman Irani
The successful combination of Raj Kumar Hirani and Vidhu Vinod Chopra reunite as the director and producer of 3 Idiots.
The story revolves around three main characters, Ranchoddas Chanchad aka Rancho (Aamir Khan), Farhan Qureshi (R Madhavan) and Raju Rastogi (Sharman Joshi).
The three of them get together at the prestigious Imperial College of Engineering (ICE) in Delhi where the hard-hitting Dr Viru Sahastrabuddhe aka virus (Boman Irani) is the director.
Rancho supports Raju, following his attempted suicide and helps Farhan to fulfil his ambitions of becoming a photographer.
Meanwhile, Pia Sahastrabuddhe (Kareena Kapoor), daughter of Virus falls in love with Rancho. Along with Raju, Farhan and the clumsy Chatur Ramalingam (Omi Vaidya), Pia goes looking for Rancho.
"All Iz Well" for Rancho and Pia in the end.
Following the success of 3 Idiots, director Hirani did previously mention of planning a sequel. He told the media:
"Six months back I thought of an idea which would be great for the sequel.
"Abhijat (Joshi) and I worked on it for a few days and then spoke to Aamir about it. He got really excited but nothing much has happened."
"It's a long way. But this is one film that I really want to do."
Watch Chatur's funny speech from 3 Idiots here: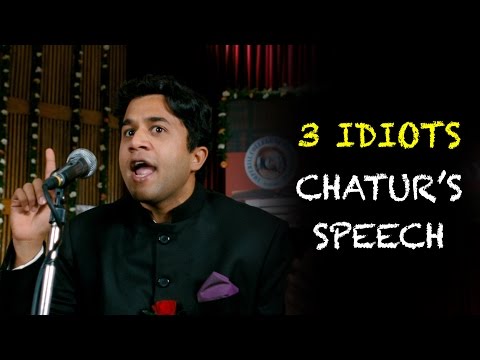 Tere Bin Laden (2010)
Director: Abhishek Sharma
Cast: Pradhuman Singh Mall, Ali Zafar, Sugandha Garg, Nikhil Ratnaparkhi
Tere Bin Laden is an excellent film, which tells the story of a young journalist Ali Hassan (Ali Zafar) who wants to travel to the USA.
Taking desperate measures, using a look-alike he produces a fake Osama Bin Laden video, which he sells to broadcast channels.
The extremely talented Pradhuman Singh plays the role of Noora/Osama Bin Laden. The film is a comic satire on the US war against terror and the realities of the world post-9/11.
About the film, Ali Zafar said:
"The concept and treatment of Tere Bin Laden is very unique as such and hence I think it should appeal to a majority of people."
He added: "It's a film that is not just for a certain niche or mindset or intellectual. It's one that a small child, an aunty or an uncle can all relate to."
A sequel, Tere Bin Laden: Dead or Alive, came out in 2016.
Watch funny scenes from Tere Bin Laden here:
Delhi Belly (2011)
Director: Abhinay Deo
Cast: Imran Khan, Kunaal Roy Kapur, Vir Das, Shenaz Treasurywala, Poorna Jagannathan
Delhi Belly is a very refreshing Bollywood film, considering it was made in English and Hindi.
The plot revolves around three young men from Delhi who live in a very untidy apartment.
The professional trio, Tashi Dorjee Lhatoo (Imran Khan: Journalist), Nitin Berry (Kunal Roy Kapoor: Photographer) and Arup (Vir Das: Cartoonist), get entangled with gangsters who chase them.
From then on its all Delhi Belly in terms of its dark comedy.
Sonia (Shenaz Treasurywala) who portrays the role of an air Hostess is the fiancée of Tashi. But by the end of the film, Tashi falls in love with his colleague Menaka Vashist (Poorna Jagannathan).
Aamir Khan who is one of the co-producers of the film makes a guest appearance in the song, 'I Hate You (Like I Love You).'
Abhinay Deo, the son of veteran actors Ramesh and Seema Deo speaking about the film told NDTV:
"Our film was a smart adult comedy and it opened doors for a different kind of films."
About a possible sequel he added:
"I discussed the sequel with Aamir and Akshat."
"Akshat had taken nine years to make the film and this time if it happens he might take a little less time."
Watch the comical track 'D.K Bhose' from Delhi Belly here:
Grand Masti (2013)
Director: Indra Kumar
Cast: Riteish Deshmukh, Vivek Oberoi and Aftab Shivdasani
Grand Masti also familiar as Masti 2 is a sex-comedy Bollywood film. As part of the second instalment of the Masti film series, it is a sequel to Masti (2004).
The film circles around Meet Mehta (Vivek Oberoi), Prem Chawla (Aftab Shivdasani) and Amar Saxena (Riteish Deshmukh) who are hoping to have a good time at their college reunion.
The trio unhappy in their marriages begin to have affairs with three women who happen to be the principal's relatives.
The scenes from the film are quite sexual in nature, which saw many critics giving negative reviews.
As a box office success. Great Masti was the highest grossing Bollywood film with an A (Adults Only) certificate in India.
Many of you will remember the following lines from the film:
"Meri biwi BMW Nikli" and "Bewafaa Meri Wife."
Watch this comedy adult scene from Grand Masti here:
PK (2014)
Director: Rajkumar Hirani
Cast: Aamir Khan, Anushka Sharma, Sushant Singh Rajput
PK is a very successful satire comedy featuring some top actors.
Aamir Khan who plays PK the alien arrives on Earth with a mission to study humanity. Whilst on the planet he is unable to communicate with his spaceship when he loses his device.
PK's child-like questions have an element of innocence. PK who begins to like Jaggat Janani Sahni aka 'Jaggu' (Anushka Sharma), a TV reporter, sacrifices his feelings knowing that she loves Sarfaraz (Sushant Singh Rajput).
Sanjay Dutt (Bhairon Singh) and Parikshit Sahni (Jayprakash Sahni) also have important roles in the film.
The film had positive reviews from critics and broke several records at the box office.
Watch funny scenes of Aamir Khan from PK here:
Chalti Ka Naam Gaadi (1958), Pyar Kiye Jaa (1966), Choti Si Baat (1976) and Gopichand Jasoos (1982) are some other great Bollywood comedies which miss out on our list
It is quite evident Bollywood has managed to churn out a number of comedy films over several decades.
Whether it is some lighthearted funny movies, a smart tongue in cheek humour or a funny sarcastic take on some serious issue, Bollywood has it all
So if you fancy something funny, you will enjoy any of the aforementioned Bollywood comedy films.