"When in doubt, you blend it out!"
After Priyanka Chopra graced the cover of Canada's fashion magazine FLARE as the September 2016 cover girl, she left us all pondering how she always looks so beautiful.
As it turns out, her makeup artist for the shoot, and other occasions, turned out to be the legendary Mario Dedivanovic.
Mario has also done makeup for stars such as Gabrielle Union, J-Lo and is the man behind every stunning look of icon, Kim Kardashian West.
Running makeup master classes all around the world, from L.A. to Dubai, Mario gives seminars on how to re-create all his looks. However, his latest show is charging just under $1,700 (£1,300) for a VIP ticket, which is a bit pricey.
Instead, DESIblitz offers you some tips and tricks that Mario uses to recreate the same beauty look.
1. Set your brows
The biggest craze for a while has been to have bold brows. However, you want them to stay all day or all night long.
Using a brow gel can help them to stay in place without product coming off throughout the day.
2. Always use a base
Mario suggests using a cream eyeshadow base, before using powders, helps it to stick. Especially one tailored to your skin tone to look more natural and effortless.
This can also apply to eyeliner. He will often use a pencil eyeliner on Kim Kardashian West before applying gel liner to 'add more depth'.
3. Don't restrict your products
A perfect tip for those in a hurry; use one product for more than one feature. Mario advises to use your contour shade as an eyeshadow to add a light shadow to the face and create natural looking makeup.
Other options could be using your blusher as an eyeshadow or even blending your lipstick onto your cheeks as blusher.
4. Connect the dots
Eyeliner can be a real pain to apply. Make your life easier by drawing about 4 dots separated across your eye and then connect them all into one neat line. Mario will often lift the eye from just under the brow to help it to look more smooth.
5. Build from your basis
The last thing anyone wants is their makeup to look cakey. To eliminate this problem, simply start by using light layers of makeup and add more onto the skin if need be. For example, foundation or highlighter.
6. Wet your brushes and sponges
Dampening your applicators will help the product to stick to the skin and increase the intensity of the pigment.
Simply wet your brush or sponge with a makeup setting spray to achieve smoother looking, long lasting makeup. Or for a cheaper and easier option, just use water.
7. Have patience
Between layers of makeup you add, wait a few seconds to allow the makeup to really sink into the skin. Mario does this so the skin still looks fresh and also, so it does not get irritated and cause breakouts.
8. Blending is key
Mario's motto is: "When in doubt, you blend it out!"
Nothing is more important in makeup application than blending.
The best process is to blend upwards and outwards. When using a brush, use light strokes or when using a sponge, bounce product onto the skin for a soft glowy look, like Priyanka's for FLARE.
9. Master the Ombré lip
Ombré hair was a rising trend and now, it's all about ombré lips for the Kylie Jenner effect!
To get fuller looking lips, Mario suggests using a darker colour on the outside, or a darker lip liner, and a lighter shade in the centre of the lips.
10. Highlight key areas
Highlighting, or strobing, has become a massive beauty trend. When highlighting, make sure to always stick to the high points of your face. For example, the bridge of your nose, your cupids bow, your cheeks or under the arch of your brows.
Mario tends to also add highlight to the collarbone and shoulders, if they are on show, as it gives a sultry glow when being photographed or are under strong light.
You can see the behind the scenes of Priyanka's shoot here on FLARE's YouTube channel: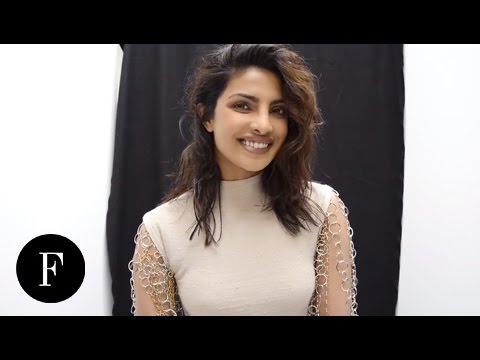 Some of Mario's favourite brands include Charlotte Tilbury, L'Oreal and Anastasia Beverly Hills.
You can catch the next class in Dubai on October 14, 2016.
He has even created an eyeshadow palette with Anastasia Beverly Hills named Master Palette by Mario, retailing at $40 (£31) and to be released on September 29, 2016. Find it here.