"I believe in simplicity and it reflects in my designs."
Twice a year, the most prominent designers from Pakistan gather in London to present their latest collections at Pakistan Fashion Week (PFW).
The event celebrates the creativity, energy and style of Pakistan, making it a fierce contender in the global fashion industry. With Pakistan's naturally rich heritage, combined with modern European influence, PFW promises to be an exquisite cultural fusion.
Taking place between May 30 and to June 1 at the Russell Hotel in London, PFW will feature 30 of the most distinguished Pakistani designers, showcasing their collections across 3 stunning shows, while 45 glamorous models strut along a 70 ft long runway.
The event is organised by designer Adnan Ansari, under his banner Riwayat, which means 'traditions'. Riwayat is dedicated to promoting Pakistan's cultural achievements in fashion, music and literature.
Having had a successful stint of fashion shows every six months, PFW is rapidly getting bigger and better. For 2014, the theme of PFW is Weddings of Asia, emphasising bridal couture for the fashion conscious bride and groom.
DESIblitz are proud on-line media partners for Pakistan Fashion Week: Weddings of Asia. Watch our coverage of PFW 5 here: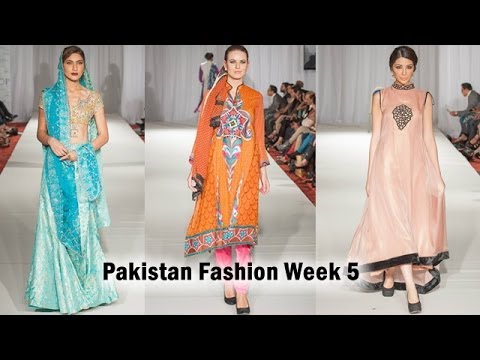 For 2014, the 3-day show will see 6 acts in total, including the collections of Al Zohaib, Stush, Waseem Noor, Mona Imran, Zeeshan Bariwala, Ayeshah Aijaz and Zaheer Abbas.
The Weddings of Asia exhibition launching on the first day will also offer visitors to shop some of the catwalk designs at their own leisure, and even have the chance to meet some of the designers.
Day 1
Kicking off PFW Weddings of Asia will be Poshak Mahal presenting their Five Star and Bashir Ahmed collections. With their new Lawn collection of ready to wear clothing, the designer label will show off their artistic flair with a variety of print work and embroidery.
Shariq Textiles is a leading fashion brand in Pakistan. Since their launching in 2009, they have been presenting collections to suit every taste and style. Their last collection showcased feminine cuts in pastel colours and ethno prints.
Aasmee collection is a new fashion brand, launched by Asma Afzal in Lahore. The creativity in her designs and her passion for fashion will definitely not remain unnoticed at Pakistan Fashion Week. For the upcoming fashion event Aasme promises to: "Take all my knowledge, learning and passion to help secure a great team in which in turn we will give you first class customer service."
Marium D Rizwan has graduated from the prestigious Asian Institute of Fashion Design and was recently awarded 'Best emerging talent in fashion' at the Lux Style Awards. Her last collection boasted elegant clothing in beige, crimson and olive, adorned with crystals and lace. The designer asserts: "I believe in simplicity and it reflects in my designs."
Day 2
Moazzam Abbasi is one of the established names in Pakistani fashion. For 15 years, he gradually made a name, by working with the most prominent labels in the industry. His last collection featured a selection of clothing, blending Eastern and Western style in neutral colours. Celebrity fans include Zeba Bakhtiar and Hadiqa Kiani.
Rana Noman offers glamorous bridal attire lehangas, sharers and ghararas with long shirts in vibrant colours and embellished with embroidery and lace.
Rizwan Ahmed has graduated from the Asian Institute of Fashion Design. One of his major accomplishments is a dress, inspired by Lena Kaprinsky's painting 'Rose Garden'. The show-stopping garment won the admiration of the artist and now has a separate blog in her website.
It was printed in Australian newspaper to represent the first Pakistan Fashion Week, called Yet Another Outfit. For the upcoming show, he is expected to wow the audience with more extravagant designs.
Day 3
Of the designers showcasing, undoubtedly, one of the most significant is Zainab Chottani. Her exquisite collections have achieved global success in London, Manchester, New York, and Dubai.
Although she is primarily associated with bridal fashion, the Asian designer has proved that she can create equally innovative pret-a-porter. Her garments feature intricate embellishments and her unique way of playing with colours and textures.
Nauman Arfeen is famous for blending Eastern and Western style for his brand Naushemian. His creative path started in the early 90s, when he began to wrap turbans. Since then, the head accessory has become his trademark piece. The last collection featured fashion forward menswear and traditional womenswear in vibrant colours.
Showcasing alongside Rani Eamn is Hamna Amir. The jewellery designer is going to awe the public with the quality of her craftsmanship.
Hamna is associated with extravagant necklaces, waist gold chains, gold and chaandi maatha patties, chaandi tiaras, baazu bunds, slave bracelets, and, most significantly, the historic Mughal-era inspired chain necklace.
Lajwanti is a bridal fashion house, famous for showcasing bridal and party wear. Their collections feature traditional Indian attire in pastel colours, complemented with rich embellishment and eye-catching accessories. It recently launched a pret-a-porter clothing, as well as a line of accessories, footwear and lifestyle.
Indian based Vavci launch their first store in 2013. Since then the eponymous brand has become a staple in menswear. The designers present both ready to wear and Haute Couture. The collection feature a selection of high quality menswear that combines Eastern traditions with Western tailoring.
The Pakistan Fashion Week 'Weddings of Asia' will showcase an array of distinguished designers. The talented craftsmen will treat the audience to a fine selection of innovative pret-a-porter and glamorous bridal wear and haute couture. The dramatic outfits promise to turn into a fashion staple. Not one to miss, PFW will take place between May 30 and June 1.