"In recent years, there's been this fusion [of East and West] and it's what I call the third wardrobe."
British Asian Fashion Week (BAFW) aims to celebrate double identity in fashion. A new wardrobe is emerging for British Asian women – one that incorporates fusion fashion: a niche that draws inspirations from both Western and Eastern styles.
BAFW 2014 lends itself to being one of the most exciting fashion events on the industry calendar.
Held at the Southbank Centre in London, what better location could there be than a city that is considered both the epicentre of edgy fashion and a melting pot of cultures?
Whilst showcasing creative fashion talent, BAFW 2014 aims to bring together established and upcoming designers and businesses, opening doors for the growth of the fashion industry.
In an exclusive Gupshup with DESIblitz, founder of BAFW, Terry Mardi explains: "The team and I had a vision to bring together all the important up and coming designers and put our platform out there that represents the three wardrobe concept.
"We know that we're British and we're Asian, so we have this western wardrobe and then we have this more traditional one. But in recent years, there's been this fusion and it's what I call the third wardrobe," Terry tells us.
Along with the preview, there was the Asian Fashion Summit. This was a dynamic debate platform for designers and fashion pioneers, innovators and leaders. It gave them an opportunity to voice their ideas and help foster an environment where fashion businesses can learn from each other and work together.
The catwalk featured an array of British Asian designers, including Colours of India, Moons Haute Couture, Kajal Collections, Jyoti Chandrok, SONAS Haute Couture, Virtaaj, NG Sarees and Charmi Creations. Deeya Jewellery and Trousseau Jewels adorned the outfits.
Colours of India was the NGO with whom the organisers had collaborated with. Established to help women in the slums of Mumbai, Colours of India is considered a 'fashion label with a conscience'.
It aims to increase employment opportunities for female slum dwellers, where women are trained to produce handcrafted recycled products and cotton wear.
All of the collections involved were from newly established British Asian fashion designers, and this catwalk gave them an opportunity to showcase their innovative designs to an audience which mostly consisted of fashion bloggers and a judge panel that featured many game changers from the British Asian fashion industry.
This included Boy Penda, a Louis Vuitton designer; Lady K, CEO of 'House of iKons'; Reina Lewis, a professor at London school of Fashion; Nisha, creator of 'Kyles Collection'; and Mani Kohli, CEO of 'Khoobsurat'.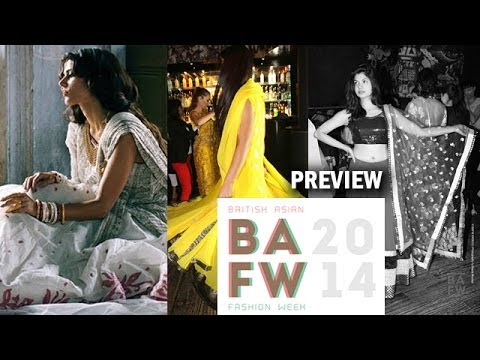 The catwalk featured many old and new trends culminated together. Those regular patchwork styles that were featured in salwar kameezes from the 90s were brought back in the form of lehengas and saris.
This was through a mixture of patchwork with gota work intricately weaved in between. Shararas, long choli lenghas and full length blouses were featured, suggesting how these once extremely popular trends are not ready to retire yet.
Latkans are currently very popular in South Asian clothes. What was unique to see was how Colours of India had diversified latkans from the use of layered ruffles to different geometric shapes.
The classic bridal dress train is something that is expected from a Church wedding dress and not for a traditional South Asian one. However, many British Asian women today dream of adorning a bridal dress with a graceful train for their registry ceremony or wedding reception.
Several of the designers featured had incorporated this need by creating heavily embellished bridal dresses that featured a train, making them elegant in their style yet traditional in their design.
An emerging fusion trend of a gown top with leggings was also featured on the catwalk. This is definitely a style that will be soon sought after as Bollywood actress, Parineeti Chopra was seen wearing a gown top outfit, designed by Nikhil Thampi, for the IIFAs 2014.
The blouses used in the BAFW preview were unconventional. From tight corsets to the bikini tops and bandeaus, the designers have experimented with how a blouse could be maximally diversified.
The use of a bikini top with a ghagra featured in the Colours of India collection and highlighted another growing trend for British Asian brides. This is outfit is for those brides that are celebrating their wedding on the beach (an increasingly popular setting for weddings these days).
The look is functional and does not make the bride feel flustered and sweaty like she would if she wore a traditional heavy lehenga. With the border of the lehenga still having patchwork embroidery, it dispels the myth that a shaadi ka joda can't be sexy, easy to wear and have an Indian look at the same time!
Fusion fashion has found its niche in this bridge between the Eastern and Western fashion. The preview of British Asian Fashion Week has created hype for the bigger surprises yet to come! Fashion Manager for BAFW 2014 is Sheetal Agheda. As Sheetal tells us:
"Come September, it's going to be absolutely amazing – full of British Asian pret designers, and I am really looking forward to showcasing what British Asians can really do and get into mainstream."
When the September BAFW 2014 arrives, fashion lovers can expect a cornucopia of refreshing fusion styles that can be worn for affairs ranging from a beach party to a traditional wedding. For more details, visit the British Asian Fashion Week 2014 website.