"We will be opening the doors for all designers worldwide to come and exhibit at Pakistan Fashion Week 7."
Anticipation for one of the biggest ethnic fashion weekends, Pakistan Fashion Week 7 (PFW7), has peaked.
Only the very best Pakistani designers and British Asian brands will present their delightful collections to kick off the new year at the Russell Hotel London on January 10 and 11, 2015.
Over the years, PFW has brought a multitude of great fashion creativity to British audiences.
Under the captainship of founders Adnan Ansari and Chris East, PFW has carved its worth over the years as the very necessary bridge between Eastern and Western culture.
Using the very apt name 'Riwayat Ltd', which means 'traditions', together Ansari and East have sought to raise the profile of Pakistani fashion and present it to the European market.
In their previous instalment, Pakistan Fashion Week 6 celebrated 'Weddings of Asia' with their luxury bridal wear.
One of their most successful shows, proud online media partners, DESIblitz.com were there to cover it all: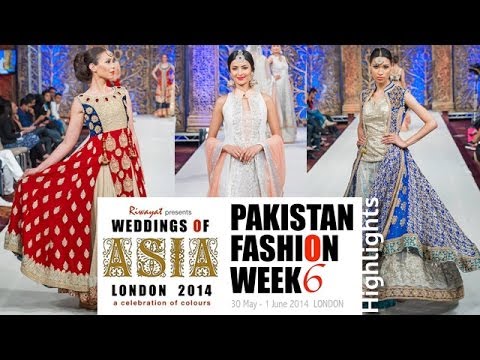 For 2015, the show resumes its traditional format of three shows over January 10 and 11, 2015.
For Adnan, the quality of material and designs has been key, and he has whittled down countless applications to select 27 designers that he truly loves.
These 27 designers will exhibit their latest luxury collections aimed at the modern British Asian man and woman over the course of three sold out shows.
In an exclusive Gupshup with DESIblitz, Creative Director Adnan told us about his vision for PFW 7: "We will be showcasing a range of couture, Pret Wear as well as bridal. Something for everyone for all age groups and styles. Not just Asian.
"But we will be opening the doors for all designers worldwide to come and exhibit at Pakistan Fashion Week 7. With the international coverage and recognition received we also want to reflect this on our catwalk."
Show 1 ~ Saturday 10th January 2015, 6pm
Day 1 will welcome back some familiar faces and celebrate some new designers. Sonya Battla will open the show with her exquisite collection. Taking inspiration from nature, Sonya uses rich embroidery styles and traditional cuts forming modern silhouettes.
Aijaaz Aslam takes on menswear and womenswear for the modern British Asian, mixing East and West with beautiful cuts and flowing designs. Having started the brand in 1995, Aijazz is now a popular international brand with footholds in Dubai, the USA and the UK.
As no Eastern attire is complete without matching accessories, Hamna Amir's expertise in jewellery making and craftsmanship is second to none. Audiences can expect exquisite jewellery headsets and accessories glide down the runway, with bold chunky pieces filled with gems and stones.
Hamna admits: "Our philosophy and aspiration is to combine the symbolic beauty and perfection of stones, with innovative creative designs in order to give our customers a totally new and contemporary jewellery experience."
Also opening for Show 1 are Moazzam Abbasi, Faika Karim, Naurang, Kaamdaani, Rabia Zahur and Fozia Hammad.
Show 2 ~ Sunday 11th January 2015, 3pm
The next instalment of PFW festivities is the Sunday afternoon show which will see the likes of Shabbir Textiles, Shariq Designer, Momins, Cocktail, and Bombay Stores.
Also on the runway is Alizay whose creative spirit stretches to vibrant hues and traditional ethnic prints inspired by Pakistani truck art and the Mughal era. The designer's motto:
"Where there is Alizay, there is style. We do not work on clothes, we work on personality."
Unveiling her 'Brocades' collection, Maria Asfand Raja is a new emerging talent from Islamabad. Although she has never studied fashion, her deep passion and exceptional talent in design are explicit in her creations. Both the Asian subcontinent and Coco Chanel inspire her. Speaking quite candidly, the designer insists:
"I am not that experienced like the other bigwigs of fashion industry but I assure you that I am capable of creating a remarkable affect."
Closing the second show are Bombay Stores, largely recognised as the UK's biggest Asian department store. Having been established for so many years in the heart of the Asian community, they are experts of British Asian fashion, style and flair.
Show 3 ~ Sunday 11th January 2015, 6pm
The final show of PFW 7 will be an unmissable occasion with the likes of popular high street brand Rang Ja kicking off the evening with some of the trendiest designs and cuts for fun-loving young Asians.
Bringing their best bridal couture with them will be the exclusive designer Lajwanti who stole PFW 6 with an extraordinary collection of Mughal inspired wedding wear for the fashion conscious bride and groom. Using heavy fabrics and intricate beading, gems, stonework and embroidery, Lajwanti envisions regal beauty and fairytale dreams in clothing form.
Rana Noman is another big name contender in the showstopper race. His PFW6 collection experimented with bold burnt orange and rusty hues. A true depiction of traditional ethnic wear, his collection offers contrasting colours and bold cuts.
The Grand Finale for PFW7 will be none other than Honey Waqar. Honey who has established herself as the 'Couture Queen of Pakistan', fits perfectly with Riwayat's vision of raising the profile of Pakistani fashion and beauty to an international scale. Her collection which takes the best elements of her heritage and creativity will undoubtedly be a spectacular finale.
In addition to the catwalk shows, guests and visitors will also have to chance to view the clothes up close at the Boutique Lounge Exhibition, which will open on Friday 9, 2015 and throughout the weekend.
The boutique will give fashionistas a chance to try and even purchase their favourite runway showstoppers, as well as meet and take advice from the designers themselves.
Pakistan Fashion Week continues to showcase only the very best of South Asian fashion, and we can be sure that PFW7 will be an enchanting weekend. For more details about PFW7, or to buy tickets, please visit the Pakistan Fashion Week website.