"She is not afraid to speak her mind, she is not weak."
The 'jodi' of Salman Khan and Katrina Kaif always grabs headlines be it off-screen or onscreen. Having been a real 'couple' in the past anything that connects the pair is always of interest to fans.
Now recently, Salman got a marriage proposal from the lady herself Katrina Kaif and his reaction has sent fans in a frenzy.
This Bollywood superstar who can be called the most eligible bachelor is required to answer the question while on a date with Kat in a recent dialogue from their upcoming film, Bharat.
The proposal is filled with nothing else but a direct to the point question from Katrina's character! Kumud Raina simply questions his eligibility to marry her. While his character's response as Bharat is hilarious.
Because this question is a huge question that fans are always trying to get an answer for. When will 'Bhai' marry?
Well in this clip it's evident his reaction can possibly be paralleled to where he stands with marriage even in real life.
Here's the dialogue clip from Bharat with Kat's proposal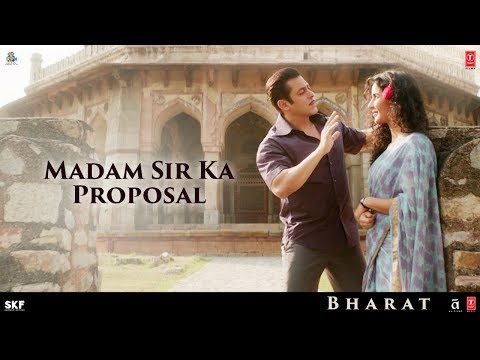 Bharat is set in India's post-independence history. The perspective follows the life journey of a man from the age of 18 to 70.
Salman and Katrina have huge hopes for the film. In a recent interview, the pair spoke about their roles and the film.
Katrina said:
"The audience respects the films we have done. They are not giving you leeway because you are together as a pair on screen.
"If you see Ek Tha Tiger, it was well put together in 2012. No one was making a film like that then, but Kabir Khan made it.
"With Tiger Zinda Hai, it was a step forward. With Bharat, the endeavour is to take it even more steps forward."
When asked about the role itself, she replied:
"It was very challenging.
"I think my role in Bharat is the best that I've done so far in my career, in terms of the depth of the character and playing a woman from 1975 to 2010, spanning 35 years.
"My character Kumud is a strong woman, fun and lively. She is not afraid to speak her mind, she is not weak.
"It's been a fantastic learning experience, probably the most fulfilling and inspiring time I had playing her."
Salman talked about his preparations for the film and his role saying:
"This is more difficult than even 'Sultan' because in 'Sultan', I had to gain and lose weight.
"I was shooting and then going to the gym. Here also ('Bharat') it is pretty much the same.
"To look younger I had to lose weight and then as I age I had to put on weight."
When asked if he found it challenging playing the older character, Salman said:
"No, because I have played it very differently.
"I have a beard and grey hair. He is a 70-year-old but he is like a 40-year-old. He has swag, style and energy like a young man.
"He has humour, style and his enthusiasm is not over yet. I will play it in a younger way even when I play older characters."
Speaking about the essence and meaning behind the film, Salman said:
"Bharat" is a blend of emotions. 'The title is 'Bharat' and so that amount of respectability should be there.
"We have given our best to the film. It is not a pseudo-intelligent kind of a film and that is for critics. We have made a film for the audience.
"There are a lot of hardships, struggles, fun and entertainment. He is a middle-class family man."
Bharat releases worldwide in cinemas on June 5, 2019.