"I am very excited and hope to help West Ham do well in the league."
Indian goalkeeper, Aditi Chauhan, has joined West Ham United in a historic signing.
The Delhi native has become the third Indian national to play for an English football club.
She is also arguably the first female footballer from India to do so, as Tanvie Hans (a Delhi footballer Fulham and her friend) has become a British citizen.
Aditi made her debut on August 16, 2015. Though her side lost 0-5 to Coventry United, the club could not be more excited to have her on board.
West Ham Ladies tweeted: "Great news for Indian football! West Ham have signed Indian int'l goalkeeper Aditi Chauhan for their ladies team."
Even Coventry FC was impressed with Aditi's performance!
@aditi03chauhan – We'll here's another one… We thought you were terrific Aditi. Very well played, have a great season with @westhamladies

— Coventry United LFC (@CovUnitedLFC) August 18, 2015
Aditi responded with equal excitement: "Thank you all for the overwhelming response and wishes. I will work hard to make this opportunity count @westhamladies."
The young football talent already displays an incredible resilience and motivation.
Commenting on West Ham's loss, she says: "There is no other way but to improve from here. We need to build ourselves back, get together and move forward."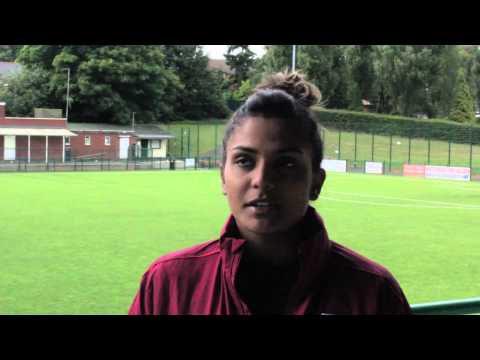 The 22-year-old goalie started her football career when she took part in the Delhi under-19 team trials.
She helped India lift the South Asian Football Federation (SAFF) women's cup in 2013. She also took part in the women's football competition at the 2014 Incheon Asian Games.
Aditi went on to play for India's under-19 national women's team at the Asian Football Confederation (AFC) qualifiers in Malaysia.
She recently finished her postgraduate studies in Sports Management at Loughborough University in Leicestershire.
While studying there, she also represented the university's football team.
Aditi, who finds inspiration from Manuel Neuer and Lionel Messi, is a late addition to West Ham Ladies' squad during pre-season.
The East London club is currently in the Football Association's Women's Premier League Southern Division.
For the Delhi girl, this is already a promising opportunity to elevate her skills and portray India in a positive light on the international sports scene.
Aditi says: "It's a step up for me after playing for Loughborough. I am very excited about this opportunity and hope to help West Ham do well in the league.
"For me personally, I hope to learn a lot as a player and improve as a goalkeeper."
The first Indian footballer to play in England is believed to be Calcutta winger Mohammed Salim, who joined Celtic FC in 1936.
He was followed by Bhaichung Bhaichung Bhutia, who signed a three-year contract with Bury FC. The striker debuted against Cardiff City in October, 1999.
Aditi is only the second Indian goalkeeper to play professionally in Europe.
Gurpreet Singh Sandhu has joined Norway's Stabaek FC on a three-year contract in 2014.
The 23-year-old said: "I miss India and the fans there. Here, there is not much frenzy but the standard of football is very high.
"I have to work so much harder to keep my spot and I know it won't be easy."
DESIblitz wishes Aditi Chauhan a fruitful career with West Ham United and looks forward to more Desi sportspersons breaking the mould!