"I am really fortunate I got picked"
The film West is West is the sequel movie to the massive hit East is East featuring many of the original cast. The comical story about the half Pakistani and half English mixed-race family now moves to Pakistan (shot in India) in this latest caper.
With the lead role of George Khan played by the legendary actor Om Puri, the movie depicts the real life story of Ayub Khan Din as 'Sajid' in the film. Din is the writer of both films, who himself is half English and half Pakistani.
In East is East, set in the 1970's, we see George Khan, a Pakistani immigrant who has lived in England since 1937 and married to Ella Khan (played by Linda Basset) who is a British woman with an Irish-Catholic background. They have seven children between them, Nazir, Abdul, Tariq, Saleem, Maneer, Meenah and Sajid – the youngest.
The family live in Salford, Greater Manchester and George and Ella face the challenges of bringing up the the children with a tug-of-war between the two cultures. George is determined to make sure his children have a good Pakistani and Muslim up bringing, whilst Ella nurtures them with her English ways. The children find their father's draconian ways of trying to bring them up as Pakistanis very authoritarian and rebel behind his back.
Sajid always wears a parka coat in the film and does not take it off. Abdul and Tariq are forced by their father to go through the process of an arranged marriage with two not very attractive women, which ends up in disaster when Saleem's work of art of rubber female genitalia, falls in the laps of the prospective mother-in-law. Concluding the film with showdown between George and Ella which has intervention from the children to stop him. Taking away control from George.
Throughout East is East, George threatens Ella with one-liners about his first wife in Pakistan and this is where West is West comes to fruition. Manir is already in Pakistan and the story focuses on Sajid who is taken to Pakistan to stay with George's first wife (played by Ila Arun), in order to 'sort him out' due to his misbehaviour at school. However, behind them follow Ella and her little entourage including Auntie Annie (played by Lesley Nicol) to stop George doing as he wants with the children.
Sajid is the central character in West is West and is played by Aqib Khan, who was selected for his cheeky look and attitude, despite the fact he had no formal training in acting. When telling DESIblitz about being selected for the role, he said: "I came across the audition slip and thought I would give it a go. I was the last person into the audition. And the rest of the people were from drama schools. So, I am really fortunate I got picked."
DESIblitz met up with Om Puri and Aqib Khan to talk about West is West. Watch the exclusive interview below to find out what they told us about this emotional fun movie.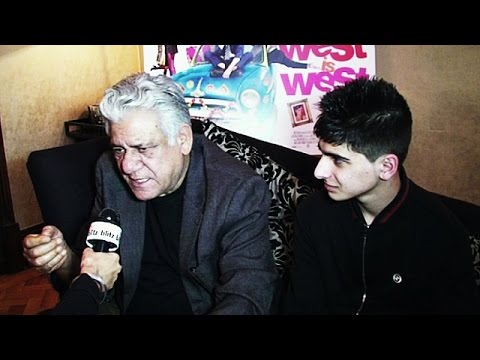 Aqib fits the look for the grown up Sajid, who was played by Jordan Routledge in East is East. Speaking about how it was working with Omi Puri for his first film, Aqib said: "Watching Mr Om Puri everyday taught me something new."
The sequel is set in Pakistan but is actually shot in the Punjab in India, due to security issues in Pakistan. When asked about the new location for the sequel, Om Puri told DESIblitz that there was not a huge difference filming in a different country apart from the sound synchronisation. He said: "The only difficulty we had was because we had sync-sound and there were fields around, so sometimes we had a tractor sound or someone playing a flute and that use to come in the way!"
The cast from East is East also in West is West include Om Puri, Linda Bassett, Lesley Nicol, Jimi Mistry and Emil Marwa.
Talking about the changes in the character of George Khan in West is West versus East is East, Om Puri told DESIblitz that there is a difference in his character. Om said:
"As far as George Khan is concerned he is different in East is East, he was a tyrant, he was an authoritarian but in West is West he's much mellowed."
Jimi Mistry's character also goes through a transformation in the sequel, Jimi said: "Tariq Khan has changed in 'West is West' into a bit of a transcendental George Harrison hippie character, and we see him doing what he is best at, which is chatting the lovely Esther up. Although Tariq has now changed, his objective is almost the same, which is to impress lovely ladies."
DESIblitz spoke to Ayub Khan Din the writer of the films who told us about how East is East was a project originally inspired by Sudha Bhuchar and the Tamasha Theatre company. With West is West he feels it deals with a larger landscape of emotions. The film is underpinned with Ayub's own story, who was sent to Pakistan at the age of 12 and how he dealt with the dynamics of his relationship with his father's first wife living in Pakistan. The story of West is West is concluded by Din as: "It's a coming age movie for a 16 year old boy and a 61 year old man."
There is talk of a third film and was confirmed to DESIblitz by Ayub Khan Din who said: "If West is West does well it will make it easier for a third instalment." However, he was concerned about the economic climate with regards to British films.
West is West as a sequel has its emotional moments laced with lots of humour and a great depiction of how British and Pakistani cultures survive the antics of a mixed race family trying to keep each culture prominent despite the environment and country. If you loved East is East, it's well worth going to see how the Khan family take their world of Salford to a village in Pakistan.