"Even if I played for a million years, I'd never come close to Maradona."
As unfair as it seems to compare two football players from two hugely different generations, the 'Lionel Messi vs Diego Maradona' debate will never get old.
Maradona himself even gets in on the fun by suggesting his goals were 'more beautiful', and that it is his style of play which makes him better than Messi.
Both players have undoubtedly been blessed with the ability to produce magical moments at any given time, and a skill that others can only dream of.
DESIblitz finds out what makes Messi and Maradona one of the best of their generations, and who deserves to be named the greatest footballer of all time.
On-Field Magic
In 1976, Maradona began his journey on the football pitch.
346 career goals, 3 League Titles and 1 UEFA Cup helped lift him high up on the pedestal that he is now cemented on.
Almost 30 years later, Messi storms onto the scene and hasn't looked back since. At a quick glance, his career statistics dwarf that of Maradona in pretty much every department.
7 League titles and 4 Champions League Titles belong to the 28-year-old Argentinian. On top of that are countless world records and awards for his supreme talent on the field.
But there is one trophy that Messi would willingly swap for everything he has achieved – the World Cup.
The 1986 Mexican World Cup made Maradona immortal in the eyes of millions of football fans around the world.
Of Argentina's 14 goals in that tournament, there were two from Maradona that will imprint his name in history forever.
Both came in the quarter-final match where Maradona literally ripped the English defence apart.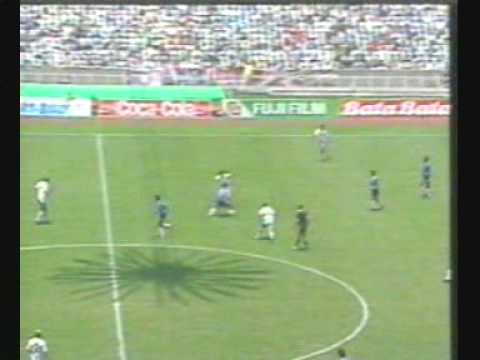 His first goal – the famous 'hand of God' – set England fans writhing, and the second one earned him the nickname 'half-angel, half-devil'.
Gary Lineker, who was part of the England's squad that day, said even he wanted to applaud because it was just so special.
It was a moment that outshines the rest of his career and the reason many label him as the G.O.A.T. (greatest of all time)!
For Messi, the World Cup remains a dream. The fact that he is yet to lead his country to win is a deal-breaker for many fans in this argument.
But his career is not lacking in special moments. One of his wonder goals is so reminiscent of the one scored by Maradona in 1986 that many also call him 'Messidona'.
He got past the same amount of players, scored from a similar position and even ran to the corner flag just as Diego did all those years ago.
Off Field
Many believe that for such gifted players, their off field shenanigans really let them down.
For Maradona, drug scandals, weight gain and financial difficulties cast a shadow over this legend's career – so much so that support for him has dwindled over the years.
For Messi, the second highest paid footballer in 2015, tax evasion has seen his name dragged into the mud on numerous occasions and brought him under heavy scrutiny.
Although his faults don't quite measure up to those of Maradona, Messi sure is no angel either!
Playing Style and Adaptability
Known for his silky skills and creativity, Maradona fends off defender after defender with strength and agility, to score some of the most memorable goals in football.
He excelled in Spain, Italy and, of course, Argentina – constantly adapting to new surroundings, different team dynamics and systems as an attacking midfielder.
Many feel that this ability to adapt is all down to the fact that he is simply a pure genius with a ball at his feet.
Messi, with the same build and similar height as Maradona, is equally capable of delivering impressive movements and playing style as the former Argentinian number 10.
While there is no reason to doubt his technique anywhere in the world, the humble striker says: "Even if I played for a million years, I'd never come close to Maradona."
Meanwhile, many argue Messi may not be able to replicate his genius beyond Barcelona.
But one must take note that he has always found a way to gel with Barcelona's ever-changing squad and still bring the entertainment factor that he is famed for.
Both Argentinians have given football plenty of wonderful moments, many of which will be remembered for a very long time.
They are celebrated for their achievements and ability to stun football fans from all corners of the globe, with their otherworldly skills on the pitch.
Tell us in the poll below who you think is the greatest footballer of all time!
Loading ...