"We are excited about bringing millions of fans a new way to play."
Gaming is no longer just a male-dominant pursuit.
With more females taking up gaming and finding themselves pretty darn good at it, it is only befitting that EA Sports and FIFA 16 have announced Women's National Teams are 'IN THE GAME'.
Released on May 28, 2015, the FIFA 16 trailer has already enjoyed over 2 million views. The upcoming game will see women footballers appear for the first time.
The 12 National Women's Teams being featured are Germany, USA, France, Sweden, England, Brazil, Canada, Australia, Spain, China, Italy and Mexico.
Only optional to play against other female teams, gamers can choose between a number of FIFA game modes including 'Kick Off', 'Online Friendly Matches' and an 'Offline Tournament'.
EA Sports heavily researched the matches and movements of women's football so that they maintain an authentic likeness that will differentiate them from the male version.
Using four leading female footballers from the United States Women's Team (Sydney Leroux, Abby Wambach, Alex Morgan, and Megan Rapinoe), the development team recorded walks, runs, sprints and side-steps using 360 degree body scanning.
They have also taken head scans of some famous female footballers and added them to the game. So now you can have England's Steph Houghton on your team, and FIFA are adamant that it will be as realistic as possible.
David Rutter, VP and GM, EA SPORTS FIFA said: "Bringing some of the best women's players and teams in the world to our franchise is a massive event for EA SPORTS, and we are equally excited about bringing millions of fans a new way to play.
"We're making sure fans get an authentic experience when playing with Women's National Teams thanks to our innovative player capture and reference tools, as well as the sophisticated gameplay platform which we will continue to innovate on in FIFA 16."
Abby Wambach of the US women's team added:
"We're all excited to see ourselves in the game, but even more excited to see the reaction from all of the fans, including the fans of our team that maybe wouldn't be expecting something like this from EA SPORTS."
Fans and gamers have welcomed the news, and are excited for its release later in 2015:
@EASPORTSFIFA this is awesome. Good job EA, you did something good.

— Evan (@evanmNJD) May 28, 2015
But while it has gained much support on social media, not everyone is as pleased with FIFA's new recruits. Some of the backlash led to Chief Operating Officer at EA, Peter Moore to tweet against any sexist comments being made:
So sad to see the misogynistic vitriol following @EASPORTSFIFA announce re. women in the game.We are better than this pic.twitter.com/RufIVjPJVW

— Peter Moore (@petermooreEA) May 28, 2015
It is clear that EA Sports are taking huge strides in making gaming relevant to women as well as men. FIFA
games have only featured male players within the franchise since its beginning in 1993.
But some wish that the women's game in real life should also be given as much importance. Perhaps raising the awareness of gender equality in football 'in the game' will eventually translate to the real game.
As the FIFA 16 trailer insists: "We're not just here to stand and watch. This is our game too. We're IN THE GAME."
Watch the EA Sports' FIFA 16 trailer here: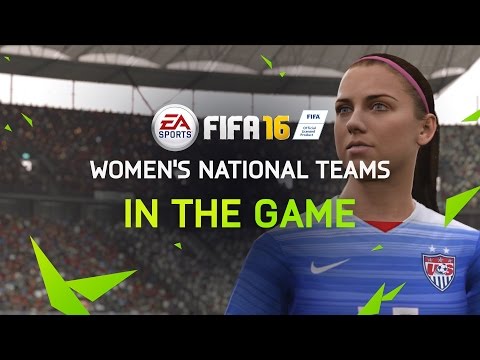 With the real FIFA facing heat in the midst of a corruption scandal that has dominated headlines, this is some semblance of positive news the football organisation can cling to with FIFA 16.
Although, currently there is no option to play in 'corruption mode' as of yet!
FIFA 16 with Women's National Teams will be available in North America from September, 22, 2015.
It will be released on Origin for PC, Xbox One, Xbox 360, PlayStation 4 and PlayStation 3.