"You're too pretty to be Indian, or I didn't know any Indian girls like you"
The Indo-Canadian web series Anarkali on YouTube has had a real positive impact on Desi youngsters in the dating game.
First released in 2015, Anarkali is written and directed by Canadian born Rakhi Mutta.
Mutta was catapulted into the spotlight after her project Punjabi Mime Through Time (2015) went viral.
Anarkali at its core is a show that navigates the Desi dating game. The protagonist of the show goes from being in a long-term relationship to find herself single. Consequently, she is unaware of how to find her footing.
With the web series 3 seasons strong, we have seen various topics covered.
These include, how to deal with pressures from a Desi society, commitment issues, work-relationship balance and normalising the concept of pre-marital sex.
Young Desi people face and deal with such issues on a daily basis. Having a web-series like Anarkali allows many to sit back, relax and relate.
With our lens zooming on this web series, lets closely explore how it has impacted young Desis in the dating game.
 Social and Family Pressures
Any young Desi will not be a stranger to the pressures of society. Anarkali addresses this pain that young Desis face and transforms it with humour.
During season one, Anarkali's mother played by Jasmine Sawant goes slightly overboard by attempting to get her daughter married.
The single parent is concerned with society judging Anarkali. As in her failure to marry will be down to her mother's poor upbringing.
Taking on the issue of single-parent families and the social pressures that are put on the children of such households is bold but also necessary.
These are situations that young Desis deal with. These pressures are most often severe when they concern romantic relationships.
The lead actress of the show, Kiran Rai exclusively told DESIblitz:
"Anarkali gives a space for these subjects to be portrayed, giving the audience a lot to contemplate and discuss."
Open Relationships and Commitment
At the centre of Anarkali as a series is the topic of commitment issues.
For modern-day Desis, it has become more apparent that marriage and relationships should not be taken lightly.
Living in Canada, many young Desis are choosing to tie the knot later if they marry at all. But that does not stop society from having an opinion.
Within the first episode of season one, Anarkali tackles the subject of open relationships.
Artist Babbu the Painter who plays free spirit 'Dil' is repeatedly ridiculed for being in an open relationship.
It's refreshing to see an Indian show which depicts a character who is less affected by society's conceptions of appropriateness.
She often defends her choice to be in an open and non-committal relationship.
As young Desis have to deal with peers and families judging them for not wanting to commit, this show provides a space for like-minded Desis to relate.
Anarkali is the first Desi made web series portraying such issues, which normally are considered controversial.
Work-Relationship Balance
The character 'Roop' played by Amrit Kaur is the quintessential 'Boss woman.' She is career oriented and not afraid to own it.
Her unapologetic directness breathes fresh life into the run of the mill portrayals of South Asian women in Indian drama serials.
Instead of the villainous vamp, evil mother-in-law and saintly victimised daughter-in-law; Mutta chooses to explore strong South Asian females who aren't afraid to ruffle feathers to get what they want.
Viewers get to see 'Roop' often struggling for power and control in her relationship. She is an independent woman who does not want to be shackled or tamed.
In her relationship, there is an element of struggle. Expectations throughout most Desi circles are for women to be more domesticated and men to be the breadwinners.
Having such a strong career-minded woman who does not want to compromise and feels she can "have it all" is quite impactful to young Desi females in particular.
It is no secret that traditionally, Desi women have been more actively encouraged to engage in domestic household life rather than professional work.
Pre-marital Sex and Stereotypes
It is common knowledge that second and third generation diasporic Desis do drink, smoke and engage in pre-marital sex.
Even Bollywood has shown similar themes in films like Aditya Chopra's Befikre (2016).
However, Mutta uses Anarkali as a platform to hold open discussions about pre-marital sex, making it instantly feel less taboo.
One of the most iconic lines occurs in season one episode three aptly titled "Indian girls."
'Dil,' 'Anarkali' and 'Roop' remember ridiculous pickup lines and stereotypes they have faced in the dating world. Mutta encapsulates this perfectly:
"You're too pretty to be Indian, or I didn't know any Indian girls like you when I was growing up, or Indian girls do that, Indian girls smoke? Indian girls drink? Indian girls have sex before marriage?"
The way that the girls nonchalantly laugh and say these lines ladened with sarcasm only makes the scene that more entertaining and impacting.
In later seasons the series also explores a pregnancy scare be it with a comedy element attached to it.
The show did well to portray subjects which many have faced or are facing.
Missing a period, the panic, visiting a pharmacy to get a test, not wanting to bump into an aunty or relative, trying to take the test without any family knowledge are a few to highlight.
All of this is plausible and could happen to anyone. Hence it is stimulating to see an on-screen narrative exploring this.
Interracial Dating
In season 3 we meet Anarkali's extended family network, including her cousins. Actress Joty Kay plays the rebellious 'Navi.'
'Navi' has an apathetic nature with a biting sarcasm. However, it is interesting when Navi's non-Desi boyfriend drives her home from a date, a situation of panic sets in.
This scene featuring such an overconfident and blasé character is quite impactful. Navi affected by the idea of being seen by her Father with a non-Desi boyfriend is something so many young Desis can relate to.
The couple argues over this topic, with Navi stating many of the cultural restrictions and contradictions that make interracial dating difficult for young Desis.
Watch the Official Trailer for Anarkali: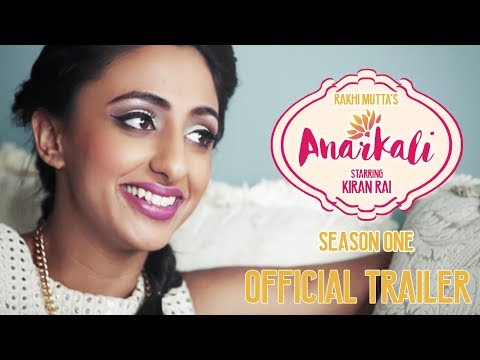 Mutta addresses core concerns that affect young Desi people in the dating world.
And with wit and skill, she has produced a series that helps young Desis navigate the minefield of dating within a South Asian diasporic community.
This is the first Desi made dating web series, which tackles so many important topics that affect the young community.
Anarkali, provides clarity on confusing and contradictory gendered and cultural opinions, allowing young Desis to gauge the dating game with a bit more confidence and self-assurance.
This never hurts, when it comes to the modern day dating game.
The finale to season 3 of Anarkali wrapped up on May 3, 2018.