"If not a director, an actor or producer might exploit you."
Shama Sikander, who is best known for her role in the show Yeh Meri Life Hai (2003-2005), revealed that she was a victim of sexual harassment.
The TV and film actress discussed the incident between her and a director during the early stages of her career.
In an exclusive interview with Bollywood Life, Shama stated that a director tried to put his hand on her thigh when she was just 14-years-old.
She said: "During the initial days of my career when I was 14, a director put his hand on my thigh."
"I immediately said no and shook him off."
Her awful experience took an even darker turn when the unnamed director told her that she would be exploited by another person in the industry.
The director told Sikander:
"You think, you are going to be a star, yaha koi nahi chodega tumhe (no one here will leave you alone)."
"If not a director, an actor or producer might exploit you."
"You cannot grow without that."
The ordeal left Shama heartbroken especially after having aspirations of acting as a young girl.
She added: "I was a 14-year-old who came with big aspirations and dreams."
Sikander is another star who has shared her sexual harassment story in the wake of India's #MeToo movement.
She also explained that people become associated with the on-screen persona of an actor and do not see beyond that.
Shama discussed that people who have come forward with their experiences must be heard.
According to the actress, people within the industry do not understand the meaning of consent.
As well as her #MeToo sexual harassment experience, Shama was the first to speak out about the casting couch issue.
Many actresses have experienced incidents relating to casting couch which has seen different sexual harassment accounts.
Shama first spoke about the subject in 2016 and has faced the casting couch multiple times as an actress.
One incident involved her and a famous Bollywood director.
In an interview with Siddharth Kannan, Shama recounts the incident where she was signed up to do a film with a director whose work she admired.
However, on the day of the shoot, the director told Shama that the producers found someone else.
Shama said to him: "Sir, I really want to work with you."
The director was trying to be very "persuasive and manipulative" by saying that many big actresses have messaged him saying they're coming to him.
He then said that Shama had to do something while trying to make her understand what she meant.
When Shama understood, she said: "I don't want to do the film anymore, I've lost all respect for you as a person."
Watch the full interview here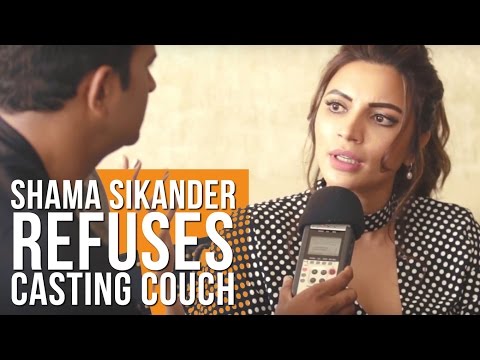 Some actresses have been pressured to perform sexual favours to directors and producers in the past.
Sikander moved into television where she found fame in Yeh Meri Life Hai playing the role of Pooja.
Shama is not the only TV actress to experience sexual harassment.
Dil Se Dil Tak (2017-2018) actress Jasmin Bhasin revealed her experience on Thursday, October 18, 2018.
The incident took place in 2013 during Jasmin's modelling days.
She met a director who is known for his Hindi films however after meeting him, she felt something was wrong by the way he spoke.
He asked her:
"What will you do to become an actress and to what extent can you go?"
Bhasin admitted that she initially did not understand what he was trying to say.
It was then that the director requested Jasmin to take her clothes off so he could see how she looked in a bikini.
Jasmin told him: "I am not in the best possible shape to flaunt a two-piece."
"The brief given to me was that the girl's character is very different and I am not supposed to wear a bikini."
Jasmin immediately left the director's office.
Since discussing the issue of the casting couch Shama has now brought to light her own experience of sexual harassment in the midst of India's #MeToo.