"I'm excited to know what London will think!"
A classical musician by profession, Soumik Datta has wowed audiences across the globe with his incredible Sarod playing.
Known for fusing together Eastern and Western sounds, Soumik returns to London's Southbank for Alchemy 2015.
Soumik will showcase his latest musical performance, King of Ghosts, a live film score of Satyajit Ray's iconic Goopy Gyne Bagha Byne (1969), alongside the London Philharmonic Orchestra.
Composed by Soumik, Johannes Berauer (Conductor) and Cormac Byrne (Bodhran and Percussion), King of Ghosts retells the famous children's fable through music, giving new life to Satyajit's epic narration.
In an exclusive Gupshup with DESIblitz, we find out more about King of Ghosts composer and Sarod player, Soumik Datta.
What encouraged you to take up the Sarod?
"I spent my early years in Mumbai and moved to London when I was 10. Music and the arts were around me all the time. My mum is a filmmaker and a singer. It was only by chance that I stumbled across my grandmother's Sarod.
"I trained under the guidance of the legendary Pandit Buddhadev Das Gupta. Later, I studied as a composer at Trinity College of Music. It is the constant dynamic meeting of cultures and their sounds that inspires in all that I do."
Can you play any other musical instruments?
"When you study Indian music, you are trained to bond with one instrument. It is a link for life and a discipline with a singular focus.
"Every sacrifice you make only serves to strengthen the connect between you and your instrument. So although I compose for a multitude of instruments, both Western and Indian, the Sarod is my one and only."
Do you think classical Indian sounds fit well with modern Indian music?
"Modern Indian music is based on the legacy of the raga system. Many of the present day Indian composers such as A.R Rahman and Shankar Mahadevan are deeply versed in Indian classical music. To innovate, a musician first needs roots. And in Indian music, those roots are the ancient ragas!"
How has it been collaborating with popular Western musicians?
"Over the years, I have been able to work with some incredible musicians from across the globe. It was a joy to work with Beyonce, Jay Z, Bill Bailey, Joss Stone among others.
"I was also stoked to finally work with artists I used to listen to as a kid – Nitin Sawhney and Talvin Singh have paved the way in East and West collaborative sounds.
"Last year I shared the Alchemy stage with Nitin and Anoushka who recorded on my album and brought down the Queen Elizabeth Hall roof!"
Do you have any musical influences?
"I'm a huge Hans Zimmer fan. It's amazing how his compositions rotate around a simple, hummable melody. And yet the listener never gets bored.
"The sound world continually ebbs and flows like the ocean. Indian music has a similar ocean like quality. I listen to Zimmer in those quiet spaces of time when I'm on the road."
King of Ghosts is based on a famous children's fable. How was it taking Satyajit Ray's iconic film and retelling it in a new medium – i.e. music?
"I first encountered the movie when I was a kid, living in Mumbai. Almost all Bengali kids brought up between the 70's and present day have seen and love Goopy Gyne Bagha Byne. However, it wasn't till I re-watched it as an adult that I noticed a deeper subtext.
"The film's pivotal sequence is a six and a half minute dance, divided into four numbers, performed by the ghosts of the forest in front of Goopy and Bagha. In line with the four common classes in the social hierarchy, Satyajit Ray decided to classify his ghosts too – the king and warrior ghosts, the sahib ghosts, the fat and common ghosts.
"However, while observing this hierarchy, Ray's film actually subverts it. The dance culminates with the four classes positioned vertically, with the priests at the bottom and the common people at the top!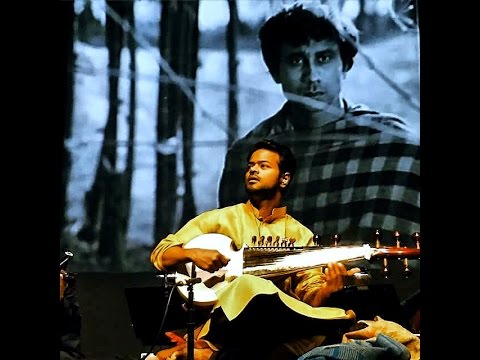 "There are more examples of subversion. The music competition scene shows learned Ustads and Pandits incapable of holding the King's attention. It is Goopy's tuneful and natural voice that wins him over. In the final scenes, we see how music and pots of sweets combine to stop a terrible war.
"This is the real Satyajit Ray, a master storyteller who subverts reality and makes us question the world: Can music grant us strength to fight for what is right? Are the arts capable of improving society or, as we see in the final scene, stopping war?
"These are powerful and relevant messages hidden within a children's fable. Working on King of Ghosts enabled me to explore these themes."
What has your experience been like working with the London Philharmonic Orchestra?
"When Edinburgh Mela commissioned me to create this live show in 2014, King of Ghosts was played by the wonderful Scottish Chamber Orchestra.
"When Southbank programmed it in 2015, it was a bonus to find out: the London Philharmonic Orchestra would play it!
"As a composer, it's a dream to have your work played by international ensembles. I want the show to travel and be played by orchestras across the world.
"On one hand, we revive the work of master director, Satyajit Ray. On the other, we promote Indian music and its scope for large scale, international collaborations. Win, Win!"
King of Ghosts has already received a fantastic reception from audiences across the UK. Alongside standing ovations, the live show was also given 5 stars by The Scotsman. Soumik is keen that London audiences will also respond in the same way: "I'm excited to know what London will think!"
Soumik will perform at Alchemy on Tuesday 19th May 2015 at London's Southbank Centre. For more details about King of Ghosts, please visit the Alchemy website.