"I used to always look at the stunt pictures and I thought to myself, 'I wish I could do this one day'."
Celebrating some of the most inspiring figures of Indian cinema, the Alchemy Festival is paying tribute to Fearless Nadia: Bollywood's First Heroine, action queen of the silent screen.
Taking place at the London Southbank Centre, the famous composer Ben Walsh, will be playing a special homage to Fearless Nadia at Alchemy from May 25 to 26.
The 2014 Alchemy Festival celebrates 5 years of running and exhibiting the best of music, dance, comedy, fashion, art, literature from South Asia and the UK.
Famous names like Anoushka Shankar, Sukhwinder Singh, Aditi Mangaldas and Naseeruddin Shah have already graced this festival with their performances and appearances.
The world famous conductor Ben Walsh and the Orkestra of the Underground are honouring the original stunt queen of Bollywood, Fearless Nadia: Bollywood's First Heroine by performing a live score to a montage of Fearless Nadia's underrated 1940 movie, Diamond Queen.
Ben Walsh confided with the press about the show, saying: "[We] know very little about her in this country [which] is a real shame [so] it's one of the most exciting factors in this production – to [be able to] reunite Australian audiences with her work."
Originally Australian, India adopted Nadia and she became popular in the film industry when Indian cinema itself was not in the limelight. She began her Bollywood career in the 1930s and spent an incredible thirty years in the business both entertaining and showing a rare kind of bravery that was alien for women at that time in India. Her willingness to overshadow the female stereotype in Indian cinema earned her the deserving title of 'Fearless'.
Named Mary Ann Evans at birth, Nadia was born in Western Australia on January 8, 1908. She moved to Bombay, India with her father, Herbertt Evans, when his regiment was stationed in the capital of Indian cinema. Sadly Herbett died in France during the war, and Nadia and her mother were left alone. It was at this point where her passion for cinema and the stage developed:
"Every week I used to come home, my mum used to send me to the pictures, and I used to love all the pictures. I used to always look at the stunt pictures and I thought to myself, 'I wish I could do this one day'."
Before becoming the famous Hunterwali, young Mary toured the whole of India as a theatre artist and even worked at Zarko Circus for some time.
Mary's fate changed forever when she was discovered by Jamshed 'J.B.H' Wadia. Her first ever appearance on the silver screen was as a slave girl in the movie, Desh Deepak (1935). After few small performances, she came to popularity with the audiences. Jamshed and his brother Homi then decided to groom her and make her a star in the industry.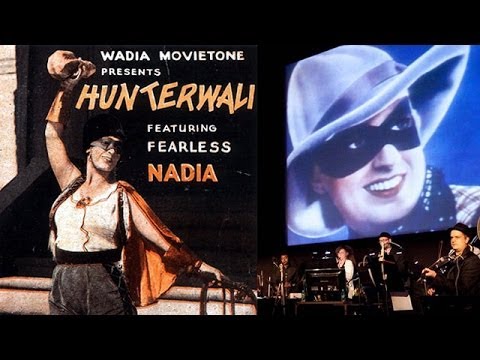 During this time, the young action heroine took the advice of her Russian dance teacher, Madame Astrova, and changed her name to Nadia which she found to be more exotic. She started to cash in on the fact that she was able to ride horses, worked in a circus, and not to mention was brave enough to take on some serious action stunts on her own.
Film Journalist B. K. Karanjia said about Nadia:
"[Traditional] heroines were usually very meek, dumb ladies who did whatever their husbands wanted them to do. And even when they revolted, they did it in a very shy manner. Here on the other hand was a woman who could lift men, throw them around. She did all her stunts herself."
Karanjia adds that even male actors and action hero's were influenced by her, including the likes of Amitabh Bachchan.
The most prominent movie Nadia starred in was, The Daughter of Hunterwali (1943) where she played the main character. This inspirational movie not only showed her courage, acting talents and perseverance, but still inspires women to think out of the box, even today.
Bollywood giant, and veteran actor Amitabh Bachchan was in awe after watching the movie. He then told the press his thoughts on it, saying:
"An excellent tribute to her and the cinema of the time… Pretty darn awesome! An innovative idea, played out to perfection."
Fearless Nadia was not called 'fearless' just because she jumped on horses, wore a mask or carried men on her shoulder after beating them up (still a pretty unique thing to do for a woman in Indian cinema). It was because of her courage of chasing her dream in a country where she was not born, spoke the language or looked like everyone else.
The fact that she could be herself and do all those other incredible things and did all her stunts on her own was only the cherry on the top. To avid cinemagoers, she will always be remembered as 'whips, quips, and swinging hips.'
The truly heroic and moving Fearless Nadia: Bollywood's First Heroine tribute will take place at the Alchemy Festival at Queen Elizabeth Hall between May 25 and 26. For more details, please visit the Southbank Centre website.