Early audiences loved her for her perfectly performed stunts, as well as her charm and beauty.
'Fearless Nadia' hails as an inspiring and empowering actress from the early years of Bollywood. Google Doodle celebrated her 110th birthday on 8th January 2018 with a special drawing.
On Google India, visitors can see the stuntwoman drawn in her iconic gear, ready for action!
Bangalore illustrator Devaki Neogi created the doodle, recreating the style of vintage Hindi posters. While the famous star's career flourished during the 1930s and 40s, younger generations may be unfamiliar with Nadia's talent and journey.
Let's take a look back at Bollywood history and how 'Fearless Nadia' carved her path in the industry.
Born in 1908 in Perth, Australia, the starlet was originally named as Mary Ann Evans. As a young child, her parents travelled to India with her, where she grew up in Peshawar.
Her love for singing and dancing began in her childhood, whilst also developing a passion for action and thrill. She learnt how to fish, hunt and even horse ride – unconventional skills for girls at the time.
During World War I, she moved to Mumbai (then Bombay) with her mother, after the death of her father. Her talents soon developed as she travelled with a troupe across the region, excelling as a gymnast and trapeze artist.
Early audiences loved her for her perfectly performed stunts, as well as her charm and beauty. She also spent time working at the Zarko Circus. The stuntwoman altered her name to Nadia during this time, after meeting an Armenian fortune teller who advised the change.
A Thrilling Debut
Soon, Nadia left Zarko Circus to perform at cinemas, dancing to Bollywood songs. In 1935, her life transformed when famous director Jamshed Bonam Homi Wadia discovered her at one show.
Impressed by her talents, he tasked her with learning Hindi and gave her two small roles in Desh Deepak and Noor-e-Yaman. After these flicks, Wadia launched Nadia's career by giving her the lead role of Princess Madhuri in Hunterwali.
Mention this film to any dedicated Bollywood fan and they will immediately envision 'Fearless Nadia' in her leather shorts, donning a mask and cape. With whips by her side and delivering a gutsy, powerful performance, she captivated audiences.
While many admire her for her beauty, they were in awe of her stunts and skills. At a time when actresses were typically cast as 'the damsel in distress', Nadia injected a breath of fresh air to Hindi cinema.
Hunterwali quickly became a success, with critics praising the leading actress. She went on to star in five more of Wadia's films, from Miss Frontier Mall (1936) to Diamond Queen (1940). Overall, Nadia starred in over 50 Hindi films, earning a reputation for playing strong female characters.
Her well-known nickname 'Fearless Nadia' came from Homi Wadia, who she married in 1961. He called her this after the star jumped from a studio set's roof – a name which has lasted ever since.
In each film, Nadia pulled off unbelievable stunts. She famously said: "I'll try anything once."
From befriending lions to fighting bandits, both men and women became inspired by her. Though she retired from acting in the 1960s, (bar featuring in the 1993 documentary Fearless: The Hunterwali Story) her legacy shines to this day.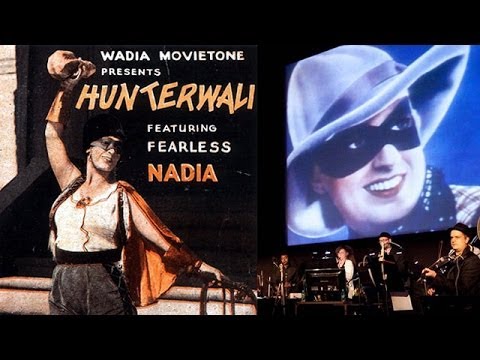 An Important Figure of Bollywood
Despite Hindi cinema in its modern age, many of its stars have been influenced by Nadia. For example, Kangana Ranaut's character in Rangoon bears a striking similarity to the iconic actress. Reports claim Kangana was directly influenced by Nadia.
One can still look at her career as inspiration, especially of the era she lived in. A time where women struggled to gain equality, Nadia showcased the strength and passion of women to Indian audiences.
Events have celebrated her legacy, such as the Alchemy Festival, where organisers paid a special tribute to her. Now Google Doodle has also brought the actress' legacy back to its rightful spotlight.
With an impressive career, 'Fearless Nadia' will undoubtedly continue to inspire and amaze future generations of Bollywood!