"I always say that I am very instinctive about choosing projects"
"Rangreza? It is love, it is happiness, it is beautiful," actor Bilal Ashraf tells DESIblitz on a snow-swept afternoon in Birmingham.
Joined by his co-stars, Urwa Hocane, Gohar Rasheed and Pakistani Sufi singer, Asrar Shah, the relatively new Pakistani actor Bilal is feeling optimistic about his latest role playing a pop star who falls in love with a quirky girl from a Qawwal family.
A true musical romance, at the helm of the Rangreza movie, is the debutant director, Amir Mohiuddin and writer Akhtar Qayyum.
The colourful story revolves around a young woman called Reshmi (played by Urwa Hussain). Belonging to a traditional Qawwal family, Reshmi has been promised to her cousin Waseem (played by Gohar Rasheed) since childhood.
However, the arrival of the charming rockstar Ali (played by Bilal Ashraf) into their lives creates considerable conflict. Ali falls in love with Reshmi. But their romance creates a clash within the different families, as these two schools of music collide.
Described as a "true perfectionist" by her co-stars, popular Pakistani actress Urwa Hocane tells us that she fell in love with the script when she first read it, prompting her to say yes immediately:
"So I was offered the script and of course what attracts the actor is definitely the script. So I went through it and I fell in love with it instantly and I had to do it, I had to play this character.
"I always say that I am very instinctive about choosing projects, I don't like to calculate too much, think too much about what the production is, who the director is because as you know, our director is also a debut director so I just felt the right vibe."
The savvy social media star and fashion icon describes her character Reshmi as: "A girl next door, but she is special in her own ways. She is a beautiful girl at heart."
Interestingly, while Urwa showed much enthusiasm for her role, the male leads, Bilal and Gohar required more convincing by producer Munir Hussain.
As Gohar tells us:
"My character in the film is a percussionist player. To be precise he's a dholak player in a Qawwal band. He addresses himself as the third person. This guy is a little rowdy and you might agree with him or disagree with him.
"To be honest, what attracted me was that I was completely petrified with the character initially. I actually thought that I won't be able to pull it off."
As a relative newcomer to the film industry, Bilal also shares: "Initially, when I got the script I refused to do the role because it was a very complex character and I don't have a musical background. So I didn't think I would fit the role."
However, similarly to Gohar, the producers convinced Bilal that he was the right man for the job:
"So, I set on that journey where I took it as a challenge and spent a lot of time researching. Following different musicians, watching YouTube videos, learning the guitar, learning the piano, to really get into the character. And I feel as though I've pulled it off so far. And the rest is for everyone else to decide."
As all the actors play talented musicians in the film, much preparation was required to brush up on their musical knowledge before shooting began:
"I looked at Led Zeppelin, Pink Floyd, I looked at a lot of Pakistani pop rock bands.
"There's this bad called Junoon, which was really popular in the 90s. And another one called Vital Signs, Junaid Jamshed was the lead singer who passed away so I dedicated my performance to him."
"I'm still a huge fan of his work," Bilal explains.
Theatre actor Gohar adds that he also had to learn how to play the dholak for his role. He visited Karachi's 'Qawwal Gali' where he was able to meet other classical musicians and pick up the body language required for his eccentric character of Waseem.
Watch our full interview with the Rangreza cast and team here: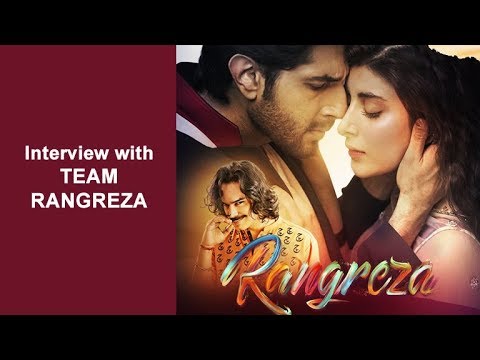 Dubbed as one of the most expensive Pakistani films of 2017, Rangreza has been lauded for its exceptional musical soundtrack that features the likes of Sufi legend, Abida Parveen, Asrar Shah, Jonita Gandhi and Qurram Hussain.
Eastern classical musician Asrar notably delivered an incredible live performance at Pepsi Battle of the Bands. Watch his acoustic rendition of 'Bulleya' here.
Possibly one of the best film albums to be released in Pakistan in recent years, tracks include 'Phool Khil Jaayein' featuring both Asrar and Abida Parveen. The traditional folk tracks 'Bulleya', and 'Balamwa' are beautifully melodious, as is 'Bagiya' sung by Jonita Gandhi.
With a brilliant soundtrack and exceptional cinematography, the Rangreza movie exudes colour, romance and music.
The attention to detail going into the making of the Rangreza Pakistani movie is remarkable. Urwa reflects: "It's been amazing. We've been shooting this film for a year and a half, so we've become this family."
An "intense romantic story" with memorable performances, Rangreza released in cinemas on 21st December 2017.