The canine named Junior has a parallel lead role with the well known super-star Akshay Kumar.
'A dog is a man's best friend' is not just a saying but a time proven fact in most circumstances. Hollywood has always adored dogs and given the canine species its due.
It's now time for Bollywood to show the same empathy. With that in mind the duo Sajid-Farhad's directorial debut Entertainment has the canine named Junior as a parallel lead with the well known superstar Akshay Kumar.
Akshay Kumar takes to the screen as the film's main character, Akhil, who is seen as a middle-class man who is struggling to make ends meet and has an ailing father (played by Darshan Jaruwala) who has been hospitalised.
Akhil finds out that all is not how it seems. The man who brought him up is not in fact his family, and his real father is actually a wealthy diamond merchant.
His real father goes by the name of Pannalal Johri (played by Dalip Tahil). If you have watched the promo you will have seen an excited Kumar proudly declaring that: "Yeh Slumdog Millionaire Ban Gaya!"
As fate in Bollywood has it, Akhil finds out that his father has passed away and he make his way to Bangkok to claim his share of the fortune as an heir. On reaching Bangkok he finds out that his Dad has already passed over his fortune to a dog called 'Entertainment'.
Interestingly, 90 per cent of the movie has been shot in Bangkok which is almost a hometown to Akshay Kumar.
The promos have already been released and look rather interesting with some funny sequences.
Akshay Kumar has lot of faith in the movie and when asked what is different about this movie, he stressed how comedic the story is, even though we all know he has done many amusing films before now.
He stated: "This is the funniest film I have ever done."
The Villain's are not one dimensional goons as Akshay points out, and are acted by Praksh Raj and Sonu Sood.
Akshay recently stated in an interview that they had fun shooting and the team work was so good that all the actors could bounce off each other to produce more comedy throughout the filming.
He also commented on his canine co-star, Junior, who plays the part of the dog 'Entertainment' in the movie.
Akki is a dog lover in real life and says that he was gifted one by his dad when he was young. Kumar has done the same and given a dog to his son too.
He says: "I personally feel for a child you should give him a dog. It learns loyalty, respect and lot of unconditional love from the dog."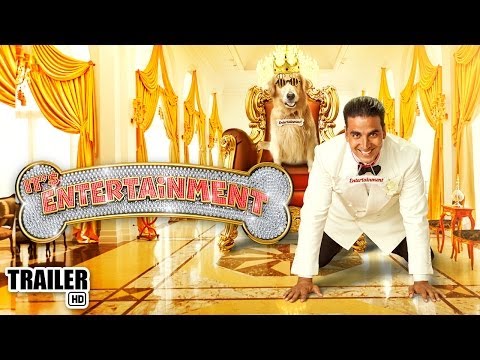 On working with Junior he says that the dog had six duplicates on the set. Junior only worked three hours a day and was given his own vanity van. He also had a nurse, a doctor and two attendants to look after him.
Kumar says: "Junior enjoyed shooting more than I enjoyed shooting."
In addition to praising his canine co-star, Kumar also remarked on how the relationship between a dog and a human can make for truly enjoyable cinema:
"Nobody makes films now with animals because people think it is difficult. It is true that you need a lot of patience but it is a lovable genre. Children and youngsters love such films."
Apparently Junior also had diva-like mood swings where he would come over for shooting and not move. Asked to sum up his co-star, Kumar says that Junior is a 'Very Handsome Dog'.
The film's soundtrack has also proved be in successful in its own right. 'Veeray Di Wedding' and 'Johnny Johnny' are two songs that have been particularly well received by the audience.
Johnny Lever and Mithun Chakraborty are some more famous names associated with the movie. There are also lot of cameo appearances from likes of Dilip Tahil, Riteish Deshmukh and Shreyas Talpade to name a few.
Yes, this may be done simply to increase the hype surrounding the movie, but the appearances do add another level of interest for the viewer as they watch the story unfold on screen.
Akshay Kumar has been cast opposite the actress Tamannaah Bhatia, who is in fact the daughter of a diamond merchant in real life.
It will certainly prove very interesting to see if they share a comfortable chemistry on screen.
Tamannaah says that she was so influenced by the story of Entertainment while the shooting that actually she adopted the dog and can't get herself to keep away from a long time from her little friend.
Speaking of her co-star Kumar in a recent interview Bhatia said: "I have not seen anyone as dedicated and multitalented as him. He is literally a dream to work with."
We all know that the 'dog is a man's best friend' storyline has been explored for a long time in cinema with children and adults both being able to enjoy this film. Box office predictions all over are positive showing that the movie is headed to a very strong start over the weekend.
The film is produced by Ramesh S Taurani and Jayantilal Gada, and as it is a wonderful chance to bring everyone together, and this is definitely a family film worth watching. Entertainment releases from the 8th August.