"We plan to complete the record without a sleeping break."
Pakistani-Canadian 'Super Marathon' Man Ziyad Rahim and Scottish Running 'Wonder Woman' Stephanie Innes are set to embark on a record-breaking adventure in Qatar.
The dynamic duo will attempt to set the record for the Fastest Traverse of Qatar by a male and female on foot.
The Guinness World Record (GWR) challenge starts from the northernmost point of Qatar, Al Ruwais, at 6 am on Friday, January 22, 2021.
Ziyad and Stephanie will head south towards Bu Samra, concluding their quest at the border of Saudi Arabia.
The runners are hoping to accomplish this feat by 10 pm on Saturday, January 23, 2021.
The pair are expecting that their running adventure will be no more than 202 kilometres.
The universal Ziyad is confident in achieving yet another GWR, adding one more to his tally of thirteen. His marvellous running companion Stephanie will be challenging for her first.
We take a closer look at the two athletes who are on a mission, along with some of their achievements and exclusive reactions:
The Adventurous Ziyad Rahim
High flying Qatar based banker Ziyad Rahim is no stranger to adventures, as he holds thirteen Guinness World Records. This includes ten being a runner and three as a race director.
In 2015, Ziyad was the first sportsperson in the world to complete a half, full and an ultramarathon on all seven continents.
His other Guinness World Records include the fastest time to complete a half marathon on each continent (10 days: 2015), fastest time to complete an ultramarathon on each continent (41 days: 2014) and the fastest time to complete a marathon on each continent and the North Pole (41 days: 2013).
In addition, he has a combination of marathon and ultramarathon records around the globe.
Ziyad has finished more than 250 long-distance races in seventy-nine countries and across all seven continents.
His running company, Z Adventures, which organises the most marathons across the globe arranged the highest road race in the world at Khunjerab Pass (4,693m above sea-level) during 2019.
Ziyad went onto break 3 GWRs in the process.
However, being a sporting hero and role model in Qatar, it does not stop there for Ziyad.
Watch an Exclusive Interview with Ziyad Rahim here: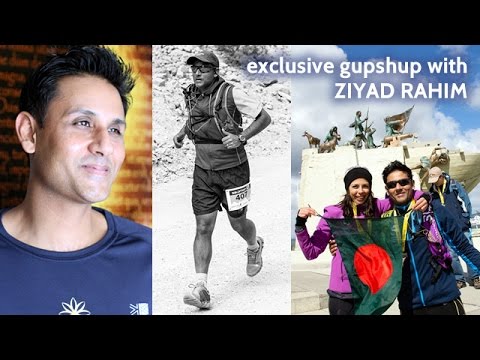 He has the determination to expand his collection of records, whilst inspiring others and giving himself another challenge.
Thus, with global travel restrictions in place and wanting another adventure during the COVID-19 Pandemic, Ziyad had to innovate and think of a record closer to home – Fastest Traverse of Qatar on foot (Male).
He is aiming to break the time of 47 hours 56 minutes set by Jad Hamdan of France in December 2019.
Ziyad quickly came to the realisation that he needs company for a journey of this duration. Hence, local long-distance champion Stephanie Innes joins him on the adventure.
Speaking to DESIblitz via Zoom, Ziyad states:
"My last individual GWR attempt was back in 2015, following which I started Z Adventures.
"So, over the last six years, my running and record-breaking desires took a back-seat. I was too occupied with organising events and expanding my company.
"However, during the pandemic, I just felt I needed to attempt something special out of my comfort zone.
"I shared the idea with my good friend, Stephanie, and she happily agreed to join me on the challenge and aim to set her first GWR.
"I think the biggest hurdle of this challenge will be to overcome sleep deprivation."
"We plan to complete the record without a sleeping break."
He adds that their friends will be joining too at various stages of the attempt to cheer them on.
Ziyad reveals as part of his preparations, he was hiking for three to four hours a day in Scotland. His family resides in the city of Glasgow.
Ziyad also did a quarantine marathon (42.2k on a 15m loop) in a Doha hotel room as part of his training.
He had to do mandatory quarantine in a hotel room as part of Qatar's COVID-19 prevention policy.
Running Sidekick Stephanie Innes
Stephanie Innes is a former UK Lawyer who aims to set her first Guinness World Record in January 2021.
Originally from Aberdeen, Scotland, Stephanie is setting the female record for the Fastest Traverse of Qatar on foot. Previously no female has officially done it.
She came on board for this challenge on the condition that Ziyad targets to beat the existing record by several hours.
Stephanie explains she needs to be home to get sufficient sleep before returning to work the following day.
She also does not believe either party can cope with more than fourty hours of "walking psychotherapy."
Stephanie succinctly told us her reasons for attempting this GWR:
"I am taking part in this challenge to support Ziyad in his quest. I enjoy his races. He's a key figure in our local running community in Qatar.
"Furthermore, I'm passionate about encouraging more women to participate in sport, particularly running in Qatar.
"This challenge will also function as great training for my next event, which will be the first female circumnavigation of Qatar on foot. This will equate to around 500 kilometres."
After leaving the legal field, Stephanie took up teaching at a prestigious institution in Qatar.
Speaking about the start of her running journey, Stephanie said:
"I started running in December 2016 after I was eliminated from an army selection process for skiing across Antarctica.
"I entered my first marathon in April 2017."
Stephanie is targeting to join the hundred marathon club, having already run numerous marathons and ultra-marathons. This includes completing the Comrades Marathon in 2019.
She has also run back-to-back marathons in six days. Stephanie's previous furthest distance was 104 kilometres.
Therefore, she is relishing the challenge of completing 200 odd kilometres for this record.
Stephanie has prepared well, having finished third in two mega-events in Qatar during December 2020. These include Qatar East to West 90K ultra run and Theeb 50K ultra.
Stephanie is firmly focusing on completing the Qatar North to South and her team's circumvention (500K) in February 2021. The team is called, The Desert Roses.
In doing so, she will become the first person to do all 3 events officially – East to West Qatar (90K), North to South Qatar (200K) and Qatar Circumnavigation (500K).
Leading up to the challenge, both athletes have been juggling the requirements of the GWR (physical/ logistical), along with their usual demanding jobs and lifestyles.
Ziyad continuously dedicates time to the banking world, his family and the sport of squash. He also manages a frantic weekend schedule as the number one organiser of amateur running races in Qatar.
Meanwhile, Stephanie is constantly busy with teaching, mentoring and other daily chores.
Despite their hectic lives, Ziyad Rahim and Stephanie Innes are raring to go, hoping to set Guinness World Records for the Fastest Traverse of Qatar on foot.