"Competition is there to inspire the best out of us"
The competitive UK Bhangra dancing scene has been quickly evolving. This has been ever since its first national competition in 2007.
On a global scale, many aspects of the UK scene have been admired. This includes the quality of dancing, the creativity and complexity of competitive sets, with mixes to complement.
Previously, we discussed the changes in the UK Bhangra dancing scene in 2017-2019. Now we move onto the future.
Will these standards that have been set be topped? Can new teams and the next generation of dancers light the torch bright for the future?
Judges, captains and experienced dancers from the scene give their insight on what to expect in the future.
Bhangra Fest 2019 is Next
The next bhangra dancing competition to look forward to is Bhangra Fest 2019.
Isha Berik, the organiser of Bhangra Fest, says we can expect the date and venue to be released soon.
This is most likely at the end of September or October 2019 with a move to another city.
Many speculate that this will be Birmingham, the historic home to UK Bhangra dancing.
This marks the first time a non-university bhangra dance competition will be held outside of London since 2015.
Isha says:
"We have considered a few dates in September or October.
"Issue we had was that different teams were requesting specific dates which had proven difficult to accommodate.
"We are changing the venue for a better experience for the audience.
"We're very excited to announce the performing acts on the night! Trust me, you won't want to miss it!"
For the last 2 years at Bhangra Fest, the same three teams have placed.
Gabru Chel Chabileh (GCC), Vasda Punjab and Ankhi Jawan in 1st, 2nd and 3rd respectively.
However, will this year see a change?
Ravneet Nandra, from Ankhi Jawan, said:
"I think you can see patterns with the winning style in Bhangra."
"2015 and 2016 the teams that were winning were Ankhi Jawan and Imperial. Then it shifted to GCC, UoB and Aston.
"Now it's coming to the likes of Kings and Vasda. Who knows what will happen in the next coming years?
"It's quite exciting to think there will be new dancers learning a new style that my generation won't have known at all."
With regards to whether Kings winning this year would have an influence on Vasda. Simrath Mangat, from both teams, said:
*Vasda and King's are separate entities, ergo they shouldn't be in the same question."
"It is unfair for a team of dancers to attribute a win they worked hard for to an external team unless they ALL dance for that team."
"I would never take a University win and label it Vasda, or vice versa."
Asad Afzal Khan, who has judged a number of competitions, said:
"It could be anyone that wins Bhangra Fest. It will be very interesting to see what teams do.
"Someone is going to come out with something different.
"People may have got bored of the super fast-paced style. It comes to the stage where there are only certain things that you can do."
Conversely, an anonymous dancer revealed how difficult it may be for teams to break away from "the previous winning formula".
They said:
"Each bhangra dancing team tries to replicate the previous winning formula year in year out. At the current rate, it's looking like fast pace sets laced with spins, jumps and betke as the norm.
"It's most likely gotten to the point where a true folk set would not place amongst current teams. As we have created our own image of bhangra."
Ishan Nandra, from Gabru Chel Chabileh, believes the peak has been reached:
"I hate to say it, but I don't think the future of UK bhangra dancing is bright.
"In terms of innovation amongst sets and quality of dancing, I think it's on the decline.
"I would love to see UK bhangra dancing scene flourish but I just don't see anyone topping the levels that have been set.
"Everyone needs to up their game. People need to start being innovative, have styles and identities of their own."
Are GCC, winners for the last two years, aiming for another win?
Deepak Sethi said:
"We're getting bored – all points have been proven. We have never taken a year off from competing. But the motivation isn't where it was for 17 and 18.
"However, people do want 4 stars and we do have some crazy ideas that people have never seen before. So let's see.
"Maybe see everyone at GCC Invitational 2019."
The Rise and Fall of New Dance Teams
In 2016, as mentioned in Future of UK Bhangra article, we saw a promising future for a dozen new university teams.
Some teams formed in the last few years have quickly established themselves as elite bhangra dancing teams.
This includes Jashan Jawani Da, Loughborough Bhangra and Hertfordshire Bhangra.
Both of the latter teams made confident TBS debuts and Loughborough won Capital 2019.
This is despite only starting off their competitive journey in 2015 and 2016 respectively.
Kyran Singh, captain of Hertfordshire Bhangra team, discusses reasons behind this:
"The main things behind the massive improvement is the dedication and passion of the dancers."
"Having a similar core set of dancers has led to us being able to build on this year on year."
"It's also down to the hard work captains and choreographers have put in over the years in order to keep the team going."
"We have done well to keep dancers motivated over the years. Being good friends and everyone pushing each other really helps."
"Working from TBCu to Capital to TBS has made everyone want to perform on the most competitive stage"
Watch Hertfordshire preparing for TBS
?ARE YOU READY???.Here comes TEAM HERTFORDSHIRE.Hertfordshire will be hitting up the TBS stage this Saturday to battle it out for the 2019 trophy ?.Do not miss out an night of incredible dance as well as our insane acts Panjabi MC, Raxstar, The PropheC, JK, Tru-Skool and Surinder Shinda ?. Mix: Amar Singh Kalsi.?TICKET LINK: https://evntm.uk/bhangra19fb?…#TBS #TheBhangraShowdown #HertsGoesToTBS #bhangra #bhangrafunk #bhangralovePunjab2000 E3UK Kudos AV Story & Motion

Posted by The Bhangra Showdown on Tuesday, 26 February 2019
Jessica Gar-Lai Cheung, a crucial member of the Loughborough Bhangra team since its inception, said:
"I am so proud of everything the Loughborough team has achieved over the past 5 years. It's genuinely down to the amazing captaincy and leadership we have had."
"It brings me so much pride and happiness to see the captains combine each of their strengths. To create a set that showcases their hunger and passion for the art of bhangra."
Amar Singh, the co-founder of Jashan Jawani Da, emphasises how important it is to have a supportive and thriving environment for the newer generation of dancers:
"The team is full of people who want to dance and work hard for each other on stage and off stage. I think evidently it shows."
"When you enjoy what you do and the people you dance with share the same thinking then it makes everything you do that much more enjoyable."
These teams, as well as others, have very quickly established themselves as role models for newer teams.
However, the last few years have seen a huge disparity in newer teams progressing competitively.
Capital Bhangra 2019 only saw four teams competing. A stark contrast from 2016 when there was so much demand that two competitions were needed just for these new teams.
Why are we only seeing some new teams consistently competing? Why are other new teams deciding not to compete?
Isha Dhillon Berik, the organiser of Capital Bhangra, tells us more:
"It has been disappointing to see some teams fizzle out."
"I think that either the younger generations have not shown any interest or they have not been guided by existing teams."
"Consequently, the team legacy has not been passed on to another committee, choreographer or a captain."
"It's a shame really because there were some really good and passionate university teams out there."
"I want to urge new students to show interest or take charge. If they don't have a team in their university then start one!
"There are so many people who are willing to help. It's just about getting in contact. People around the area or ex-students will be willing to help to teach or choreograph."
"Even at Capital Bhangra, we have an open space backstage and have encouraged teams to help each other. There had always been help there for tying paghan, props, etc."
"We always aim to create a friendly environment with all of our competitions."
"I believe that bhangra can help you make lifelong friends. I do see the older teams where dancers have become like family to each other."
"At university especially, it's very important to have that group because it's an escape from studying."
"It's a shame that some teams won't be able to have this experience anymore."
Has the standard of bhangra dancing competitions increased discouraged newer teams?
Isha hopes this is not the case, saying:
"I'm glad the standard has gone up as we want teams to progress. In terms of it being more competitive, I hope that this doesn't discourage newer teams.
"We want people to get along with each other, and understand it's more about participating. It's about showing that culture to the wider audience.
"At the end of the day, there is only one winner, but everyone that has competed has had a memorable and fantastic time."
Kyran Singh explores the reasons as to why teams are not competing:
"Could be down to injuries, or not having the number of dancers. Even the amount of time that is needed to take a bhangra dancing team to comp, may not be feasible.
"My advice to teams who fear competing is to ignore the fear and just do it."
"The 8 minutes you have on stage are one of the best experiences a dancer can have.
"I can see a lot of new teams coming through and making a good impression in their first competitions."
Heidi Sahota, who launched new girls team Soneh Di Chiri (SDC), says:
"Starting up a team isn't easy, but it's all about enjoying the process no matter what. It's definitely a bumpy ride but it takes a lot of courage doing so."
"Everyone wants to compete, but not many people have the guts to go out there and create a platform. Especially for female dancers."
"I've always felt that female teams are to be considered an afterthought, never a priority."
"With SDC, I wanted to create a platform that showcased and prioritised women in the scene. I think we did just about that."
Ishan Nandra, who trained up a mostly new team for Aston Bhangra in 2018, said:
"Teams need to have their own vision and follow it confidently. Focus on yourself and your team, and everything else will fall into place."
Watch Aston's road to their TBS win in 2018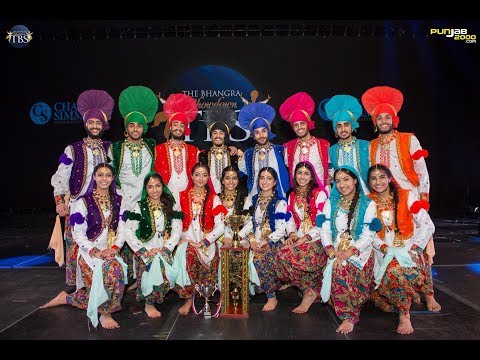 How does the UK Scene Compare to North America?
In The Future of Competitive Bhangra article in 2017, there was a lot of interest to see whether UK teams can beat North American teams.
In North American competitions, some UK teams, such as Josh Valaithian Da, have reached success. They have won competitions and had their performance videos go viral.
Even with UK competitions, many stand out performance videos have amassed over 50,000 views. These youtube videos are followed by a global audience.
There are differing views as to whether the North American or the UK circuit is superior.
Some have also argued that both scenes are too different to compete against each other.
More UK teams have gone to North America to compete. Whereas in recent years, only Surrey Indian Arts Club from Canada has come to the UK to compete.
Amar Singh, who has previously competed in North America, said:
"I think the UK has the ability to become the best place to compete in the world for a Bhangra dancer.
"All teams are stepping up and it's been refreshing to see having been in the scene for a long time."
Rav Deu, from Ankhile Bhangra, says:
"While it would be nice and certainly exciting to see the likes of NJ, SPD at our competitions. The fact of the matter is these teams thrive under a completely different rubric to that which exists here."
"Their focus is not so much on a neat complimenting of choreo to mix with interesting, never-seen-before formations. This need only be pulled off with synchronised mildly energetic dancing."
"Rather in North America, there is a huge emphasis on form and individual expression. The often gets overlooked in the UK scene. For better or for worse I'm inclined to say the latter."
Ishan Nandra said:
"The UK bhangra [dancing] scene has proven itself and that's it.
"I do agree that the quality of some dancers in the North American scene is very high – myself and many others in the UK do look up to them.
"However, we can argue that they're not moving around as much as we do and are not dancing sets as complex as we are.
"I think if North American teams were dancing sets like we are, it'd be a whole different ball game. Which they need to step up to."
Shaan Punjab Dee (SPD) a successful Canada based team has won several competitions in North America. Many UK dancers named SPD as one of the few North American teams that they would want to compete in the UK.
Prabh Saini, captain of SPD, responds to this, saying:
"I have watched a few UK segments here and there and I loved it."
"We would love to compete in the UK but right now we have no such plans. We are preparing for bhangra and giddha in the 6ix (held in Canada) at the moment."
It is uncertain whether in the future the UK scene will see North American teams coming or vice versa.
Every scene has evolved at its own pace and style, also with a contrasting marking rubric. This has made the debate over which scene is superior a difficult one.
Rejuvenate the Folk
Folkstars, the UK's only live competition discussed in a previous article, last happened in 2017.
There were multiple plans and dates set in late 2017 and early 2018. It was not clear as to why the competition was delayed.
Now there has not been a proposed date as to when the next Folkstars will happen.
Isha Dhillon Berik, who organises Folkstars, says:
"We would love to see a Folkstars happening in 2020 but the issue we have is that teams struggle to find musicians and singers.
"Currently, we do not have enough live teams in the UK."
"I strongly urge teams to get on board and in touch with me.
"International teams are interested but it's finding a time when they want to travel over and compete. Their holidays and commitments are different from ours.
"As much as we would love to have international teams, we want to have a good balance with UK teams."
Isha has also been encouraging girls to get into giddha and trying to create a platform for giddha for 3 years now. She says:
"Having Folkstars as a bhangra and giddha competition might be really good. It will be refreshing to alternate between the two."
In terms of other folk dance forms, Vasda Punjab and Nachda Sansaar have both done a number of exhibitions.
This has been in Malwai Giddha, Luddi, Giddha and Jindua.
Dancers from Vasda Punjab have gone internationally to compete in these folk competitions and have won.
Sukhjinder Singh and Amritpal Virk competed in Malwai Giddha and Luddi in Punjab in 2019. This is as part of Khalsa College, Patiala.
Satwinder Sunny competed in Bhangra in the Six in Canada in 2017.
Amritpal Virk said:
"Competing in Punjab was a completely different vibe."
"I loved how relaxed it was and how much the team bonded with each other.
"This made it a much more enjoyable experience."
Amar Singh says:
"I really want to see the return of Folkstars. I think the scene needs to push to keep that aspect alive."
"A lot of people say they love folk Bhangra so the interest is definitely visible."
Folk Bhangra dancing requires knowledge and resources, such as folk musicians and singers.
However, the experience and training is one that remains unparalleled from music competitions.
Just over a hundred UK bhangra dancers agree that there should be another folkstars this year or next
Now the onus is on teams to make this interest visible for the organisers to make it happen.
Recognising New Talent
The Bhangra Dancers Association will be launching the first talent show for academies that run classes.
This is happening on Saturday 8th June at Winston Churchill Theatre in Ruislip, Greater London.
Natasha Kataria, the co-founder of the Bhangra Dancers Association, says:
"The Bhangra Dancers Talent Show is a platform for the non-professional bhangra dancers. This aims to bridge the gap between them and professional dancers.
"Students from bhangra academies from around the country that teach classes will get the opportunity to perform on stage.
"At present, these students do not have a platform to showcase their talent to the wider audience. It also recognises amazing work these academies do.
"People of all ages get to practice bhangra!"
This talent show is divided into Beginners, Intermediate and Advanced category levels.
Groups will be performing to both music and live dhol under this same category. This depends on the different styles that each academy teaches.
The talent show also creates a new pool of dancers for a future generation, where children can participate.
Natasha tells us more:
"They will have gained some experience at an earlier age. Being prepped with basic bhangra skills gives them a head start well before they start university and professional teams.
"Due to the various styles of Bhangra dancing amongst these groups we have invited 5 judges who have a vast background of knowledge in both the music and live competitions."
5 bhangra academies will be performing. These are:
Absolute Bollywood Ltd, Apna Virsa Voluntary Community Organisation, Bhangra Dance London Lok Naach Academy, Panj Tara Bhangra Club and Vakhri Tohr collaborating with Dance Bhangra.
Many members of the Bhangra community have been positive about the talent show.
Asad Afzal Khan said:
"I think it's only going to give the scene more recognition and a bigger push.
"We need to see more of these classes and academies rather than just focusing on competitions.
"For example seeing the BDL kids perform at Capital this year was amazing."
There has been a rise in the number of classes and academies set up across the UK. Particularly at different levels – children, beginners or advanced level.
Billa says however that the purpose behind these classes can vary:
"I do think that the academies need to start teaching the fundamentals of Bhangra dancing though. There's maybe only a few in the UK that actually teach proper Bhangra.
"Others are just in it to make a quick few quid and a bit of self pump.
"This defeats the purpose of sharing your knowledge to the next generation."
Providing more platforms for new talent, like the Bhangra talent show, is perhaps what this scene needs.
An anonymous dancer said:
"We need more competitions in the UK. This gives other dancers a chance to compete as a team can rotate the squad.
"One comp a year means that the senior dancers all stick on for years. They don't let go of an opportunity to compete to win.
"This also brings unnecessary scene conflicts and over the top personal rivalries. Currently, teams are treating a comp as life or death".
It's hoped that more opportunities are provided for teams and dancers of all backgrounds and training levels, who will competitively showcase their Bhangra talent.
Is the UK Scene being Vocal in the Best Way?
Unlike the UK, the North American scene has an open online forum. This is the Bhangra Teams Forum (BTF), which unites the scene virtually.
Anyone can ask for help, receive feedback and interact with other dancers over various discussions.
A specific UK based forum does not exist anymore. This made it more difficult for teams to openly collaborate, seek advice or engage in debates.
Amar Singh said:
"I would say that we need to become more open to seeing changes in the way we do things."
"We need to show more respect for other teams and other opinions even if we don't agree. I think that's how we can do better."
"People focus on themselves all the time. But nobody wants to help the generation after themselves to enjoy this amazing culture".
Only a few UK dancers or teams are vocal on the international Bhangra Teams Forum. This is despite many still following and reading the forum.
Much of what is vocal, opinions wise, with the UK scene is written either on team group chats or on personal social media.
This has made it more difficult to have an open discussion amongst teams. And some say this has made the scene more political.
Deepak Sethi said:
"I'm sure people know how rife politics are within the scene. You need rivalry for good competition.
"What disappoints me about the UK scene is how people are afraid of being vocal and I don't know why that's the case.
"Nobody backs the controversy like the GCC guys. The whole UK scene got called out on BTF and nobody said anything aside from GCC.
"Maybe teams lack pride in their work? I don't understand what people are afraid of?
"You know everyone's screenshotting stuff in their groups, but no real balls to say anything."
"Maybe we just represent the whole UK scene?"
In contrast, Simrath Mangat said:
"It's sad that there is a lot of negativity and forums focusing on downplaying achievements instead of focusing on self-improvement.
"A crucible of negative variables resulting in a concoction which is difficult to stomach for newer and older dancers alike.
"Resulting in either buying into this ethos of overt rivalry, or leaving the scene. Ultimately it creates an unwelcoming environment.
"The days of old comradery seem to be a distant thought. We must remember that bhangra dancing is a hobby.
"Competition is there to inspire the best out of us, not feed our egoistic tendencies to bring out the worst.
"We all have our opinions but there's has to be a constructive medium through which we can share it."
When many join the bhangra dancing scene, they enter it as a hobby, an escape from studies or work. Or even as a way to learn about the warm Punjabi culture it is associated with.
However, could these politics be affecting newer dancers and team's decisions to compete?
Rav Deu said:
"All up for bringing young people into the scene and the open class culture that has exploded as of late.
"But if we are to continue down this road, we would do well not to let the newer generation become so entitled by a couple of wins. That they think they are god's gift to Bhangra.
"When in actual fact, they haven't even learned how to correctly use their hands.
"Moreover it would be a huge shame to lose the sharp competitiveness that once existed amongst the top teams. GCC, wishing you a happy retirement"
An anonymous dancer revealed:
"The UK scene has become so intimidating for new dancers."
"It's appalling to see teams blame judges for results even though they came where they were deserved. Then dancers disrespecting other dancers and teams over social media.
"All of it is unnecessary but is done as an ego boost.
"There are too many people who fake to support it for clout and ratings. Even though they know that the scene is being made so hostile by simply a few certain dancers or teams."
Just over 50% of dancers felt that the bhangra scene has become more intimidating. Only 31% considered it more welcoming.
As disappointing as this may be, it is down to the future Bhangra community to change this.
If the scene is to flourish collectively, the onus is on each individual and team in the community.
To consistently make more of an effort to be welcoming and appreciate the work of others. And, to remember the reasons as to why they started learning this vibrant art form.
In Conclusion
The UK Bhangra dancing scene has seen its twists and turns in the last few years.
There are highlights to look forward to in the future, as well as some challenges ahead.
Whether it is new teams starting up or finding it difficult to succeed; whether it's teams wanting to experiment with something new, like Folk or Giddha or whether it's making an effort to make the scene more welcoming.
It's important to not let politics impact its progress.
Furthermore, creating more competitive platforms such as the Bhangra Dancers Talent show could be the way forward.
However, this can only be successful if new teams are supported and encouraged to take up the opportunity.