"I was fortunate he came in my debut single"
Talented UK based Punjabi singer and musician Banger continues to grow a large fan base, with the release of his ninth track 'Lalkareh Marda.'
Banger has many years of music behind him. From a young age, he learnt from the very best. Ever since then he has not looked back.
Proud of his Punjabi heritage, Banger is famous for singing and Bhangra moves.
Late Vipin Kumar, CEO of VIP Records signed Banger during the 2010 decade, believing that he would' smash it."
From 2012 onwards, Banger has released several hit tracks. Following a short break, Banger returns in 2019 with his single 'Lalkareh Marda.' The authentic, desi, folk Bhangra track came out in May 2019.
DESIblitz caught up with Banger to discuss his musical background, 'Lalkareh Marda,' traditional versus digital approach and the music of the past to present.
Background and Music
Birmingham Born Anil Banger who is familiar as Banger comes from the Handsworth area. He was always passionate about Punjabi, his identity and folk music.
From the early age of fourteen, he was able to play a variety of musical instruments, including Dhol, Tumbi, Algoze and Harmonium.
His musical journey began when learning Tabla at school to avoid a longer English class.
Representing Holyhead school, Banger had his first performance at the Birmingham Symphony Hal. He told DESIblitz:
"I played teental (Hindustani music) on the Dholak. Harjit Singh was my Ustad. He was the Dholki Master of the Azaad group. He use to come to our school to teach us."
Late Ustad Kuldip Manak Ji was a big influence on Banger featured in his debut single Soorma (2019).
Speaking about this, Banger tells DESIblitz:
"I was fortunate he came in my debut single, my very first song Soorma."
Thus Manak Ji did encourage Banger into the field of singing.
'Lalkareh Marda'
For Lalkareh Mardah, Banger has worked closely with producer Nikku Bhai of Supersonic sounds in Jalandhar India.
Pargat Kotguru has penned the lyrics of this dance floor song, which has the raw vocals of Banger.
When asked about the motivation behind the track, Banger replied saying:
"The inspiration was that we wanted something that people can enjoy. – Yeah."
"I'm finding more and more that people are not enjoying music. There more looking to pick faults. So this was something just to get people to enjoy music."
The video to the song featuring model Timsy was shot in Chandigarh, Mohali. The whole shoot took seventeen hours.
The colourful video lasting just over three minutes features Banger in both western and traditional clothing,
Traditional vs Technology
Banger believes he is a traditionalist as he enjoys evergreen old tracks by some of the finest musicians of their time.
However, he also does like some of the contemporary tunes, which are aided by computer technology.
Despite not opposing technology, he states:
"I'm not against it, but I would still say that when you play it with the hands, the spirit enters into it."
"Whereas with the computer you often have a setting."
Banger feels that one has to be sharper when it comes to music aided by the computer. Whereas in the past everyone played music together. He states:
"So when they did a recording they had people in the actual booth. So they had a dholki player. They had a singer, they had all the instruments in there and people would play LIVE."
Besides 'Soorma' and 'Lalkareh Marda' Banger has previously released other tracks. These include 'Patandra' (2012), 'Shikari' (2013), 'Mr & Mrs' (2014), 'Kanak Di Raakhi' (2016), 'Baari Barsi' (2016), 'Kurmachari' (2018) and 'Sees Ditteh' (2018).
Outside of music, Banger highlights his moustache as the most desi thing about him.
In food, he enjoys eating red lentils and Indian spinach. In sweets, he likes to eat kheer (rice pudding).
On a light-hearted note, he told us that his favourite actress is Simi Chahal and was open to the idea of working with her.
Looking ahead to the future he has four more tracks ready, which will gradually be released.
It certainly seems that Banger is going places, hoping to further cement his name across the industry.
Watch our exclusive gupshup with Banger here: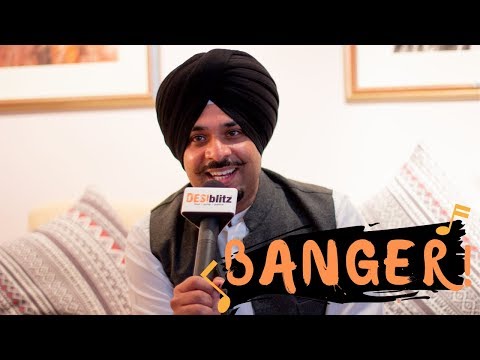 Meanwhile, 'Lalkareh Marda' is available to download from iTunes here.
To keep updated with Banger and his music, you can follow him via various social media handles, including Facebook and Twitter.