"Winning WBBC is an absolute honour, and it's something we had been working very hard towards.
Josh Valaithian Da, a competitive co-ed Bhangra team based in Slough, have won 'World's Best Bhangra Crew' 2015.
WBBC is a competition in New Jersey, USA that provides a platform for various Bhangra teams across the world to compete.
Josh Valaithian Da was started in 2012 by Imperial College Medical Student, Jasdeep Singh. It was the UK's first purely competitive independent co-ed Bhangra team.
Jasdeep's motives for starting this team came from his interest in Bhangra but not finding any teams to join despite living in a Punjabi dominated area.
The vision he had for Josh Valaithian Da was unique – staying away from performing to any indecent songs that promoted drugs and alcohol, and not performing at weddings or occasions, as he felt that such dances did not do traditional folk dancing justice.
Josh Valaithian Da has quickly become one of the most successful Bhangra teams in the world.
From winning Bhangra Wars, a UK based Bhangra competition in 2013, to winning their match-up against UVA Di Shaan in World's Best Bhangra Crew 2014.
However, their biggest win would have to be winning the official title of 'World's Best Bhangra Crew' in 2015.
Jasdeep, who is now in his final year of medical school, says: "Winning WBBC is an absolute honour, and it's something we had been working very hard towards as soon as we decided we were going to do the competition.
"It's always nice to get recognised for your hard work in the form of placings and trophies, but what is most important for us is improvement. Above all, we wanted to make sure we improve on the negatives from our previous competitions and better ourselves as a team.
"In terms of our style, we like to keep it folk and traditional whilst keeping the routine intense and exciting; we didn't want there even to be 4 beats where an audience member could potentially get bored watching.
"Our plans for the rest of the year are to continue competing and bettering ourselves, so hopefully you'll see more of us!"
The dancers of Josh Valaithian Da are considered to be some of the UK's finest with many of them competing in the university Bhangra circuit as well.
The 2015 team comprised of various seasoned dancers, from Amar Singh, the choreographer of the Leicester/De Montfort University Bhangra Team, to the winner of 'Best Female Dancer' at the Bhangra Showdown, Rajvir Bath.
See their winning performance here: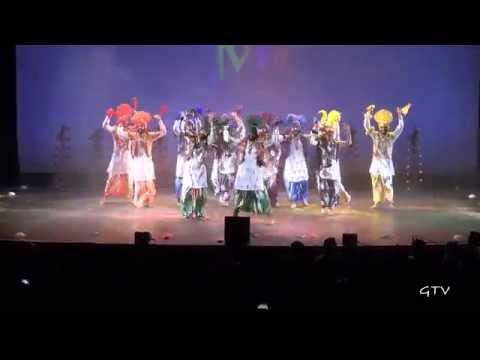 For 2015, WBBC had various teams competing across the world and across three continents including North America, Australia and Europe.
One could say that the UK dominated the stage at WBBC. As well as Josh Valaithian Da winning, UK singer, Jay Sean, was the headline performer and Ankhile Putt Punjab De, a Birmingham based team, came third and won their match-up against Cornell Bhangra, who had been the winners for the last 2 years.
The UK Bhangra scene is only going from strength to strength as the years have gone by and as more teams have been successfully entering the global platform.
Gabru Chel Chabileh was the first UK team to compete in World's Best Bhangra Crew in 2013. Ankhi Jawan last year competed in T Dot, a Toronto based Bhangra competition and one of their dancers, Aman Dhanjal, won 'Best Male Dancer'.
Within the UK, there have been more competitive platforms for UK Bhangra teams and performers to improve. Read our article on the UK's biggest bhangra competitions here.
Most recently, The Bhangra Showdown held February 2015 provided the biggest stage ever for a Bhangra competition, namely Wembley Arena – a prestigious stage that has been graced by the likes of The Beatles, Madonna and U2.