"I respond to the stimulation of the new."
Renowned Scottish guitarist and composer Simon Thacker has deeply immersed himself in diverse cultures through music.
Of his generation, Simon has a very important place in the world of music.
Besides going on tour as a solo classical guitarist, Simon is famous for developing one of the most visionary ensembles during contemporary times.
His world-leading Indo western collective Svara-Kanti has seen Simon touring and collaborating at big festivals across the sub-continent.
Simon teaches classical guitar at Edinburgh Napier University. It was in fact at this institution that he studied classical music and composition.
After three years in the making, Simon Thaker's 'Svara-Kanti' released an amazing double album called Trikala on. The album containing two CDs features thirteen artists from various musical traditions.
DESIblitz presents an exclusive Q&A with Simon Thacker about his musical journey, group and Trikala:
How did you get into music?
Music, even before I started playing the guitar at the age of around 11, was always my love. I collected tapes, I had my parents lp collection, I accumulated CDs.
I lived in a rural area, a good couple of miles from my school friends, so music was always my closest companion.
At the very end of primary school at age 10 I tried the guitar for the first time. But I picked it up naturally the "wrong" way round, as left-handed.
So even though I was copying the teacher, the sounds were all wrong. So it wasn't until a local plumber who played in pubs restrung a guitar for me that I could finally play the "right" way round for me!
I got a tape of Jimi Hendrix's Radio One sessions from the local library, put it on and immediately started working out Hoochie Coochie Man, the famous Muddy Waters blues song.
I worked out the notes of the riff straight away. From then on I was hooked and started getting lessons firstly in rock and pop music, and then in classical in my first year in high school.
I did my classical grades and I played in a school rock band writing songs. But at a certain point around 15, I realised that classical music would give me the tools to do anything I wanted.
All through high school, my listening had expanded. I had seriously delved into countless genres across the world, tracing the path of ideas and genres.
An obsession with pre-war blues led me back to African music, Hindustani music led me to explore other Indian forms and so on.
You know the expression "a kid in a sweetshop", well I was a kid in a CD shop.
I went on to study classical music and composition at university (the university in Edinburgh I now teach at in fact) and took up jazz as well.
I then did my postgraduate Masters at the Royal Conservatoire (awarded with Distinction) before spending over a year practising and getting lessons in London privately.
Then I felt I was ready for a career and started touring as a classical soloist in 2004.
A couple of years passed and I started to draw on my other influences in my first quartet – Simon Thacker's Ritmata, a group I'm still developing and just about to release a new album with.
Why the acoustic guitar? What made you choose this instrument?
I play nylon string classical guitar, which is different from steel string acoustic guitar and has an incredibly poetic and beautiful sound. But this can also be percussive and brutal.
I think it is the physical contact of nail and flesh on a string that attracted me, as the player has such control of nuance. With control comes responsibility and it can be a very unforgiving instrument, but I like that.
You can't really fake it, in the way that with other types of guitar you can hide behind processing and effects or the texture of a group to an extent.
Classical guitar is often self-accompanied and solo. Though I have pursued some very unique ensembles to expand my and the instrument's soundworld.
I adore flamenco and although classical and flamenco guitars look similar, they are constructed and sound differently.
From a technical point of view, flamenco relies on certain techniques that are quite different to a lot of classical repertoire.
But I love drawing on them, and elements of Arab oud, sitar, sarod, African kora and many
other string instruments, subverting them for my own ends.
Basically, the classical guitar comes with its own limitations but the challenge is to transcend it yourself in the pursuit of expression.
How did Svara-Kanti form?
My first Indo-Western group was Simon Thacker and the Nava Rasa Ensemble in 2009. As the name suggests this was a nine-piece.
We had a highly successful national tour and CD release (Nanda Ananda). But I soon found that the rigours of touring with nine musicians, sound engineers and so on was a tough gig and going to lead me to an early grave.
I also wanted to pursue a group to take on the achievements thus far in a smaller more interactive setup. So I started Simon Thacker's Svara-Kanti in 2011 as a quartet.
It was my way to develop new soundworlds from my many influences across the Indian subcontinent.
Over the years it developed into a community of different lineups.
"Music of the future excites me most but traditions nourish my experimentation and give me so much inspiration to explore."
Hence, the choice of the Sanskrit word for past, present and future as the album title, Trikala.
There are lineups that explore Baul, Punjabi folk, Carnatic and Hindustani influences, in very different ways. The oldest of the lineups on Trikala is the Baul one from 2014, and all the others have been developed since then.
We have a total of 13 incredible musicians.  If you find a musician or musicians who you really connect with on a spiritual level, not just professionally, then that's where the magic happens. And it is magic, a form of alchemy.
That is when the sum becomes vastly more than the component parts. Trikala is full of that raw, organic magic. I've no doubt that all of these collaborations will develop over the next few years, as well as new collaborations.
We have barely scratched the surface of the possibilities.
What drew you towards fusion styles of music?
I don't really listen to "fusion" as such and have spent quite a small proportion of my listening life in "crossover music." But really, all music is "fusion" to some extent, whether it be Bach, Tyagaraja or Lalon.
There is a mix of antecedents. No music is "pure" in that way. But certain great figures have come up with forms and genres that have spawned traditions or are archetypes, that encapsulate a spirit that can't be surpassed even if the musical means of proceeding musicians moves on.
That's the music that interests me. I often listen to artists that are a bit anarchic, outsiders even. I think that's what drew me to Baul music. Take Raju Das Baul, who I've been performing with for 5 years now.
When we improvise together it is like 4 hands from one brain. We have created a new sound in improvisation for classical guitar and khomok. At least I haven't heard anything like it before.
Our backgrounds couldn't be more different but we have a spiritual connection and are searching for the same experience through music.
We are on the same journey, are totally at home performing together and that transcends language or background. It is something much deeper.
How different is your music to other styles?
But for me, I'm not interested in just putting things together. I see what I'm doing as an organic extension or expansion of genres and traditions or even new genres, a third direction that is neither east nor west but genuinely of itself.
I immerse myself in these genres to the point where they have become part of me.
And instinctively I can react as a sort of "other", seeing different possibilities that are not within the boundaries of any genre. The musicians I collaborate with are on the same journey.
We want to go beyond the extremities of what has been done, together. I tend to go back to what I perceive, rightly or wrongly, as the "roots" of styles.
So, for example, I love the Punjabi folk of Surinder Kaur, Narinder Biba, Asa Singh Mastana and artists of that period. I'm not so keen on a lot of contemporary Punjabi music.
So I essentially start again from the period that moves me and imagine where else it could have gone, or where else it might want to go (in the opinion of a rabid Punjabi folk fan from Scotland!), ignoring what has happened in between.
That way the group has established its own approach to Punjabi folk.
This is with a lot of instrumental virtuosity and heavy Punjabi derived rhythms but also a very different harmonic world and often manic supercharged interaction between the instruments.
"The melodies are unchanged. The feel is unchanged. The essence of what makes it special is there."
But it is something new, a new form of contemporary Punjabi folk, that is both rootsier and more contemporary than the sounds you might be used to hearing.
What was your first performance or recording you made?
I actually don't even remember my first ever performance, I'm sorry to say.
Weird that, isn't it? But throughout high school, I was always asked to play at school parents' evenings and concerts and, very unusually, I would always play my own music.
I can think back to those early pieces, which of course weren't great by any stretch of the imagination, but they contained the kernel of what I would become and many of the basic concepts that continue to obsess me.
Exploring different scales at that age definitely made it inevitable that I would connect with the raga system. My natural rhythmic inclinations meant that it was only a matter time before I'd latch on to Carnatic konnakol.
I remember coming up with rhythmic exercises on the train home in the years before I properly explored konnakol and they were remarkably similar processes.
Sometimes what draws you towards a certain direction isn't even really your choice, it seems a pre-programmed inescapable desire.
My first proper album release (that I'm going to admit to!) was Simon Thacker and The Nava Rasa Ensemble's Nada Ananda (2009). I look at that now as almost my Indian-Western "university" time. I learned so much from it.
How did you choose your artists for Trikala?
Joining me on Trikala are some of the greatest performers from their respective traditions. These they truly embody and personify. Each has a unique, compelling approach to their art, and the rare ability to go beyond the extremities of what has been done, as I mentioned.
With some, I have developed a near-telepathic rapport over the years. For others this recording is hopefully the start of a long and beautiful journey together, an innate rapport having blossomed in days.
Jackie Shave, Sarvar and Japjit Kaur have been in Svara-Kanti from the start.
Cellist Justyna Jablonska and I also perform in a duo as Karmana. I first met mridangam virtuoso Neyveli B. Venkatesh in person at a concert he was playing with Sanjay Subrahmanyan in Edinburgh in 2017.
But I had actually come very close to recording with him in 2016 (this was abandoned due to tedious bureaucratic problems).
So a Carnatic lineup had been on my mind for a long time before we finally made it happen in March 2018, in Chennai, with N Guruprasad (ghatam)and KV Gopalakrishnan (kanjira), all remarkable players.
Afsana Khan was a late addition who I found on YouTube, whose voice immediately blew me away.
In 2014, Svara-Kanti was invited to perform at November Fest in Coimbatore and Kochi.
Having been trying for a couple of years to find a way to make a collaboration with a Baul performer happen, this was the perfect opportunity to initiate the new frontier for the group I envisaged.
Having trawled YouTube for many weeks to find the right performer, I invited Raju Das Baul to guest in two songs and went to his home of Santiniketan, the Baul heartland in West Bengal, to meet and rehearse.
This was a meeting of kindred spirits and we've been having a great time together ever since. Our first rehearsal is on YouTube, see for yourself.
Farida Yesmin joined in similar circumstances: Svara-Kanti was booked to perform at Dhaka International Folk Festival in 2016, for an audience of 60 000 at the Army Stadium.
I was asked to suggest a collaboration with a Bangladeshi artist. Again I searched tirelessly and by a stroke of huge luck (a partial, grainy video labelled only "Bangla romantic song"), I came across Farida Yesmin.
After some confusion (even identifying her from the unlabelled video took some time), she was confirmed as my special guest on the day of my flight to Dhaka.
I then had forty-eight hours to choose and reimagine two songs to be premiered in front of 60 000 people, live on TV. It worked beautifully.
Sunayana Ghosh, I knew of for a few years and invited her for the Kolkata recordings as I knew she would be perfect with her experience in both classical and folk.
Finally Sukhvinder Singh Pinky is someone else I had long admired and he was also an inspired addition (even if I say so myself!).
"The energy when Pinky and I play is immense and he is such a phenomenal and unique artist. I love improvising with him."
What should listeners look out for in Trikala?
Well, Simon Thacker's Svara-Kanti is now a community of different lineups, so you'll hear us innovating on four different aspects of the vast musical macrocosm that exists on the Indian subcontinent.
These include Hindustani classical (north), Carnatic classical (south), Punjabi folk (west) and the Bengali mystical folk Baul tradition of both India and Bangladesh (east).
There is also a major solo work with a tangential Tamil inspiration, one of Rabindranath Tagore's best-loved melodies reimagined (Ekla Chalo Re).
Finally, there is a transformation of Vande Mataram (actually the last thing I recorded for the album).
The second CD is given over to my Bengali explorations. I'm particularly proud of Prabhava, a piece that takes khomok and puts it in a very different musical context from its usual habitat, with guitar and tabla.
The tracks for classical guitar and Carnatic percussion are also a major discovery for me.
All four together produce such a wonderfully unique and complementary sound that one would assume they were separated at birth, not from two radically different traditions and aesthetics.
I very much felt a "coming home" playing with Venky, KVG and Guruprasad. It was as if this combination was my natural habitat all along. I've no doubt I'll record a whole album for this combination.
What are some of your memorable collaborations?
I think Trikala is a spectacular example of collaboration, and indeed we have just won the Scottish Award for New Music in the Collaboration category.
Creating, rehearsing and recording in Kolkata and Chennai was a great experience, though it was unbelievably full on. I was down to three hours a night sleep by the end of the month honing in on getting it completed.
In Kolkata, often I would listen back to rehearsals at night and develop aspects the next day in rehearsal.
Farida sings in C# or C so this required me to find new tunings. This led me to new discoveries on the instrument which in turn led to Raju and Sunayana musically responding in new ways.
We all finished as different musicians from where we had started, evolving together.
I think that is the mark of a successful collaboration. In particular, I'd point to Prabhava and Pakhi Kokhon Jani Ure Jay, but every track has something magical to offer.
It is music that is spontaneous and vital, earthy and unearthly, in the spirit of both Baul music and the experimentalism of my background.
Collaboration is central to what I do and finding musicians you connect with on the deeper level I alluded to before is the key to success.
"I am in another group, Songs of the Roma with Romany exponent Masha Natanson and Justyna Jablonska."
On the new album by Simon Thacker's Ritmata, there is a track with one of Spain's very finest young flamenco singers, Angeles Toledano, in my reimagining of a long forgotten Sephardic song.
What is your process when writing new music?
When composing, there's a process that has to take place, usually, where I feed my inspiration, listening to the right things that will open my mind, reading poetry, looking at art, spending time just ruminating.
Then I improvise. Often ideas just start to emerge and come to the surface and it is a case of recording the
improvisation before the idea is gone.
Often recording myself improvising on what was itself a few minutes ago an improvisation (but has now become more of a solid idea), is where the soundworld of a piece really starts to take flight.
At a certain point, I feel that I have enough material for a piece so I go through my improvisations and start to narrow them down to the material that will become the piece.
Sometimes it is ready like that with little more to do, other times
"I develop ideas further and elaborate a lot. I try to mix up my approaches. I respond to the stimulation of the new."
What is next for Simon and Svara-Kanti?
Well, we're promoting the Trikala album just now and the latest video just came out. It has an amazing choreography by Priya Varunesh Kumar for her Piah Dance Company on Mann Vasanai, one of the Carnatic influenced tracks on Trikala.
As I mentioned, we have just won a Scottish Award for New Music and we're currently coordinating concerts in India for later in the year, and also hoping to return to Bangladesh.
I intend to start on the follow up to Trikala then so that it isn't another three-year wait until the next Svara-Kanti album like it was with Trikala.
We've had incredible press around the world but especially in India and Bangladesh, even being featured in Rolling Stone India! So we've got great momentum to ride.
"In July the Simon Thacker's Ritmata album will come out with launch concerts in Scotland."
Soon after I'll be finishing the Songs of the Roma album, which is 75% done. Look out for new collaborations in India soon!
Watch Mann Vasanai here: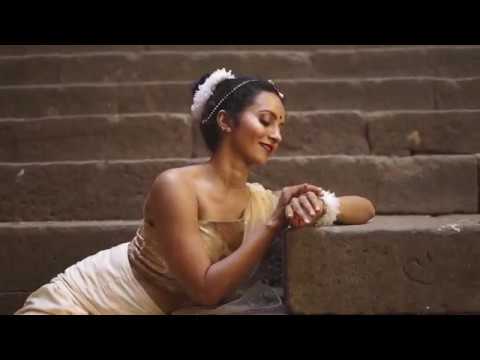 It is not just music that Simon draws a desi perspective. In the past with Simon's dad growing hot chillies in a greenhouse, his mum would always cook hot food. Hence, Simon enjoys and has a good tolerance for very spicy food.
As a result during two decades, Simon would visit Khushi's, a famous Indian restaurant in Edinburgh.
Meanwhile, the massive video series to 'Trikala,' including the playlist is available on the official Simon Thacker YouTube channel here.
Breaking the conventional norms, the album is available to download on the Simon Thacker website.
Finally, to keep updated with music from Simon Thacker, you can like his Facebook page here.