The recruits reveal their shady past in an intense investigation exercise involving a polygraph.
The highly anticipated US drama Quantico, starring Bollywood actress Priyanka Chopra in the lead, is finally here!
Shuttling between past and present times, the first episode packs more twists and turns than we can keep up with.
In the present day timeline, Alex Parrish (Priyanka) wakes up to the aftermath of a terrorist attack, which reduces Grand Central Terminal to dust and rubble.
Though an FBI agent requests her help to find out who is behind the deadliest attack since 9/11, Alex quickly senses something is not quite right.
Not only are her fellow trainees at the FBI Academy prime suspects, her photo is also up on the suspect board.
Alex starts to retrace her memory back to nine months ago for the slightest clues that may explain who arrives at Quantico with a plot and why.
From induction day to combat training, Alex and other new recruits get to know each other a little better every day.
Maybe one more familiar than the others – Ryan Booth (Jake McLaughlin), whom she has sex with in a car before heading to Quantico to begin their FBI training.
And she makes no effort to be secretive about it! When Ryan pretends to meet her for the very first time in front of other recruits, Alex replies:
"We had sex in your car six hours ago."
But just when she thinks she has him all figured out, Ryan turns out to be working undercover for one of their mentors, O'Connor (Josh Hopkins), to keep a close watch on her.
Meanwhile, other characters begin to reveal their shady past in an intense investigation exercise that involves a polygraph.
Shelby Wyatt (Johanna Braddy), Alex's roommate at the Academy, is forced to tell the painful truth about her family.
A mysterious Muslim girl, Nimah Amin (Yasmine Al Massri), interrogates the openly homosexual Simon Asher (Tate Ellington) to expose his relationship with the Palestinians in Gaza, linking him to terrorism.
Eric Packer (Brian J. Smith), however, refuses to let his shameful encounter with a girl catch up with him.
He kills himself instead in front of his investigation partner, Caleb Haas (Graham Rogers), who also exits the Quantico base.
Our smart and beautiful lead, Alex, has a few secrets of her own as well. Other than a small pouch that she carefully hides away, the half-Caucasian half-Indian girl lies about how her father died during the investigation exercise.
But she later tells O'Connor the whole truth and asks for his help to find out who her father really was.
Back to present day New York, Alex is arrested and dragged away in handcuffs as the FBI storms her apartment to discover explosives and an injured Ryan.
Coming to her rescue is Quantico's assistant director, Miranda Shaw (Aunjanue Ellis), who believes she has been set up and used as a scapegoat.
Alex is now on the run. When will the terrorists strike next? Who can she trust? Is Ryan a friend or foe?
Check out the promo trailer for the next episode here: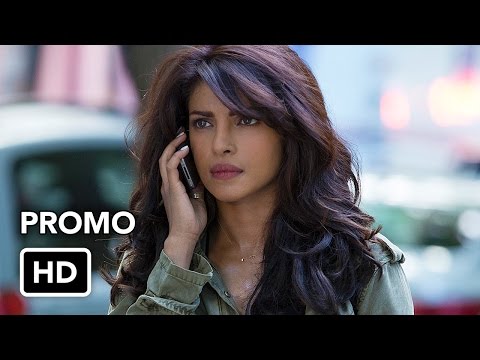 Catch the second episode of Quantico, titled 'America', set to air on October 4, 2015 at 10pm (US time) on ABC.