Shahrukh Khan is possibly the most successful romantic hero in Hindi cinema history!
Bollywood's 'King of Romance', Shahrukh Khan, has charmed actresses onscreen for over two decades!
His effortless execution of dialogue and natural charisma, has made Shahrukh the most successful romantic hero in Hindi cinema history!
Churning out hit after hit has given Shahrukh an unmatchable catalogue of romantic movies.
With countless romantic scenes under his belt, SRK is the undeniable suave hero that no girl or aunty ji can resist.
Celebrating the success of this superstar, DESIblitz looks back at some of Shahrukh's most romantic scenes.
1. Kuch Kuch Hota Hai (1998)
Undeniably iconic, this scene has gone down in Bollywood history as one of the most romantic onscreen moments.
The chemistry between Shahrukh and Kajol is mesmerising!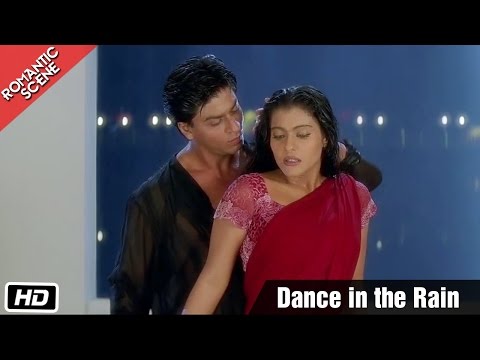 Drenched from the rain, Kajol sizzles in her red sari whilst Shahrukh looks irresistible in his sheer black shirt.
To add to the already romantic setting, is the spontaneous dancing sequence.
Slow dancing together to the instrumental version of the title track, 'Kuch Kuch Hota Hai', takes romance to another level!
2. Dilwale Dulhania Le Jayenge (1995)
After starving herself all day for Karva Chauth, Shahrukh's gesture to also fast adds to his already irresistible charm.
Sitting alongside Kajol and  feeding her with his owns hands makes every girl watching the film jealous!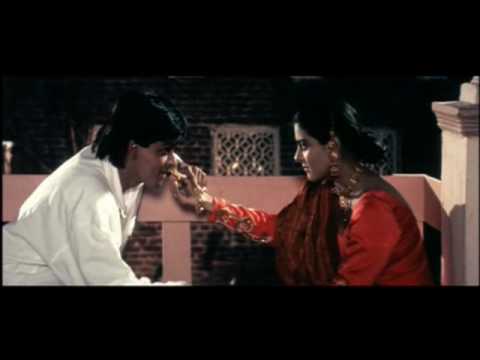 Adding to the romance of the scene, is the iconic romantic line that runs throughout the film, 'Bade bade deshon mein aisi choti choti baatein hoti rehti hai, senorita'.
3. Kuch Kuch Hota Hai (1998)
Rani and Shahrukh always sizzle on screen together!
The sweet college romance between the two in Kuch Kuch Hota Hai, embodies the innocence and purity of anyone's first young love!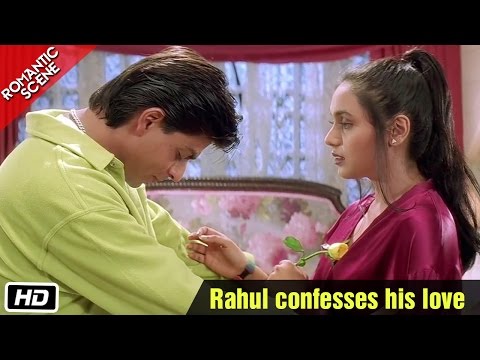 Climbing up a ladder to her window, and bringing her a rose and chocolates is sure to win Rani's heart!
Once inside after much laughter, Shahrukh shows her how romantic he really is when he bows down in front of her to express his love!
4. Veer Zaara (2004)
Bollywood's cute girl next door Preity Zinta looks incredible alongside King Khan in this Yash Chopra blockbuster.
The forbidden love between an Indian boy and a Muslim Pakistani girl shows that love really has no borders!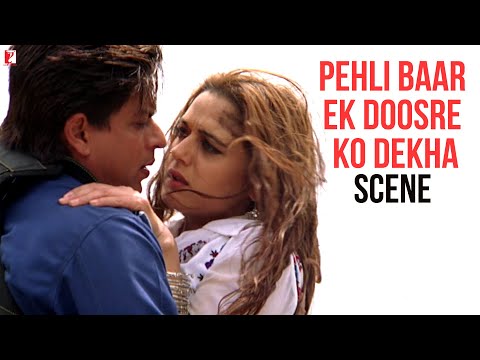 This scene recalls the time when her first meets Preity, as he saves her in a helicopter, and is a true depiction of a hero saving a damsel in distress!
Looking at Preity's face in awe, Shahrukh would be any girl's dream hero!
5. Kabhi Khushi Kabhie Gham (2001)
Once again Shahrukh and Kajol make for an unbelievable on screen romantic pair in Karan Johar's smash hit, Kabhi Khushi Kabhi Gham.
When the son of a multimillionaire tycoon falls for the ditsy local girl, trouble and romance is sure to come!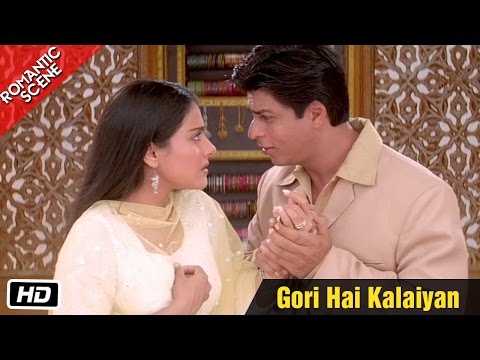 Once he persuades her to go to the local 'Mela' with him, Shahrukh switches on his charm to finally woo Kajol into falling in love with him!
Slowly putting churiyan on Kajol's wrists, whilst teaching her what love means, with each bangle Shahrukh edges his way closer to winning Kajol's heart!
6. Devdas (2002)
This magnificent Sanjay Leela Bhansali production showed romance in its most grand form.
Aishwarya looked breathtaking in traditional sari's whilst Shahrukh looked suave and sophisticated in a suit and hat.
Upon returning from London after years of studying away, the first person Devdas visits is not his family, but his childhood sweetheart Paro.
Watching her from a distance, he kills a fly which hovers around Aishwarya, telling her that 'he doesn't like it when anyone else touches her'.
7. Kal Ho Naa Ho (2003)
Constantly teasing Preity Zinta in this film, Shahrukh's quirky romantic antics are undeniably charming!
As hard as she tries, even Preity can't help but fall in love with him!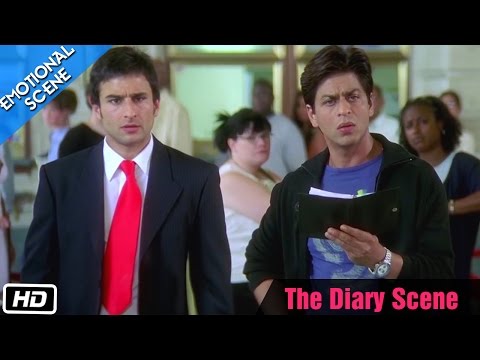 With both Saif and Shahrukh in love with her, the terminally ill Shahrukh decides to sacrifice his love.
However, he still expresses his true feelings for her and the depth of his love, when pretending to read from Saif's black diary.
8. Dil Toh Pagal Hai (1997)
In the blockbuster musical, Shahrukh plays an egomaniac stage director in search of the perfect heroine for his next play.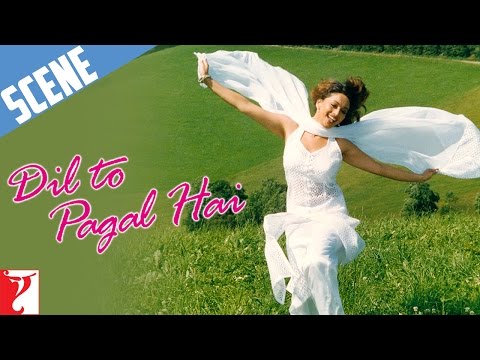 Of course, the only girl that he could be talking about is Madhuri Dixit and while they have not actually met yet she continually haunts his dreams.
The awe with which SRK describes his 'Maya' will send a flutter through every girl's heart.
9. Dil Se (1998)
Dil Se is a heartbreakingly tragic film by Mani Ratnam.
The charismatic Shahrukh falls in love with the mysterious Manisha Koirala who is hiding a dark secret.
They fall in love on a bus journey, but Manisha refuses SRK's affections in pursuit of a higher goal.
This scene where SRK forces her to listen to a recording of them talking about their future children is both romantic and sad.
The controversial finale shocked many Bollywood fans who were used to a happy ending; the scene epitomises the tragic and violent end to a promising love story.
10. Mohabbatein (2000)
The incredible love story of SRK and Aishwarya comes to an untimely end in Mohabbatein.
Playing a music teacher, SRK recalls his first love to his students, igniting their sense of passion and romance.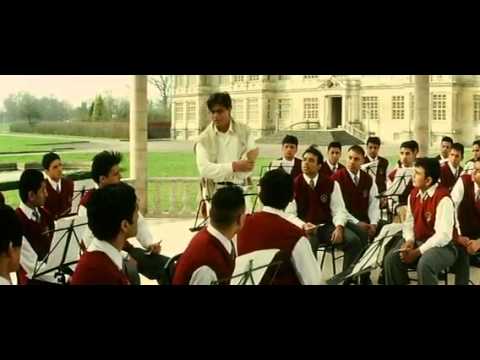 The scene of SRK playing the violin amidst blowing autumn leaves is perhaps one of the most perfect Shahrukh scenes that has ever been immortalised on screen.
11. Rab Ne Bana Di Jodi (2008)
This beautifully simple film sees Shahrukh play a shy and reserved power worker who has never experienced love. The young and bubbly Anushka Sharma becomes his wife under unusual circumstances.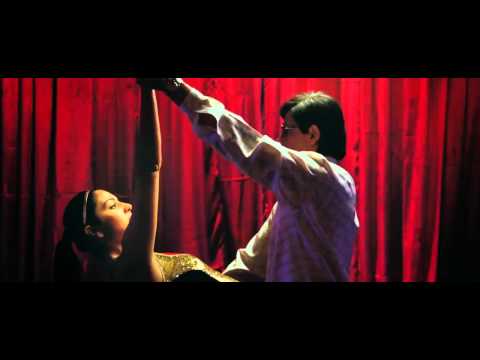 The film centers on the idea of love after marriage, as once SRK changes his entire personality to win Anushka's affections, she begins to realise how wonderful and 'god-like' he really is.
12. Jab Tak Hai Jaan (2012)
This London romance is one of Bollywood's modern love stories. Shahrukh notably shares his first onscreen kiss with the beautiful Katrina Kaif.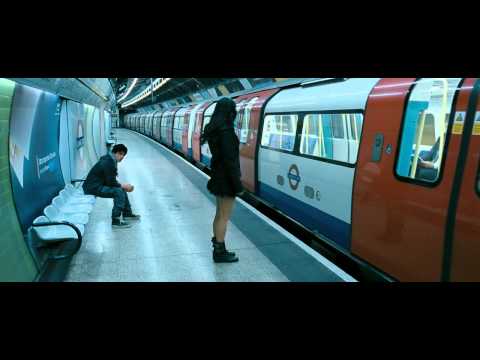 This scene sees Shahrukh confessing his love for Katrina, which takes her by surprise.
There is a reason why Shahrukh Khan is called the King of Romance, because he is truly is the best at it!
Mastering his craft over decades, Shahrukh's effortless acting along with his heart-warming smile and cute dimples, make for a phenomenal romantic hero!
Whether it is Rani Mukerji, Kajol or even Aishwarya Rai Bachchan, Shahrukh can woo any woman on screen with ease!
Perfect dialogues and carefully constructed backgrounds have made some really iconic romantic scenes of Shahrukh Khan!