She pretended to take selfies as enthusiastic photographers captured the moment.
Kangana Ranaut had a slight glitch as she opened for Tarun Tahiliani at Lakme Fashion Week Winter/Festive 2016.
The actress took selfies with the fashion designer with a switched-off camera!
The first day of the show saw fashion designer, Tarun Tahiliani presenting his glamorous collections. But what has caught everyone's attention is Tahiliani's show stopper.
One may imagine that the actress had a wardrobe malfunction as she strut down the ramp, in a black satin skirt paired up with an embellished red jacket.
However, the supermodel proved that she most definitely is a top-performing actress in Bollywood.
The fashion show was planned with the Rangoon actress ending the show with a selfie to promote a smartphone brand.
It did happen, but not exactly like that!
An inside source revealed that the smartphone given to the actress didn't have the camera switched on, hence, Kangana couldn't actually take selfies!
Nevertheless, this didn't stop Kangana as she continued walking down the ramp with Tarun Tahiliani, who also made efforts to switch on the camera.
But being the feisty actress she is, Kangana carried on posing with a 'switched-off camera'. She pretended to take selfies as enthusiastic photographers captured the moment.
Watch Kangana's pose here: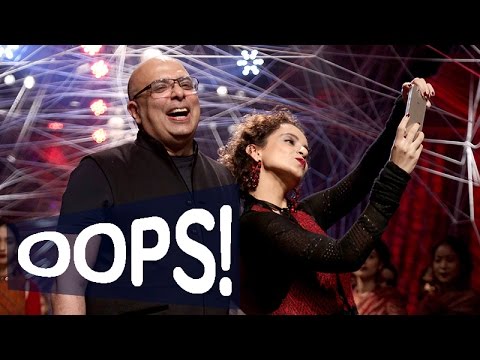 The actress has certainly combined her natural talents and acting skills to make the selfies look real.
To an extent, where she asks the fashion designer to pout!
Apart from Kangana's awkward moment on the ramp, the Queen actress looked like an absolute fashionista.
Her modern, yet traditional ensemble was well complemented with her curly up-do. The style goddess looked flawless as she walked elegantly down the ramp.
In Tarun Tahiliani's collection this year, he experimented with a lot of colours and embroidery work.
The colours varied from blue, orange, green, maroon and black which were teamed with gilets, draped skirts and pleated saris.
The versatility in the collection resulted to stunning garments, which could be styled as the person wants.
It has also rumoured that mummy-to-be Kareena Kapoor Khan will also walk the ramp for the talented designer Sabyasachi Mukherjee, at the grand finale.
Lakme Fashion Week 2016, presents ninety-two designers participating in the event with many celebrities wearing their designs and clothes on the ramp.