Ali made history, becoming the first wrestler of Pakistani descent to set foot in a WWE ring
Two of WWE's most popular Desi wrestlers, Jinder Mahal and Mustafa Ali, are all set for their championship matches at WrestleMania 34.
Both at the height of their wrestling game, Mahal and Ali will be competing separately at WrestleMania on Sunday 8th April 2018 at the Mercedes-Benz Superdome in New Orleans, Louisiana.
The first ever WWE Champion of Indian descent, Jinder Mahal will compete for the WWE United States Championship in a fatal 4-way match against Bobby Roode, Rusev and the defending champion, Randy Orton.
The Modern Day Maharaja appeared at WrestleMania 33 in the Andre the Giant Memorial Battle Royal. He was the last wrestler to be eliminated by the winner Mojo Rawley. During the match, Mahal threw a drink at NFL player, Rob Gronkowski, who is also Rawley's close friend.
This resulted in Gronkowski jumping over the guardrail to attack Mahal, thus assisting Rawley with his win.
In comparison, Mustafa Ali will make his WrestleMania debut against Cedric Alexander for the vacant WWE Cruiserweight Championship. The title was vacated in January after the then champion, Enzo Amore was accused of sexual assault, and released from WWE.
A 16-man tournament was created, which will all culminate at WrestleMania 34. Ali defeated Jack Gallagher, Buddy Murphy and Drew Gulak to progress into the final.
Jinder Mahal Returns to WrestleMania
After Jinder Mahal lost his WWE Championship to AJ Styles in Manchester in November 2017, he pursued the WWE United States Championship. Dolph Ziggler abruptly vacated his newly won United States Championship in December, setting up an eight-man tournament.
The Modern Day Maharaja defeated Tye Dillinger in round one and The New Day's Xavier Woods in the semi-finals. Bobby Roode would be his opponent in the finals, scheduled for the Royal Rumble 2018.
However, the match was brought forward to SmackDown Live on 16th January 2018, the same night as the finalists' semi-finals matches where Roode emerged victorious.
Mahal would enter the Royal Rumble at Number 17. He eliminated two-thirds of the New Day (Xavier Woods and Big E) before being eliminated by the third New Day member, Kofi Kingston. He lasted 3 mins and 48 seconds in the match.
Mahal refocused on the United States Championship after the Royal Rumble. Between February and March, he would taunt and brawl with Bobby Roode and the new United States Champion Randy Orton, who defeated Roode at Fastlane 2018.
Initially, Bobby Roode was due to a rematch for his US Title against Orton at WrestleMania 34. However, Mahal defeated Orton in a non-title match on SmackDown Live on 6th March 2018.
Another change would be made when Mahal reunited with former partner Rusev. The duo defeated Orton and Roode on SmackDown Live on 27th March 2018. Rusev is now the fourth participant in the match, making it a Fatal Four-Way.

The Modern Day Maharaja seems very confident in his chances for the upcoming WrestleMania 34 pay-per-view.
Who is Mustafa Ali?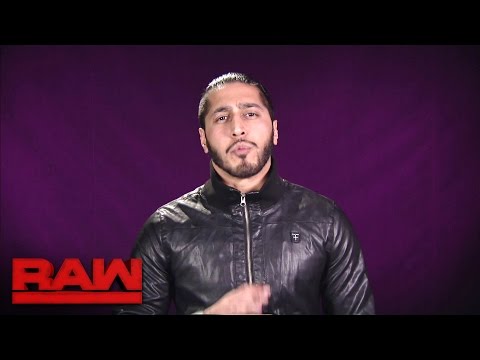 Adeel Alam, known as Mustafa Ali, made his debut in the 32-man Cruiserweight Classic Tournament to crown the first Cruiserweight Champion of the new era.
Ali made history, becoming the first wrestler of Pakistani descent to set foot in a WWE ring. His father is Pakistani and his mother is Indian.
Although he lost in Round 1 against Lince Dorado, he impressed WWE officials. Ali earned himself a contract with the company to compete on 205 Live.
The former police officer made it his goal to change perceptions and defy Pakistani stereotypes. Entering the Cruiserweight Classic, Ali was a heel (villain). Now, he is one of the most loved Cruiserweights on the roster.
In an interview with Tinted, Ali said:
"We're trying to change these preconceived ideas and knock down these barriers, these notions of what a guy with a name like Mustafa has to be portrayed as. That's my goal."
Ali began training at the age of 16. His in-ring style is well rounded. He performs a mix of lucha libre, strong style and technical wrestling. A great combination, allowing him to show off his skills in the air and on the ground.
His signature manoeuvre (or his 'finisher'), is the '054'. An imploding 450° splash from the top rope.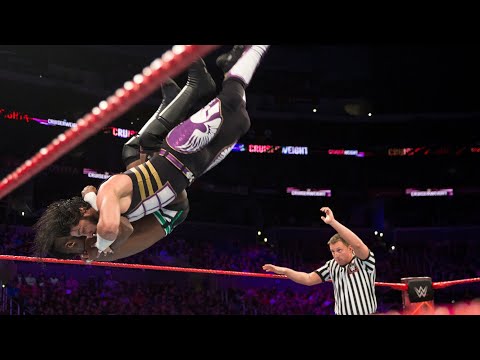 He has wrestled for numerous independent companies under the ring name 'Prince Mustafa Ali' between 2003 and 2016.
Ali's first major storyline saw him feud with Drew Gulak's 'No Fly Zone' campaign. A campaign that opposed the high-flying, lucha libre style that Ali is known for. The two would have numerous matches against each other with Ali rubbing salt into the wound by defeating him with his 054 on multiple occasions.
Since then, he has feuded with the likes of Tony Nese, Ariya Daivari and Enzo Amore before focusing on the Cruiserweight Championship.
The tournament saw some of Mustafa Ali's greatest WWE matches with critics and fans raving about his performances.
His first match in the tournament was against Jack Gallagher. He took some shocking bumps during this match and impressed fans with his never-say-die attitude. He defeated Gallagher and progressed to the quarter-finals against Buddy Murphy.
Again, an amazing performance by Ali. He capitalised on Murphy's injured arm after he took a springboard 450 splash to his left arm from Ali.
In his semi-final match, Ali was dominated by Drew Gulak for most of it, again taking a series of painful bumps including a back body drop from the announce table to the floor. Ali, displaying underdog characteristics, would pick up the win with a 054 to take him into WrestleMania.
Critics and fans have been extremely pleased with this matchup. It has been dubbed 'Heart (Alexander) vs. Soul (Ali)'.
Ryan Dilbert, the lead writer of Bleacher Report expressed his support for Mustafa Ali vs. Cedric Alexander at WrestleMania.
They went with Cedric Alexander vs. Mustafa Ali for the cruisers finals at WrestleMania. The smartest and best of the possible choices. pic.twitter.com/TORBPzKzeT

— Ryan Dilbert (@ryandilbert) March 21, 2018
TV Insider's Scott Fishman complimented Ali after his semi-final match against Gulak.
I become a bigger fan of Mustafa Ali every week. #WWE #205Live

— Scott Fishman (@smFISHMAN) March 21, 2018
Pro Wrestling Torch wrote:
"Without a doubt, the standout performer on 205 Live since the rebirth is Mustafa Ali. His match against Cedric Alexander… signalled the new direction of the show and displayed what cruiserweight wrestling is and can be about.
"From that moment on, his in-ring work has been crisp, fast-paced, exciting, and oozing with psychology that has gotten him over with fans."
With critics, pro wrestling personalities and fans behind him, there is no doubt Ali has a bright future. He may even win the Cruiserweight Championship!
Watch Jinder Mahal and Mustafa Ali at WrestleMania 34 on the WWE Network on Sunday 8th April 2018.
UK Time: The kick-off show begins at 10 pm. The main show begins at 12 am.