"What stood out was her ambition and drive. I've spotted a lot of talent but I don't see that ambition in too many girls."
Miss World hails as one of the most celebrated beauty pageants globally. In its 66-year history, the contest has crowned six winners of Miss World, from Reita Faria in 1966 to Manushi Chhillar in 2017!
While the beauty pageant is stereotyped for focusing on looks, it actually goes beyond this. Judges look for qualities such as charm, elegance, wit and compassion in their winners.
Indeed, the six beautiful Indian women who won the crown all showed these characteristics in their respective years. Winning the hearts of their audience.
Even after the contest, some embarked on successful careers. Whether they delve into Bollywood or another profession, their legacies still shine through.
Let's take a look through these gorgeous Indian winners of Miss World!
Reita Faria (1966)
Reita Faria holds the title as becoming the first Miss World from India. Aged 23-years-old, the then-medical student surprised many with her win as her odds were only stacked at 1:66.
At this time, the beauty pageant was already cemented as a popular beauty content – running for 15 years. However, India's participation was in its early years. Prior to Reita, the first Indian competitor was Fleur Ekizel in 1959.
In an interview with Indian Express, Reita recalled how she felt "a complete outsider" compared to the other beauty queens. She said:
"Many of them had been invited by their embassies to visit; I received no such invitation. But we had the usual sight-seeing through London, getting our pictures taken in front of the House of Commons, Buckingham Palace, Piccadilly Circus."
However, she had an upper hand in the competition – her aspirations. While her rivals said they hoped to become housewives or models, Reita wanted to become a doctor. She told Indian Express regarding a particular question:
"When I replied that India needed more obstetricians and gynaecologists, they said India has lots of babies. I said that that was something we needed to discourage, which got a lot of applause."
With her charm, beauty and career aspirations, she landed the win of Miss World. Afterwards, she returned to her studies at King's College Hospital in London, where she soon met her husband David Powell.
Since then, she built a successful career as a doctor, while also judging Miss World on several occasions.
Aishwarya Rai (1994)
India wouldn't see another Miss World win until almost thirty years later in 1994. When 21-year-old Aishwarya Rai entered the pageant as Miss India's first runner-up, while its winner Sushmita Sen competed in Miss Universe.
It's clear to see why Aishwarya made a great impression amongst the judges. Undeniably beautiful, many hail the starlet as the definition of elegance and charm. Even to this day, she is regarded as an Indian global beauty.
Not only is she now the ambassador for L'Oreal and Cannes, for which she is a staple on the red carpet. From dazzling us with her Cinderella gown to a romancing, red outfit, she truly is the queen of fashion!
Her charisma was strong even in the competition. For example, when she was asked about the qualities of Miss World, Aishwarya answered with a focus on "compassion for the underprivileged".
As we all know, this win marked the beginning of a thriving Bollywood career for Aishwarya. With her debut in 1997, starring in Iruvar, she has become one of the industry's most recognisable actresses in modern times.
Her catalogue of films includes Mohabbatein (2000), Dhoom 2 (2006), Jodhaa Akbar (2008) and many more! She also succeeded in international films, performing superbly in Bride and Prejudice (2004) and The Pink Panther 2 (2009).
No wonder then in 2004, she landed the title of Most Successful Miss World!
Her love life also featured often in the headlines; her romance with Salman Khan dominated speculation between 1999-2002. However, while their affair came to an end, Aishwarya developed a relationship with Abhishek Bachchan, the son of Amitabh.
They announced their engagement in 2007 and enjoyed a gorgeous, jaw-dropping wedding. The couple has one daughter called Aaradhya, who may one follow her mother's footsteps.
Diana Hayden (1997)
Three years later, Diana Hayden won back the title for India. She too proved to be another surprise win, as many felt it unlikely that the country would have another Miss World winner so soon after Aishwarya.
However, the 23-year-old proved critics wrong, as she dazzled the stage with her natural beauty and grace. Prior to entering the Miss India beauty pageant, she worked for an event management company. Her friend, singer Anaida, recommended Diana to participate in the contest.
While a novice, she received the very best of training from figures such as Hemant Trivedi. The designer recalled to Indian World Pageant:
"What stood out was her ambition and drive. I've spotted a lot of talent but I don't see that ambition in too many girls." This drive also caught the eye of judges, leading her to win the sapphire crown.
Diana attempted to forge an acting career, similar to Aishwarya. Unfortunately, she didn't receive the same results and only appeared in a handful of films. She also appeared on Bigg Boss 2 as a contestant.
Yukta Mookhey (1999)
The success of India's reign in the 1990s continued with Yukta Mookhey becoming its fourth winner. Then aged 22-years-old, she stunned the judges and audience with her enchanting looks and elegance.
However, she is a less well-known beauty queen on this Indian Miss World list. Similar to her predecessors, Yukta attempted to break into acting. She starred in Tamil film Poovellam Um Vasam (2001), followed by a Bollywood debut.
Her first Hindi film, Pyaasa (2002), sadly flopped at the box office. In addition, her following films also struggled to engage with audiences.
In 2013, Yukta's personal life made headlines – particularly her marriage with Prince Tuil, a businessman from New York. She had filed a domestic violence complaint against him, as well as registering a First Information Report (FIR). At the time, an officer said:
"An FIR has been registered under Section 498A (cruelty and harassment) and Section 377 (unnatural sex) of Indian Penal Code after her complaint."
The couple soon obtained a consensual divorce in 2014.
Priyanka Chopra (2000)
It only feels like yesterday that Priyanka Chopra won the famous crown in 2000, doesn't it? At just 18 years of age, she was one of the youngest Indian winners of Miss World to win the competition.
While PeeCee appeared utterly gorgeous in the pageant, she charmed audiences with her witty answers. Her most well-remembered moment comes from a quick-thinking answer to Shahrukh Khan, when he asked who she would she rather marry:
After this brilliant win, Priyanka followed Aishwarya by landing a positive debut into Bollywood, starring in The Hero: Love Story of a Spy (2003). She may not have landed immediate success as an actress, but as she honed her skills and talent, PeeCee's career grew from strength to strength.
Now both a recognised Bollywood and Hollywood actress, the actress' journey is truly remarkable! In her Hindi career, her filmography includes Don (2006), Mary Kom (2014) and Bajirao Mastani (2015).
In 2017, she made her Hollywood debut starring as Victoria Leeds in Baywatch. Meanwhile, she also thrills audiences in TV drama Quantico.
The starlet still remains proud of her 2000 Miss World win, despite the many stereotypes beauty pageants draw. But she told Elle UK:
"My experience with Miss World wasn't like that. It was focused on being a woman of substance – how well you'd be able to solve world issues, what kind of orator you are etc."
Manushi Chhillar (2017)
After Priyanka's win, India would have to wait seven years for their next victory. In 2017, Manushi Chhillar became the new Miss World, receiving praise from celebrated figures including PeeCee herself.
The 20-year-old has a striking similarity to Reita Faria, as she too is keen to pursue medicine. Prior to beauty pageanting, Manushi studied at Bhagat Phool Singh Medical College and took a year out for Miss World.
She too carried charm, elegance and compassion as her predecessors. When asked about who she felt deserves the highest salary, she answered:
After winning the competition, many have speculated what lies next for the beauty queen. So far, she has currently featured in the Dabboo Ratnani Calendar 2018 – which features a total of 3 Miss World winners!
Will she continue to pursue medicine, just like Freida? Or delve into acting, similar to Aishwarya, Diana, Yukta and Priyanka?
For now, time will time as Manushi keeps her options open, saying: "I disagree with the notion. I feel that Miss India is a stepping stone for anything you want to do, not just Bollywood."
Watch the History of Indian Miss World Winners here: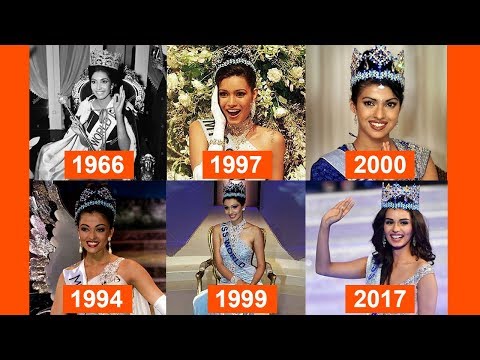 Despite some significant gaps in this history, it's fascinating to see the evolution of the Indian Miss World winners. From Freida Reita to Manushi Chhillar, one can see how India acts as a strong competitor in the contest.
Now, after the magnificent win in 2017, many look towards the future. How will this evolution continue to grow and change? Which future Indian winners of Miss World could become the next Aishwarya or Priyanka?
While only time will tell, it's a future we can't wait to see!