"I feel proud to be part of this community"
Two Indian sisters got married on January 22, 2020, but showcased their own unique procession.
In what is usually performed by men, Sakshi and Srishti had their baraat. They rode horses and wielded swords to reach the houses of their respective grooms in Khandwa.
Typically, a baraat is the groom's wedding procession. It is customary for the groom to travel to the wedding venue on a horse, accompanied by his family members.
But in this case, it is a role reversal. Sakshi and Srishti performed their baraat as part of a tradition followed by the Patidar community.
The brides were seen in elegant bridalwear and completed their looks with turbans and sunglasses.
As they continued with their procession, guests followed. But locals also gathered to witness the unique wedding tradition.
People were seen dancing in the street, celebrating the upcoming wedding of the two sisters with their grooms.
Meanwhile, people showered the brides with money as they continued their journey on horseback.
Srishti explained that she is proud to be a part of a community which has been following the same tradition for years.
She said: "I feel proud to be part of this community and that they have been following this tradition."
The father of the Indian sisters revealed that the tradition has been ongoing for hundreds of years. He also urged people from other communities to follow the cultural practise and to give respect to the women of India.
Their father, Arun, said: "This is a 400-500 years old tradition. We are carrying it forward to support the government message "Beti Bachao, Beti Padhao'.
"The daughters of this country should be treated equally.
"This is the message that we want to convey with our tradition and we will continue practising it."
"I urge the people of other communities to adopt this tradition and give respect to our daughters."
Watch the Video of the Indian Sisters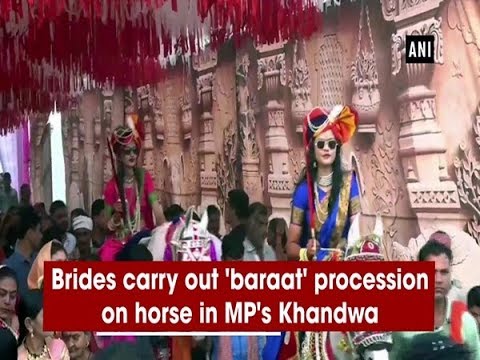 Incidents of male wedding processions being performed by women are becoming more prevalent in South Asian countries.
In one case, Bangladeshi bride Khadija Akhtar Khushi went to the groom's house to tie the knot.
She went to soon-to-be husband's house with her bridesmaids and family members.
Seven buses and 20 motorcycles reached Tarikul's house for the unique event.
After the wedding was finished, Khadija took her new husband to her father's house located in the village of Hajrahati.
Khadija explained her reason for going to the groom's house. She said:
"Generally, a groom goes to the bride's house to wed, and perform a wedding ceremony in our society. But, as an expression of equal rights for men and women, we did this coming out of the box."