"What would you have us do then? Wrap our burgers up in burqas and chaddors?"
Hardee's, the American fast food chain, has unveiled a new advertisement campaign in Pakistan that is deemed inappropriate.
One of them portrays two bread buns placed neatly together and a woman's hand softly pinching it.
Another shows a finger gently poking a bun and reads 'soft buns'.
Many see this as a vulgar marketing strategy. Its blatant reference to sex has caused a brutal backlash on Twitter.
@iCleopatraa comments: "We are living in a society where even food chains sexualise everything to make things sell. Pathetic. #Hardees'.
"Who was the perverted crackhead that came up with the idea for this advertisement."
Some see its comical side and give 'hats off to #Hardees', while others call it 'awesome'.
@Hardees in Pakistan
The promo is awesome
Lol ??#Hardees #Pakistan pic.twitter.com/o4TAlpoRFx

— te amo (@pakmadelover) July 18, 2015
@walkingfrreak believes the public are blowing it out of proportion:
So #hardees undr attack for its new ad in Pak, strange people find some bun as sexual n taboo, bt r ok with daily rape sexual harasmnt cases

— Mohammad Yasir Naim (@walkingfrreak) July 21, 2015
The popular chain originated in North Carolina is quite the expert in using sex to sell their succulent burgers and flavour-filled milkshakes.
In 2009, they enlisted Desi American TV personality Padma Lakshmi in a commercial, where she sucked, licked and nibbled on the Hardee's burger.
Padma even adjusted her dress to showcase her bare legs and bended over to reveal her voluptuous breasts.
Her provocative performance caused an uproar, with many criticising her for performing 'foreplay on food'.
Forum user 'Kiss Me Deadly' posted: "My entire Hindu vegetarian family is furious at her."
An angry mother wrote on stupidcelebrities.net after walking in on her daughter watching the advert: "This is absolutely one of the most sluttish commercials I've ever seen."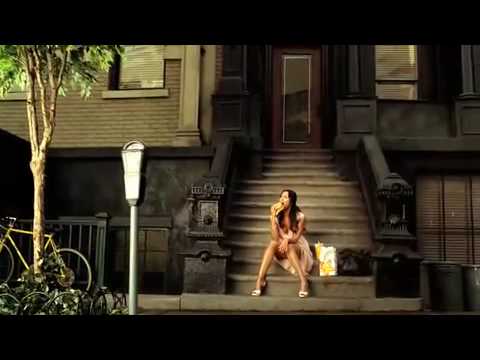 Then in 2013, Hardee's produced another TV ad featuring Emily Ratajkowski, who was also seen in the highly controversial music video, 'Blurred Lines'.
It featured the model-actress and another scantily-clad female feeding each other burgers, while two men ogled them and took photos.
The camera panned to burger juice dripping from Emily's lips – again, a very obvious sexual innuendo!
Andy Pudzer, CEO of Hardee's, emphasises their target audience is young and hungry men.
He believes sexualised images of women in adverts have become part of American culture, and they help boost sales for the burger chain.
In response to the public outcry in Pakistan over the 'fresh bun' ad, he says: "Valuable customers have been exhorted by angry mobs to 'resist their urges' and have been forcibly turned away from our outlets.
"What would you have us do then? Wrap our burgers up in burqas and chaddors? This is the 21st century, remember."
A US study recently published in Psychological Bulletin found sex does not always sell and can distract customers away from the products.
Ohio State University Psychologist Professor, Brad Bushman, conducted 53 different experiments among 8,489 adults.
He said: "Sex and violence do not sell, and in fact they may even backfire by impairing memory, attitudes and buying intentions for advertised products."
Whether the suggestive images sell burgers or not, it is not hard to see why Hardee's is under fire for being ignorant and inconsiderate to Pakistan's social customs and culture.