"I know my dark circles are bad but damn :("
Faryal Makhdoom Khan caused a social media stir when a video of her on Instagram showing her having a beauty procedure shows her with very little makeup on her face.
The 27-year-old glamorous wife of British boxer, Amir Khan, is well known for her beauty and striking looks. She has a huge fanbase who adore her fashion and style.
However, her usual look with stunning makeup was not seen in this video which is on Dr Simon Quorian's Instagram, which has over 3.3 million followers.
Faryal's more natural look while she receives non-surgical treatment led to a series of reactions on the video post.
The clip which has had over 847,000 views shows having a number of injections below her eye areas and cheeks. The procedure is called 'tear through injection' which she had done in late December 2018.
Many viewers were pretty astonished at how Faryal looked in the clip and reacted in the comments section of the Instagram post.
ghisz_waffles says: "@maritzadee I know my dark circles are bad but damn :("
s_ana1988 reacted: "What happened to her cheeks????! Scary"
hasonajan commented on her eyelashes saying: "Those are the scariest Eyelashes I have ever seen"
xoxobtrxoxoxx said: "Her contacts and eyelashes look absurd."
matthewdhair commented on her cheeks saying: "Lucky you didn't cut yourself on those cheekbones !"
val_missfit commented: "Her eyelashes scary"
crunch_7 commented on her thinness saying: "She looks emaciated"
Another viewer said: "She looks like a completely different person."
See the Instagram video clip below: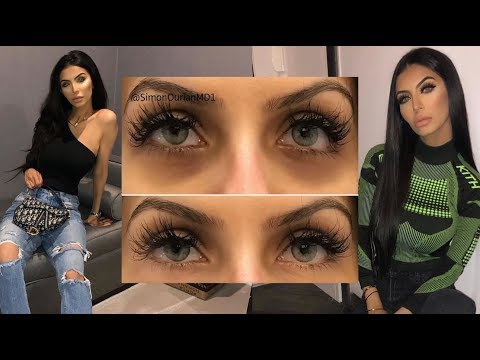 A lot of the viewers commented on their own dark circles under their own eyes after seeing the clip showing Faryal's under eyes.
However, not everyone was negative about Faryal's appearance with minimal makeup and actually rooted for her look.
breezyx92 said: "She's so pretty my goodness!"
meli_maine loved her look saying: "This woman is stunningly gorgeous"
itsshabnamfaisal said: "She is so beautiful"
torianderman wanted her cheekbones saying: "Can u give me some cheekbones like hers"
cocohrt complmented her saying:
"Is that Amir Khans wife? Looks very like her. Stunning anyway"
Lots of the positiveness in comments were complmentary of the doctor's work in the clip and how badly they wanted the same treatment.
It seems that Faryal has had a number of procedures in the past which are non-surgical.
According to Dr May Gilbert: "It's obvious she [Faryal] has previously received a fair amount of filler to both cheeks and lips. It looks like she had overall botox on master muscles and jawline."
Regarding Faryal's marriage and relationship which has had its challenges with Amir in the past, on Twitter, she shared an interesting post at the start of 2019 which she had a laughing emoji with an image and quote by Sandra Bullock in a movie, saying:
"Me in a relationship" followed by "You have to do every single thing I say or we will not make it." Which looks as if it's meant for Amir!
— Faryal Makhdoom Khan (@FaryalxMakhdoom) January 6, 2019
So, it looks like Faryal Makhdoom is seldom out of the spotlight when it comes to her overall appearance and relationship, but in this instance, her wearing very little makeup has also even garnered reactions.