"I genuinely didn't think I was going to win because all of the websites said I was going to lose."
Aziz Ansari landed a historic win at the Golden Globes 2018. He became the first Asian man to win the 'Best Actor in a Comedy Series'!
The awards ceremony took place on 7th January 2018. Aziz faced tough competition as the likes of Kevin Bacon, Anthony Anderson and William H. Macy were also up as nominations.
However, the Desi American's stellar performance as Dev Shah in Master of None shined through. Upon receiving the award, he revealed to the audience he felt "genuinely surprised" to win.
He even admitted he thought he would lose, saying: "I genuinely didn't think I was going to win because all of the websites said I was going to lose.
"Losing two of these in a row – it would have been a sh*t moment for me!"
Aziz gave huge thanks to the cast and crew behind Master of None in his acceptance speech. He added: "The only reason my acting is good on the show is because everyone holds me up."
He also praised the country Italy, which most of the latest series was filmed in, "for all the amazing food we ate on season two".
After Masters of None received huge praise for its two series, many will wonder if a third is on the horizon. However, Aziz said earlier in the year: "Let me relax for a second. Let me just live my life. Forget season 3 of Master of None, I'm also doing season 34 of Aziz Ansari."
The awards ceremony was a night full of historic wins. While Aziz received his award, Sterling K. Brown became the first black actor to win the 'Best Actor in a TV Drama' award. He landed the win after starring in the powerful This Is Us.
As the only black nominee in the category, he delivered an inspiring acceptance speech, mentioning his race:
"What I appreciate so much about this thing is that I'm being seen for who I am and being appreciated for who I am."
"And it makes it much more difficult to dismiss me or dismiss anybody who looks like me."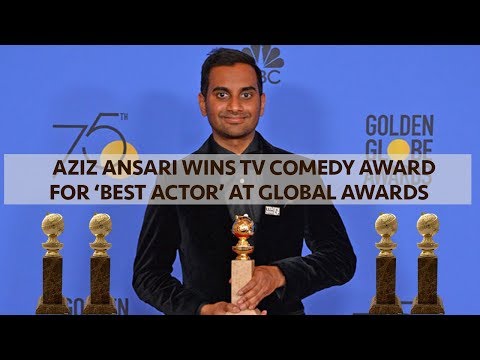 The night also witnessed many of its female guests wear black gowns to show a sign of solidarity against sexual harassment, brought to light after the Weinstein scandal. The idea for this grew from initiative Time's Up, founded by influential women of Hollywood tackling abuse in the industry.
Big names such as Angelina Jolie, Oprah Winfrey and more wore black dresses and suits. Many also walked the red carpet with activists, such as the founder of the #MeToo campaign, Tarana Burke.
However, President of the Hollywood Foreign Press Association (HFPA) Meher Tatna, who was born in Mumbai, opted away from these dress code. Instead, she wore a red gown which she had planned in advance with her mother, saying:
"My mom and I planned this together a couple of months ago, it is a cultural thing. When you have a celebration, you don't wear black. So she would be appalled if I were to (have) worn black. And so this is for my mom."
Despite this, she added a Time's Up pin to show her support for the cause. She added:
"The HFPA is 60 percent women, we'll have our stories. We are also journalists, so anybody who expresses themselves, especially on this topic, we are in solidarity with."
With historic wins and social movements, the awards ceremony was truly a night to remember.
DESIblitz congratulates Aziz Ansari, Sterling K. Brown and all the winners of the Golden Globes 2018!