"He said she was good-looking until she started following Kylie Jenner and changing her looks."
The 4th of August 2017 marked the end of a chapter between Amir Khan and Faryal Makhdoom. After four years of marriage and one child between them, they revealed their plans to divorce.
Roughly two and a half months later, their separation has unfolded into an ugly spat. With unexpected twists emerging into the aftermath.
As more developments leak and speculation grows rife, their marriage breakdown has dwarfed earlier controversies, such as Amir's sex video. Even now, latest claims suggest he broke up with Faryal over her alleged obsession with cosmetic procedures.
Combine that with their confusing separation announcement and a shock pregnancy, a lot has happened in such a short space of time.
Let's take a look through the story of their breakup and the rollercoaster aftermath that soon followed.
Amir acted as the first to announce their split, sharing a tweet with his fans. He wrote: "So me and the wife Faryal have agreed to split. I'm currently in Dubai. Wish her all the best."
However, he soon made allegations that Faryal cheated on him with another boxer. He claimed Anthony Joshua and his former partner embarked on an affair, with his tweets becoming increasingly bitter.
Faryal responded on Twitter by suggesting that Amir's family actually made the tweets. Her comment seemed to allude to their ongoing family feud. She even made allegations of cheating, suggesting that her former husband spent time with a prostitute while in Dubai.
However, she took to Snapchat saying that both she and Amir had become victims of online hacking. Suggesting then, their separation was false. The boxer remained defiant, taking to his own Snapchat to confirm their separation.
With such a public, confusing announcement, it appeared more developments would unfold. In regards to the cheating claims, Anthony Joshua denied all the allegations and explained how he had never even met Faryal.
In response, reports claim Amir had later publicly apologised to Anthony.
A Surprise Pregnancy
On 26th August, Faryal announced her second pregnancy, sending shockwaves throughout. Revealing her exciting news on Twitter and Snapchat, she said: "I've been waiting to announce something very special …. Alhumdulilah, I am pregnant with my second child. Time for me to get fat and chunkayyyy."
Amir Khan was in Las Vegas during this time, watching the boxing fight between Conor McGregor and Floyd Mayweather. Speculation had arisen on whether he knew of her pregnancy before the announcement. However, in a Snapchat video, he explained:
"I hear that she's announced that she's pregnant. She didn't tell me, I had to read it on social media." Amir also clarified that he had filed for a divorce, yet added if Faryal's pregnancy was true, he would support their second child.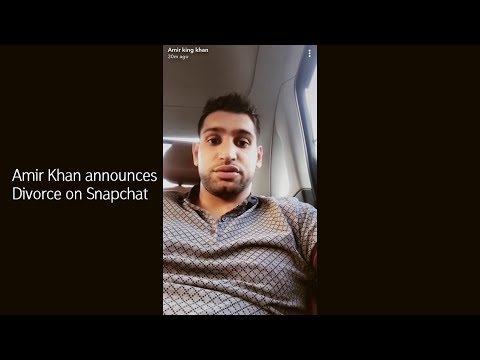 Weeks later, on 5th September, Faryal confirmed her pregnancy with an image of her baby scan. Sharing the image on Snapchat, she described the tiny baby as "my angel".
Following on from this revelation, the speculation continues to grow on the couple's former marriage. For example, some have suggested that they attempted to reconcile. In September, reports claimed they went to see a "holy man" based in Birmingham.
Despite this, Amir Khan and Faryal Makhdoom are still headed for a divorce.
Obsession with Cosmetic Surgery?
Latest allegations now suggest that Amir Khan broke up with Faryal due to a supposed obsession with cosmetic procedures. A teacher, identified as Sophie, claimed she had met Amir in a random encounter in September.
Exchanging numbers, she suggested that the British Asian boxer had sent her a string of messages. Explaining more on why he dumped Faryal in the first place. Speaking to the Daily Star, Sophie claimed:
"He said she was good-looking until she started following Kylie Jenner and changing her looks. He said she had no need for the work, then added 'nobody would have her for a one-night stand now', which was a rude thing to say."
Sophie also suggested that Amir attempted to send 'sleazy' texts to her. In an image she shared to Daily Star, it depicts the boxer asking her intimate questions, which Sophie described as "crude" in her reply to them.
The teacher also claimed he begged her to send over explicit footage. However, Daily Star added that Amir claimed a friend had actually sent the request as a joke.
With these latest claims, it seems the ongoing drama between Amir Khan and Faryal Makhdoom continues. In just two and a half months, they have already experienced various twists and speculation in their separation.
As the couple heads closer to their divorce, time will tell on whether more will arise from their marriage breakdown. Or whether they can come to a peaceful conclusion of their relationship.