"What went wrong? I think just a lack of communication."
It's fair to say Amir Khan and Faryal Makhdoom faced a tough year in 2017, after a temporary split. But now they have explained the reason behind it.
The two cited a "lack of communication" for their marriage breakdown. The boxer also revealed he experienced struggles in his life during the year.
Amir and Faryal made the comments while appearing on Loose Women. The 2nd of January 2018 episode turned to a discussion on fresh starts and the public spat between the couple.
The I'm A Celebrity contestant expressed his regrets of announcing their split on Twitter, saying: "You want to change things at times, the way it went public wasn't nice… anger sometimes takes over."
When directly asked about the reason for their break-up, Amir explained: "What went wrong? I think just a lack of communication."
Faryal also added: "It was just a misunderstanding. I was in England (and) he was in Dubai, he thought he was a bit cool in Dubai doing some tweets … [laughs]"
The British Asian boxer also pinpointed difficulties he faced after having hand surgery earlier in 2017. He told Loose Women:
"Going through the hand injury that I had, not being in the boxing ring, being away from my family, going through a lot of stuff in my life, I think the best place for me is to be in the boxing ring."
Amir also admitted that being away from the boxing ring prompted a loss of focus. But, when asked about what caused a change, he said:
"My family were very supportive, my parents, they helped me when I said I don't know what to do.
"I came to a stage where I didn't know what to do with my life. I was wrecking my marriage, I wasn't boxing, I had a hand injury, I didn't know where to go, what to do …"
Watch their interview on Loose Women here: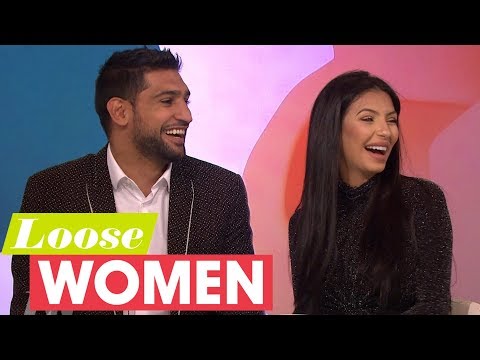 He also said religion and I'm A Celebrity as helped him in reuniting with Faryal. Describing the Jungle as "detox", he also joked how the public could see the "real side" of him.
In the interview, it's evident that Amir is leading the responses on the show, whereas, Faryal Makhdoom contributes less, compared to the outbursts publically on social media, when things did go wrong.
With the couple now revealing the true reasons behind the infamous breakdown, they're now set to move forward with their next chapter together.
Indeed, 2018 looks set to be brighter than ever before for the two. With their daughter Lamaisah and a second child on the way, Amir and Faryal appear ready to embrace their fresh start.