"I feel like someone's done it out of revenge… someone close to us"
Amir Khan and Faryal Makhdoom have spoken to This Morning about Amir's sex video leak.
The couple has alleged that someone close to them may be responsible for the sex video being posted online and have put aside any divorce rumours.
Appearing on ITV's This Morning, Amir Khan told Holly Willoughby and Philip Schofield that the leaked skype sex video could not have come at the worst time. The boxer said: "Whoever did it, probably thought this was the best time to do it."
Speaking from San Francisco, the couple were firm in their stance. The Khans affirmed their relationship and focused on the speculation over Amir Khan's sex video.
Speaking of their relationship, they said: "We're here to show that all the divorce rumours aren't true. We're not here to cause problems – we just want to show that our marriage is fine and we're doing well."
Faryal Makhdoom, Amir's wife, looked supportive as she stated that she thought the video was leaked by someone they may have already known. Faryal, said: "I feel like someone's done it out of revenge… someone close to us."
This could mean that a family member may have leaked the sex video which publicly humiliated the Khans last week.
This Morning's presenters Holly and Phillip were quick in asking for confirmation whether it was a family member being referred to.
But, Amir Khan backtracked a little, saying:
"I'm not saying it is a family member, I wish I knew who it was. I'm not pointing any fingers."
Faryal added: "I have no idea – it could be a jealous girlfriend passing it on or a former employee who was fired from the Amir Khan foundation. I'm not saying it's a family member, but the timing is strange – it happened now for a reason."
Khan was also quick to confirm that the sex tape took place before his marriage, contrary to what media outlets have been reporting:
"It was something that happened a long time ago when I was young. And this was well before my marriage and well before I had my little girl.
"It's trying to put me down and it's put us in a very difficult position," Khan said.
Watch Amir Khan and Faryal Makhdoom's interview on This Morning here: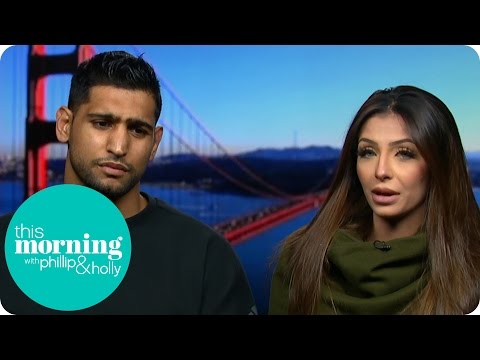 Khan added that while he was relieved that everything was in the clear, he was sad at the impact the sex tape would have on his fans, who he says look up to him as a role model.
But fans were keen to show their support for the boxer and his wife on social media:
@amirkingkhan @thismorning @ITV @FaryalxMakhdoom watched it mate and you did well. Keep your chin up mate.

— Marc Rolfe (@marcrolfe) January 23, 2017
@FaryalxMakhdoom @thismorning @amirkingkhan @ITV There's always going to be haters out there,stand tall and smile through it all

— AMANDA THOMAS (@AMANDA73THOMAS) January 23, 2017
The interview comes at a turbulent time for Amir Khan and his family. Wife, Faryal Makhdoom is still involved in a storm with Amir's parents. Although, the couple chose not to directly talk about any family members specifically in the interview.
But Amir did miss his brother Haroon's wedding celebration in Bolton recently because he was at training camp.
Faryal has previously appeared on This Morning to talk about her public row with her in-laws. The American married Amir Khan in 2013, and their marriage has been rocked with cheating rumours ever since.
However, Faryal and Amir have seemingly quashed divorce rumours by appearing together on the morning show.