"Imran showed off his mazy dribbling skills"
Legendary field hockey player, Imran Sherwani became a national hero for Great Britain (GB) after inspiring them to Olympic gold.
Imran's double against West Germany saw Team GB winning 3-1 in the men's field hockey final at the 1988 Seoul Summer Olympics.
The British hockey player was born Imran Ahmed Khan Sherwani in Stoke-on-Trent, Staffordshire England, on April 9, 1962.
Imran is of Pakistani descent, with his father representing the Green Shirts as a hockey player. He earned his first senior England call in 1983.
Imran had a dream of playing at the Olympic Games from the age of fourteen when he took the field with a hockey stick for his first match.
Around a decade later, Imran's wish came true at the 1988 Olympic Games in Seoul.
After scoring one goal during the round-robin phase, a dominating Imran scored two more in the final at the Senonagam Stadium.
With Great Britain becoming Olympic champions, everything changed overnight for Imran and his teammates. Recalling a unique moment, Imran told the BBC:
"When we got back to Heathrow Airport it was bizarre for a hockey player to walk out to hundreds of cheering people. You see it with rugby and football but not usually hockey."
We revisit the heroics of Imran Sherwani, along with an exclusive reaction from a hockey player.
Tournament and Final
Imran Sherwani became a GB Olympics great after scoring two goals in the final to beat West Germany 3-1. The left-wing player was a key member of GB's Olympics triumph, playing all seven matches.
Before the final, Imran had scored one goal. This came during the 2nd group B encounter between GB and Canada.
Wearing the number 15 shirt, Imran scored, courtesy of a field goal asGreat Britain won that game comfortably 3-0.
Imran probably did not think in his wildest dreams that he would leave the best to the last. In the final against West Germany on October 1, 1988, Imran put Great Britain in the lead.
The man from Staffordshire went around the goalkeeper Christian Schlieman to score from close range. He got the goal midway in the first half.
Speaking to The Dail Mail, Imran described th opening goal as an "Ice breaker." With Sean Kerly adding a second from a penalty corner, Team GB was in control of the game.
Imran dealt the killer blow when he scored his second and GB's third.  Following the perfect cross from Steve Batchelor, Imran slotted the ball past Schlieman.
The most impressive thing about this goal was the timing of Imran's run, which was about the length of the pitch.
After Imran's emphatic third, iconic commentator Barry Davies voiced the famous line be in a biased fashion:
"Where, oh, where were the Germans? And frankly, who cares?"
Imran's final contribution was sweet for a player who had to miss the 1984 Olympics with an injury.
It was a fairly-tale ending for the British Asian hockey player and Great Britain to win gold. Imran was instrumental in beating the mighty West Germany side.
What made it more special was that Great Britain clinched a field hockey gold after sixty-eight years. They previously claimed the top prize at the 1920 Summer Olympics in Antwerp, Belgium.
Reactions and GB's Boy Wonder
With Imran Sherwani scoring twice, in the 1988 field hockey Olympics final, he became an instant hero.
Post-match, Imran acknowledged that he had few misses early on in the tournament. However, in the final everything came together:
"I thought it was going to be my day. I missed a few goals. Obviously, today, hit the backboards."
Birmingham based Saad Bhatti who was a semi-professional hockey player as a goalie, was full of praise for Imran:
"Imran showed off his mazy dribbling skills and was later in the perfect position to finish the game off."
Imran tells The News International, following their victory, Team GB was confidently on Cloud nine:
"Our confidence was at the all-time high."
He also shares how the memorable victory gave the sport more recognition in Britain, along with other unforgettable moments:
"Memories will last forever. That gold brought hockey into limelight in the country, at least for some time. It began as soon as the team had arrived at the Heathrow airport.
"We were told, 'you have to be taken out through the back door as there are thousands of people waiting for the hockey team.'
"We won the BBC 'Sports Team of the Year' award and had attended with the queen at the Buckingham Palace. "
Talking to StokeonTrentLive, recalls even after marrying Louise and on Honeymoon in Kenya, he kept getting the attention:
"Even though we were so far from home, I still had people there coming up to me and saying: `Hello, you are that hockey player, aren't you'?"
Unlike football and rugby, players like Imran were not used to being in the spotlight.
However, the interest at the airport, by the British public, government, monarchy and overseas was only natural. This was probably the biggest accomplishment by a British team since England won the 1966 Football World Cup.
Watch Video Highlights of Gold Glory for Team GB: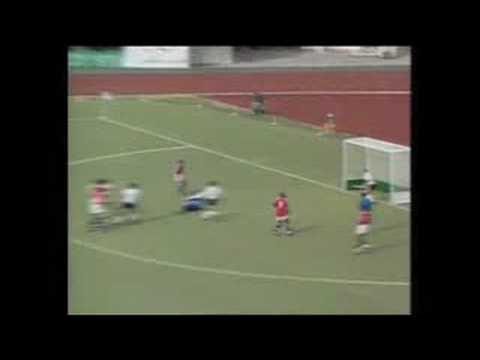 On a personal note, he adds how he relished being an overnight star:
"I appeared in the TV shows including 'A Question of Sport' with Ian Botham who remarked, 'I watched all the hockey games'. He also asked for my autograph."
With the 1988 final being his last appearance for GB, Imran finished his international career in 1990 at the very peak.
Imran had 45 caps for Great Britain, whilst wearing the England shirt on 49 separate occasions. He also bagged a silver medal, representing England at the 1986 Hockey World Cup. He had a two-goal tally in the tournament.
Additionally, Imran had a significant contribution in Staffordshire winning their maiden County Championship in 1993.
Furthermore, he also served as Director of Hockey at Staffordshire's Denston College.
Imran has three sons from his marital bliss, with all of them going on play for Cannock Hockey Club.
It was only right for Imran Sherwan to be a torchbearer ahead of the 2012 London Olympic Games. He is the greatest hockey player to come from the Potteries region and an Olympic name that will live forever.