"Who do I have to sleep with to meet Akshay?"
Following the trailer release of hilarious upcoming movie The Shaukeens, starring Akshay Kumar (in a cameo role), Lisa Haydon, Anupam Kher, Annu Kapoor and Piyush Mishra, the first song 'Alcoholic' has also been released.
Akshay Kumar fans you are in for a treat!
The first song to be released from the movie, titled 'Alcoholic', is an upbeat 'drinkers anthem' with the vocal sounds of none other than desi rapper and singer Yo Yo Honey Singh.
Sung and composed by our favourite Punjabi music producer, Honey, 'Alcoholic' has been mixed and mastered by Vinod Verma, with lyrics by Sahil Kaushal.
This party vibe will have you bopping to the beat, make you thirsty for a fruity cocktail, and yearning for summer!
Akshay Kumar flaunts his cool style and flaming charisma with his ravishing dance moves; and you will surely want to join in on the 'frickin' crazy summer party'.
His summer party is a performance surely to be remembered, what with him looking to be the only man surrounded by stunning women dressed only in bikinis, as well as Lisa Haydon on a party yacht, going crazy and having a good time.
The song definitely gives off a feel-good vibe, and whether you drink or not, the catchy beats will have you dancing in no time. A certain party anthem in the making.
Yo Yo Honey Singh proves yet again his impeccable talent in creating yet another chartbuster. Released on YouTube on October 1, 2014, by Zee Music Company, the video has already had over 1 million hits so far.
This is not the first time that Akshay has relied on the musical prowess of Honey, as Honey has covered a number of tracks for Akshay's films including 'Party All Night' from Boss (2013).
The Shaukeens is allegedly a remake of Basu Chatterjee's comedy Shaukeen made back in 1982, starring Ashok Kumar, Utpal Dutt and A K Hangal.
The remake is directed by Abhishek Sharma who previously made Tere Bin Laden (2010) which starred Ali Zafar.
The trailer follows three middle-aged men; Lalli, an (unfortunately) married middle aged man, KD a middle aged ladies man, and Pinky an unhappy widowed man.
All three men are craving for an adventure, as well as a young, voluptuous and attractive woman, so that they can re-live their youth.
They make the decision that Delhi is now too dangerous for them (after being hit with a shoe by a young woman) and go on an adventure to Mauritius.
This is where attractive Lisa Haydon comes into the picture as Ahana. She will be the lucky girl to fulfil their dreams and fantasies as the three men spend time with her.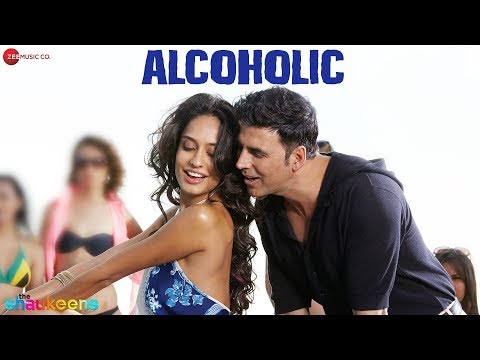 Akshay plays a small cameo as himself, titled 'The Alcoholic Superstar'. Don't worry, this is not a confession from the actor, but part of the movie's song 'Alcoholic'. Akshay explains:
"I am playing my own self just that we have put a negative track to my character. I am shown drinking alcohol which I don't in real life. We wanted to add some colour to my character and I had fun playing the part."
Ahana reveals her obsessive collection of Akshay Kumar, to the middle aged trio and what a crazy fan girl she proves to be! Ahana asks the three men: "Who do I have to sleep with to meet Akshay?"
No doubt this starts putting thoughts into the trio's heads, and the adventure is set to begin.
The film looks to have you in stitches and the song 'Alcoholic' is definitely going to be a hit among party-drinkers. The Shaukeens starring Anupam Kher, Annu Kapoor, Piyush Mishra and Lisa Haydon is set to release from November 7, 2014.