Nallon brilliantly executes Thatcher as a powerful and ruthless figure
Birmingham Repertory Theatre (The REP) in association with DESIblitz bring you the wonderful chance to watch the critically acclaimed play, Dead Sheep on Saturday 1st October 2016.
A political satire written by Jonathan Maitland, Dead Sheep follows the infamous relationship between Prime Minister, Margaret Thatcher, and her right-hand man, Geoffrey Howe.
Based on true events, Maitland revisits a political friendship of Thatcher and Howe that quickly turns sour. Historically, it leads to the demise of Thatcherism in the late 1980s.
Writer Jonathan Maitland however, turns the political saga on its head by putting two strong women against one another: Margaret Thatcher and Elspeth Howe (Geoffrey's wife).
And poor Geoffrey is instead seen enduring a 'conflict of loyalties' between the powerful foes.
Elspeth had a notably frosty relationship with Margaret and disagreed with her on many accounts. This is given new ammunition on stage in Dead Sheep.
When Howe finally resigns, to devastating effect, many believe that it is actually Elspeth's influence that prompts him to criticise the leaders of the government.
Widely described as an unimpressive individual and uncharismatic politician, Howe shocks his colleagues by attacking Thatcher's leadership in one of the first televised broadcasts in parliament. He quips:
"It is rather like sending your opening batsmen to the crease only for them to find the moment that the first balls are bowled that their bats have been broken before the game by the team captain."
Dead Sheep is Brilliantly Funny
The direction by Ian Talbot OBE is masterful. Together, Maitland and Talbot cleverly navigate audiences through the dense politics with undercut humour and witty narration.
It becomes a story of Lady Macbeth and of Brutus, with Tory backhanders, and a smattering of Brexit jokes thrown in for good measure.
Leads, Paul Bradley (as Geoffrey Howe), Steve Nallon (as Margaret Thatcher) and Carol Royle (as Elspeth Howe) are truly wonderful to watch.
One sympathises with the timid Geoffrey played by Bradley. We are in awe of the feisty Elspeth who stands up to the robust and condescending nature of Margaret.
With many quips about feminism and the role of women as domesticated wives, it is no surprise to see Thatcher played by a man, Steve Nallon. Nallon brilliantly executes Thatcher as a powerful and ruthless figure.
But he also softens her sharp 'executioner eyes' for the audience. Her distant marriage with Denis starkly contrasts the warm and loving marriage of the Howe's. At one point, Margaret has to remind us that: "I am a woman, you know."
Overall, Dead Sheep is a play that will engage, delight and open your eyes to the deadly world of politics. It is a production about friendship, loyalty and being true to one's self.
Watch the production trailer for Dead Sheep here: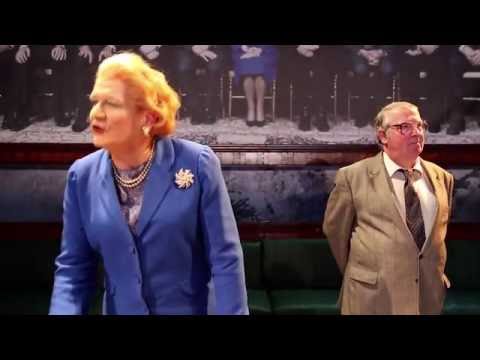 Dead Sheep will run at The REP between September 26 to October 1, 2016.
With The REP's mission to engage and educate audiences with dramas of politics and current affairs, you have the amazing chance to win a pair of to see this unmissable show!
For more details about Dead Sheep, please visit The REP website here.
SHOW DETAILS
Date and Time: 7.30pm Saturday 1st October 2016.
Venue: Birmingham Repertory Theatre, Broad Street, Birmingham B1 2EP.
Buy Tickets: The REP
Tickets can be purchased by visiting the link above.
FREE TICKETS COMPETITION
We have one pair of tickets to give away to one lucky winner.
To win a pair of FREE tickets for DEAD SHEEP at The REP, first follow us on Twitter or Like Us on Facebook:
Then, simply answer the question below and submit your answer to us now!
One entry will allow you to win two tickets to the match. Duplicate entries will not be accepted.
The competition closes at 12.00pm on Friday 30th September 2016. Please read the Terms and Conditions of the competition below before entering.
Terms & Conditions
DESIblitz.com is not responsible for and will not consider incomplete or incorrect entries, or entries submitted but not received by DESIblitz.com for any reason, as potential competition winners.
To enter this competition, you must be at least 18 years old or older.
The winner will be contacted at the "sender" email address or telephone number that was used to enter the competition and the "sender" will be considered as the sole winner.
No more than one entry per email address is permitted and will be considered.
You hereby agree to hold DESIblitz.com and its affiliates, owners, partners, subsidiaries, licensees sponsors and assigns harmless from and against, and hereby waive any right to pursue, any claims of any nature arising in connection with the inclusion in, publication via or display on any DESIblitz.com site or this competition, or any other use authorised under these Terms, of any photo or information submitted to DESIblitz.com by you;
Your Details – In order to claim a winning entry, the entrant supply DESIblitz.com with his/her legal name, a valid email address, and telephone number.
Winner – the winning entrant of the competition will be selected using a random number algorithmic process which will select one number from only the correctly answered entries input serially into the system. If details supplied by any winner are incorrect, then their ticket will be offered to the next random number from the winning entries.

DESIblitz.com will communicate with the winner via the email or telephone provided. DESIblitz.com is not responsible for emails not getting to the user, nor responsible for the quality of the seats, if show times or dates change, and is not responsible for anything that happens before, during, or after the event.
The winner may not request substitutions of winnings. The winner is solely responsible for any and all taxes and/or fees, and all such additional costs that may be incurred after or before they receive the tickets.
DESIblitz.com, nor employees of DESIblitz.com or partners may be held liable for any warranty, costs, damage, injury, or any other claims incurred as a result of any winnings of a prize.
DESIblitz.com is not liable for any loss arising out of or in connection with or resulting from any competition promoted by DESIblitz.com.
DESIblitz.com does not accept responsibility for: (1) lost, late or undelivered entries, notifications or communications; (2) any technical, computer, on-line, telephone, cable, electronic, software, hardware, transmission, connection, Internet, Web site, or other access issue, failure, malfunction or difficulty that might hinder the ability of an entrant to enter the competition.
DESIblitz.com disclaims any liability for inaccurate information, whether caused by the Web site, its users or by human or technical errors related to the submission of entries. DESIblitz.com makes no warranties or guarantees in relation to the prizes.
No purchase is necessary to enter the competition. Details given in the entry to the competition will only be used by DESIblitz.com in accordance with its privacy policy and consent communications from DESIblitz.com
By entering the competition, entrants agree to be bound by these Terms and Conditions which are governed by the law of England and Wales. DESIblitz.com and all entrants irrevocably agree that the courts of England and Wales shall have exclusive jurisdiction to settle any dispute which may arise in connection with these Terms and Conditions and submit all such disputes to the jurisdiction of the courts of England and Wales, provided that for the exclusive benefit of DESIblitz.com shall retain the right to bring proceedings as to the substance of the matter in the courts near an entrant's residence.
DESIblitz.com reserves the right to alter any rules of any contest at any time.