"I look forward to sharing my passion for football"
Bollywood stars are steadily becoming more familiar with football, especially with the biggest teams around the world.
Brilliant footballing sides such as Chelsea, Real Madrid and Barcelona have sparked interest amongst actors.
Also, Bollywood stars have frequently been going to the most exciting matches in football.
For instance, Ranbir Kapoor and Arjun Kapoor were in attendance, watching the fearsome rivalry between FC Barcelona and Atlético Madrid.
In addition, the passion of these Bollywood stars towards promoting football in South Asia indicates a shift in sport.
Ranveer Singh is an example of a noticeable ambassador for Arsenal. His involvement in the sport is inspiring to younger Desi fans wanting to follow football.
Abhishek Bachchan
Abhishek Bachchan emerges as one of the biggest football fans in Bollywood. He follows football globally, not only does he have a strong interest in India, but in England too.
The exciting English Premier League is watched by millions around the world, with the best teams competing at the top level.
In relation to Abhishek, he was introduced to the league after visiting the ground of Chelsea Football Club in 2006.
Back in May 2009, he also attended the highly intense UEFA Champions League semi-final match between Chelsea and FC Barcelona.
Shortly after the game, in an interview with Rediff, Abhishek explained how he became such an ardent fan:
"My first trip to Stamford Bridge was while filming Jhoom Barabar Jhoom (2007), where I played a Chelsea fan.
This is my seventh trip and I only flew into London for the game. I am a big fan and am trying to bring the world of Chelsea back home in India."
Furthermore, he has been fortunate to meet Chelsea legends like Frank Lampard (ENG), John Terry (ENG) and Didier Drogba (CIV).
Since then he has become a passionate fan of the London club. Additionally, he has a strong affinity with the Indian Super League as he owns the club, Chennaiyin F.C.
Also, he is a massive supporter of the Indian national football team. This was after appearing at India's triumphant run at the Hero Intercontinental Cup in June 2018.
He was seen cheering on the team and their captain Sunil Chhetri (IND).
Arjun Kapoor
Arjun Kapoor has also been a major contribution in promoting football in India and has a keen eye for the sport. He has been associated with various football teams.
Interestingly, in May 2019, he became Chelsea's brand ambassador for India whilst being presented with a shirt by manager Frank Lampard.
His role includes leading the club's India fan engagement initiative and featuring in various digital talk shows involving Blues fans in India.
Also, he makes appearances in Chelsea FC's social networks and communicates with fans online and face to face.
He was also lucky enough to receive compliments from footballing legend Frank Lampard. During the Chelsea press conference, he said:
"We are delighted to welcome Arjun Kapoor into the Chelsea FC family. He is a versatile actor with a fantastic personality and a deep love for the club.
"Arjun's charisma and passion will be brought onto screens as he hosts our brand-new digital fan-show Out of the Blue with Arjun Kapoor".
Away from the Premier League in England, he also has links with the Indian Super League. In October 2017, he was once named the co-owner at FC Pune City.
Being born in the same city as the club being located in Maharashtra, India, his loyalties remain with the club.
Intriguingly, on January 30 2016, he was present at Nou Camp, the football ground of Barcelona. He was alongside actor Ranbir Kapoor, as they were watching FC Barcelona take on Atlético Madrid.
Hrithik Roshan
With Hrithik Roshan being popular for performing stunts in films and being a physical presence in his dancing, he shows an interest in football.
In May 2016, Hrithik Roshan, Sonakshi Sinha and Anil Kapoor were promoting the IIFA Awards which was being held in Madrid, Spain.
Whilst in Madrid, they enjoyed a visit to the Santiago Bernabéu Stadium, the home of Real Madrid C.F.
Furthermore, they endured a kick about with the world-class players of the squad. These included Gareth Bale (GBR), Karim Benzema (FRA) and Luka Modric (CRO).
Additionally, Hrithik has also invested in Indian football, particularly in the Indian Super League.
Like Arjun Kapoor, he was also born in Maharashtra, India and has close ties to Pune City.
In October 2014, he was the co-owner of Pune City for three years before handing over the reins to Arjun Kapoor.
Regularly attending their matches in 2014 and 2015, he remains a true fan of the club and excites the fans.
John Abraham
Bollywood star John Abraham is also a die-hard football fan and does not shy away from showing his support.
Also, having played football for a role in his film Dhan Dhana Dhan Goal (2007), his footballing identity remains the same.
Taking the opportunity of building a football club in the northeast, he created a club to represent an entire region.
Uniting eight states of India, NorthEast United FC was established in 2013 and he became the owner of the club.
According to Goal publications, he comments on the development of Indian football:
"Indian football still has to develop. Foreign players are coming up and it is exciting for Indian players."
"Infrastructure has to be developed. If you ask me, football is not cricket yet, but it will be new cricket in a period of time."
Away from India, he is also a fan of mainstream football. According to Tribune, back in 2015 he shockingly received a signed Real Madrid signed from footballing icon Cristiano Ronaldo (POR).
Giving a message of support and encouragement for his new team, Abraham is certainly making an impact.
John Abraham also shows support for Liverpool, after posting a Liverpool shirt with his name on the back, on Instagram.
Ranbir Kapoor
Ranbir Kapoor is another Bollywood star who appeals to the excitement of football. In particular, a team like FC Barcelona is enough to impress a neutral.
The quality of their gameplay and stars during the 21st century is eye-catching and caught the attention of Ranbir.
In 2011, Ranbir relished his opportunity of going to the Nou Camp ground and meeting the Barcelona players.
Furthermore, Ranbir had an exclusive interaction with Barca TV describing his love for the team:
"I've always been a big fan of Barcelona. The way they play football, how they bring up their players, they truly love the sport and they are passionate."
Meeting players like Lionel Messi (ARG) and Xavi (ESP), Ranbir has since been building a strong rapport with the club.
Ranveer Singh
One of the most enthusiastic Bollywood stars in the industry, Ranveer Singh put Bollywood on the map in English football.
On December 22, 2017, Ranveer Singh became the very first ambassador for the Premier League and Arsenal.
Whilst supporting the League's community initiatives across India and promoting fan events, he is a devoted fan of Arsenal.
In reference to the Premier League, he comments on his inspiring new role:
"It is an honour to take on an ambassadorial role with the Premier League."
"I look forward to sharing my passion for football. I hope that I can help develop and grow the fan base for the sport in India."
Attending several games, he has also been promoting Arsenal's new kit at the start of a campaign.
At the beginning of the 2019/2020 season, he launched their new Adidas' home kit, being pictured round the Emirates Stadium.
Frequently meeting Arsenal players and legends such as Mesut Ozil (GER) and Patrick Vieira (FRA), he remains a faithful fan.
Shah Rukh Khan
Although it is not clear as to which team Shah Rukh Khan supports, his interest in football is evident.
His appreciation for his team was put to his followers on his social media in a surprising post.
Being a fan of the Spanish elites Real Madrid, he was presented with an honorary shirt holding the number 555. Real Madrid also paid homage to SRK as they shared on Facebook:
"Shah Rukh Khan, it's an honour to have one of India's biggest stars as one of our #RMFans!"
Besides, SRK has also been watching Premier League matches live. For instance, on April 1, 2019, he was present at the Emirates Stadium.
After watching Arsenal take on Newcastle, he met popular players from the Arsenal squad.
Thanking Arsenal for their hospitality, he was later spotted holding an Arsenal shirt with Mesut Ozil (GER).
He was spotted taking photos with players Granit Xhaka (SUI) and Shkodran Mustafi (GER).
Watch Ranveer Singh Discuss Football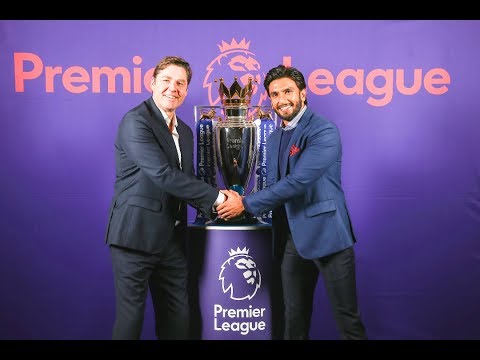 Other noticeable actors and actresses have also worn football shirts implying they enjoy the game. Alia Bhatt and Deepika Padukone have famously been embracing Arsenal shirts on social media.
Despite not many Bollywood stars following mainstream football, the new ambassadors are encouraging signs for global recognition.
Furthermore, it is great to see legendary footballers like Cristiano Ronaldo and Frank Lampard acknowledging Bollywood actors and their work.
In relation to South Asia, the rise of football is gradually increasing and could possibly match the popularity of cricket.