"We have a honeymoon booth in Veeraswamy, which is a very intimate space where courting couples can come."
Established in 1926, Veeraswamy is the oldest surviving British Indian Restaurant situated in the prime location of Regent Street, Mayfair in London.
This is amongst the best food institutes, when contemplating special Indian cuisine. Veeraswamy has many good choices, taking food to yet another new level.
The restaurant has entertained royalty, along with famous people including Winston Churchill, Charlie Chaplin and Sir Abdul Qadir.
The tale of Veeraswamy is a good mix of the East meeting the West. Its founder Edward Palmer was the great grandson of an English General and his Indian Princess wife from Delhi.
Edwards's father was a close aid of Warren Hastings, a clerk for the British East India Company. General Palmer and his family shifted to Hyderabad where he ran a successful business.
Edward himself had retired from the Armed Forces of India, before heading for London in pursuit to become a Dr. It was during this trip that he got side tracked and started Veeraswamy in 1926 to honour his parents.
In an exclusive conversation with DESIblitz, current co-owner and Chairman for the MW Eat Group, Ranjit Mathrani spoke about the meaning of Veeraswamy saying:
"It's very interesting. It was originally called Veeraswmy where it was S A W M Y and not S W A M Y. And people said that is was because Edward Palmer's grandmother was called Veera.
"When he sold the business in about 1931, and the printer of the new owner thought it was a misspell and changed it to Veeraswamy. The name stayed ever since."
Under the management of Ranjit, his wife Namita Panjabi and sister in law, Camellia Panjabi, the restaurant has become very popular and fashionable.
The menu at Veeraswamy offers many options to everyone. Veeraswamy were pioneers for combining a curry with a pint by having Duck Vindaloo on the menu.
The Duck Vindaloo became a favourite for his Highness Prince Axel of Denmark. The Prince bought his own beer to digest a vindaloo. Every Christmas, he would ship a barrel of beer to the restaurant and drink it after eating a Duck Vindaloo.
The Raj Kachori, which is a large wheat puri with street food condiments also tops in the menu.
Other dishes, which will ticket those taste buds, include Gosht Hari Salan, Kolkati Sea Bass with Mustard, Lobster Malabar Curry from Kerala and Hyderabadi Gosht Biryani.
You can order the usual too such as Rogan Josh and Butter Chicken.
Since Ranjit took over in 1997, the restaurant has gone through an evolving process over the years. While Veeraswamy continues to remind us of the past, it also has a more contemporary and colourful feel to it.
There are three unique Elephant stools for children to sit on in the bar waiting area. These have been part of the furniture since the opening in the late 20s.
There is a magnificent dining room in the restaurant, which has a very private ambience and feel to it.
Watch an Exclusive Gupshup with Ranjit Mathrani here: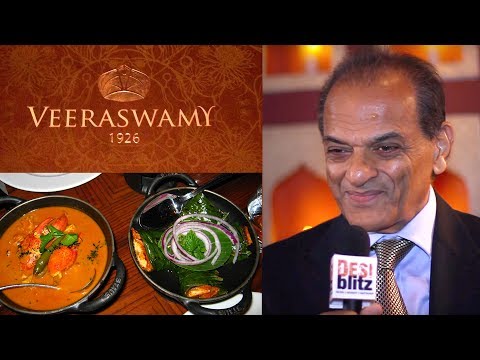 The appeal of the restaurant also reaches out to all the lovebirds.
In reply to a question on what he would recommend for anyone wanting to add spice to his or her life, a smiling Mathrani exclusively told DESIblitz:
"Well, its very interesting. We have a honeymoon booth in Veeraswamy, which is a very intimate space where courting couples can come. And we've had marriage propositions there as well.
"We've got some delightful cocktails they can start with, which can enhance the nature of their experience. And we've also had engagement rings been embedded in desserts, which are produced at the end of meals as well."
Another reason why Veeraswamy is a favourite spot for many people is the element of romanticism. In terms of old times, many distinguished people have walked through the doors at Veeraswamy.
Speaking of the beautiful photographs in the restaurant, Ranjit a former High Sheriff of Greater London exclusively tells DESIblitz:
"We decided we would evoke the past in many ways by some tremendous sepia images taken essentially in the 20s and 30s. And they are either images we have of the restaurant, images of the Maharajas and Maharanis who would've eaten at Veeraswamy at the time.
"There are images of the very famous stars like Audrey Hepburn, like Yul Brynner, like Charlton Heston who would've eaten at Veeraswamy as well. And so they all part of the rich tapestry of Veeraswamy life."
Veeraswamy celebrated its 90th anniversary in 2016, with a Michelin Star also mentioned in its 2017 Guide. This is a remarkable achievement considering the Michelin Star is often given to new restaurants and new chefs.
With its rich history, grandeur and splendour, Veeraswamy is definitely a place to visit. To find out more about Veeraswamy, please check their website here.
DESIblitz wishes everyone connected with Veeraswamy the very best for the future!