We definitely expect some more hilarious one-liners and comical situations
For many months, there has been an immense hype for the release of Judwaa 2.
20 years ago, the audience enjoyed watching a double dose of Salman Khan in the first Judwaa and now, we can feast our eyes as we are offered a double act of handsome hunk – Varun Dhawan.
Plus, Varun is accompanied by the gorgeous glamour queens: Jacqueline Fernandez and Taapsee Pannu, both actresses who follow the footsteps of Rambha and Karisma Kapoor, from the first instalment.
The Judwaa 2 trailer has been released and DESIblitz takes a closer look at this highly awaited comedy flick!
At the beginning of the trailer we see Varun (as Prem) speaking to Ali Asghar (who plays a therapist) about his reflex actions. From there, we catch glimpses of Prem slapping Ali and Rajpal Yadav, which brings back major nostalgia from the first film.
Judwaa 2's trailer successfully sets the premise of the movie. Like the 1997 movie, we have two lookalike and long-lost brothers – Raja and Prem – both essayed by Varun Dhawan.
Meet Prem, a timid and weak musician, who gets bullied every time. In terms of appearance, he wears a navy blue suit, with a guitar hanging behind him. Furthermore, the Harry Potter-style glasses and clean look portrays Prem's innocence.
Then, there is Raja, the tapori twin. In terms of his demeanour, Raja is more action-oriented and highly confident. The funniest thing about the character is the way he squats at random points.
Moreover, the bandanna and long-haired look of Varun is something we haven't seen before.
DESIblitz got in touch with Jatin Khan, assistant director to David Dhawan for the movie. Reflecting on his "amazing" experience, Jatin is all praises for Varun Dhawan:
"He is just ridiculously hard working and is ever hungry to do better. He's very humble and gets along well with everyone on set, keeping the atmosphere fun. He has established himself as a good actor and a bankable star. Varun definitely has a very long innings of success ahead in the industry."
As for the two heroines, Taapsee Pannu, unlike her previous roles, will be seen donning bikinis. This is by far the most glamorous role in her career so far.
With regards to Jacqueline, we hardly see much of her. Although one memorable moment is when Varun asks her what the capital of Afghanistan is and she says "Kabul" – meaning "I accept" three times.
Being a David Dhawan entertainer, we definitely expect some more hilarious one-liners and comical situations!
Watch the trailer for Judwaa 2 here: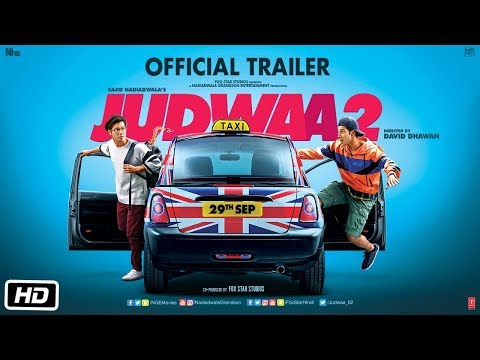 Additionally to the main cast, the antagonists are depicted by Vikas Verma and Vivan Bhatena. Both will not fail to make an impression as the baddies.
We are certain that the action sequences between Dhawan and the villains will be enjoyable to watch on the big-screen.
In addition to the humour and acting quotient, the music is also promising. With multiple composers such as Sajid-Wajid, Meet Bros, Sandeep Shirodkar and featuring Anu Malik, there is a high expectation from the soundtrack of Judwaa 2.
We hear snippets of the 'Oonchi Hai Building' and 'Tan Tana Tan' remixes in the trailer. Both of these songs are upbeat and catchy like the original tracks.
Overall, the three-minute trailer of Judwaa 2 promises to offer nothing less than sheer entertainment. With Varun Dhawan in a double role for the first time, this hunk is set to steal our hearts again with another masaledaar venture.
Judwaa 2 releases on 29th September 2017.