"I read the book and I couldn't let go of it."
BFI Southbank welcomed a special preview of upcoming TV drama, The Boy With The Top Knot, on Tuesday 3rd October 2017.
Adapted from the heartfelt memoir written by Sathnam Sanghera, the BBC Two drama showcases his personal experience as a second-generation British Asian.
Growing up in Wolverhampton and eventually moving to London, Sanghera deals with both relationship issues and mental illness within his family.
The screening was attended by an enthusiastic crowd of viewers including the main cast and crew of the film. Sanghera's family was also present in the audience. The film drew laughs, moments of thoughtful silence, and finally a thunderous applause.
Sanghera and actor Sacha Dhawan joined director Lynsey Miller, screenwriter Mick Ford and producer Nisha Parti for a Q&A session at the end of the screening. Offstage, actress Deepti Naval and child actor Himmut Singh Dutt were seated in the audience.
The Boy with the Topknot ~ From Book to Screen
BBC presenter Anita Rani, who began by praising The Boy With The Topknot for its Brit-Asian representation, chaired the energetic panel.
Nisha echoed Anita's sentiment, explaining how she noticed that Indian representation on TV always tends to be stereotypical:
"But this novel really resonated with me. It was one of the most beautiful things I've ever read," she said about Sanghera's memoir.
The Boy with the Topknot: A Memoir of Love, Secrets and Lies in Wolverhampton was published in April 2009. Nearly eight years later, the vision has been adapted from page to screen.
When asked about how it felt to see "his baby" come to life, Sathnam shared that it was quite difficult:
"When it's one of the most painful things that have ever happened to you, it's a very intense experience seeing it on film."
Sathnam did, however, add a light-hearted comment about how his mother was very happy with the adaptation.
Mick Ford discussed the challenges faced in translating the novel into a screenplay:
"There is just so much in the book and how it zips around back and forth in time. Sometimes humorous and sometimes investigative in tone."
Often, a creative vision may blur and lose its way through production. A film has numerous key players, as opposed to a book where all the control lies with the author.
Nisha emphasised that it is only through a collaborative effort with clear communication that can produce good results.
Sanghera pointed out that he had only read the script after the BBC gave a green light to the project. He explained that the script sat on his desk for a few weeks, as he was not prepared to relive the emotionally exhausting story:
"After I did manage to read it, I just spent the rest of the day in bed," he joked.
British Asians and Mental Illness
Sacha, who portrayed Sanghera on-screen, stated how he almost did not audition for the role because of a similar emotional response:
"My girlfriend picked up on how I felt fear about the role. I wanted to turn it down and do something safe instead. But what I learned is, if something makes you feel fearful, that's probably all the more of a reason to do it. It was my girlfriend who ultimately convinced me to audition for the role."
"I read the book and I couldn't let go of it. I was just so proud that someone had written about their family… but in a way, it was also about my family. I usually play characters that are very different from me, but the role of Santham was very close to who I am."
Lynsey, who directed the film, agreed with Sacha:
"While I'm not Punjabi, I did come from a working-class background myself. So there was that common thread through which I could connect to Sathnam's world."
Mick complimented that it was the effect of the novel, saying:
"That's really how Sathnam did it. In telling his own story, he brought out a universal, human experience."
Indeed, the drama focuses on multiple human experiences including cultural clashes, nostalgia, and unconditional love. One of the stand-out features is the prominent use of spoken Punjabi in the dialogue.
Sacha praised the use of the language during scenes:
"It was a precious moment to act alongside actors speaking in Punjabi. The dialogue scenes I shot with Deepti reminded me of conversations with my own mum."
Legendary Indian actors Anupam Kher and Deepti Naval star as Sanghera's parents. Both roles were testing in their own right, drawing admiration from the cast and crew.
Nisha recollected a skype call with Deepti, after which Lynsey admitted that she instantly "fell in love" with the acclaimed actress. Sacha mentioned how he was surprised by Anupam's carefree personality when he was not in character:
"He would say 'let's have a drink' or pull out his phone to take a few selfies for his Instagram. It was amazing to watch him effortlessly blend into character when the cameras started rolling."
Audience members were given the chance to ask questions and share their thoughts. One audience member who was from Wolverhampton, praised the film's depiction of the city's distinctive culture. He explained how it gave him hope for diversity to remain in the face of bigotry.
Watch our interview with Sathnam Sanghera here: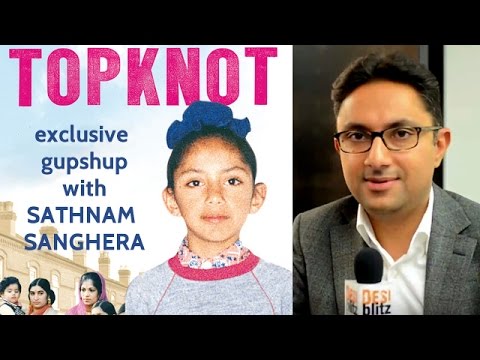 Sathnam was reminded of criticism he faced on Twitter: "I had people tweeting me and asking why I hired a white director and a white screenwriter to tell this story. Isn't that the point? I wanted a multiracial crew to work on this movie."
Sathnam was also quizzed about whether he received backlash for such an honest written experience from a Punjabi man. He answered:
"Oh yes. You do get some negativity. When someone tells me that the story doesn't relate to them and their family, my thought is – Well, it's not your story dude! My priority was to portray schizophrenia in the right way, and to show that it doesn't have to be a death sentence."
Anita concluded the session and referred to the drama as a landmark moment for British Asians in the media. Given the power of representation, there is hope that The Boy With The Topknot will make an impact. And there is optimism that it will spark much-needed conversations in the community regarding mental health.