"Rajputi Kangan Mein Utni Hi Taaqat Hai, Jitni Rajputi Talvaar Mein Hai."
Devotion, power, love and war – these appear to form the crux of Sanjay Leela Bhansali's Padmavati. 
The trailer of 2017's highly anticipated Bollywood film features heavyweights Deepika Padukone, Ranveer Singh and Shahid Kapoor.
Within 3 minutes and 10 seconds, director Sanjay Leela Bhansali introduces us to the main characters of Padmavati and the historical world of Indian royalty, that too with very minimum dialogues.
Post the impressive posters, how 'shaandaar' is the Padmavati trailer? DESIblitz reviews.
Who was 'Maharani Padmavati' and 'Alauddin Khilji'?
According to Indian history, Alauddin Khilji invaded the Delhi throne in 1926 AD by murdering his uncle and (then) leader, Jalaluddin Khilji.
In fact, after gaining power over Delhi, he also conquered the kingdoms of Gujarat, Ranthambore, Malwa and Jalore and Devagiri.
Rani Padmini, most commonly addressed as 'Maharani Padmavati' was first mentioned in the 'Padmavat', an Awadhi language poem, penned by Muhammad Malik Jayasi.
In the text by Jayasi, Padmavati was described as an immensely beautiful woman.
The poem itself highlights the relationship between King of Chittor – Ratan Sen (known as 'Maharawal Ratan Singh' in the film), Queen Padmavati and the Sultan of Delhi – Alauddin Khilji.
Ratansen's banished musician, Raghav Chaitanya told Khilji about the Queen's beauty, as an act of revenge against the Chittor King.
Curious and lured by Padmavati's features, Khilji headed to Chittor to gain the Maharani. But what happens next, has been subject to much debate.
Old texts imply that Alauddin Khilji's request to meet Rani Padmavati was rejected as the Rajput culture prohibited women from meeting unknown men.
With his ego hurt, Khilji decided to declare war against Chittor, but could not capture the throne. Tragically, Ratansen was killed.
Eventually capturing the Chittor kingdom in 1303, Khilji stormed inside to search for Padmavati.
But by then, the Maharani performed mass suicide through 'Jauhar', in order to preserve her and the other women's honour.
Whilst Bhansali's trailer promises to be another grand magnum-opus, the actual story seems to be quite dark, tragic and emotional.
Promising Performances from Main Cast
Initially, in the trailer, we see tender moments between Maharawal Ratan Singh (Shahid Kapoor) and Rani Padmavati (Deepika Padukone) where she adorns his turban.
A few seconds later, we see Padmavati bring the Koftgari steel helmet (for war) and puts it on Ratan Singh's head.
This romance is soon interfered by Sultan Alauddin Khilji (Ranveer Singh) – who is the villain of this tale.
As it is, Ranveer Singh's first look as Khilji caused a lot of curiosity amongst audiences. But seeing the character in action gives us goosebumps.
The 'Khalnayak' and beastly look reminds the audience of some ghastly Bollywood villain, especially like Sanjay Dutt's Kancha Cheena from Agneepath.
Even the long hair, bushy beard and heart-piercing gaze resemble the character of Khokha Singh from Trimurti.
Throughout these 3 minutes, we see moments where he storms into a camp, rides a horse and laughs maniacally.
Even though Ranveer says nothing in the trailer, his expressions and body language convince the viewer that the character of Alauddin Khilji is truly sinister.
Shahid Kapoor, we know, is a talented actor. In the trailer, there are parts where he has very subtle expressions during the romantic quotients.
Yet, when it comes to action sequences, he seems like a lion. It would be interesting to see the chemistry between him and Deepika as it is the first time they will be featured opposite each other.
Deepika Padukone won the audience's heart as Mastani previously. Once again, we see her in a royal avatar and she slays in this Rajasthani look.
Her posture and facial expressions live-up to the name of Maharani Padmavati. The film has been quite emotionally tough for Deepika, especially because she plays a character who commits 'Jauhar.'
A source tells the media:
"It is not easy to play a character who has to commit suicide, or Jauhar, as it is called. And when one is working with Sanjay Leela Bhansali, he wants one to feel committed and feel the character all the time."
Well-Written Dialogues, Engaging Background Music and More
As previously mentioned, there are hardly any dialogues within the trailer. But the lines spoken in this are poetic and leave a powerful impact. One, for instance, is when Padukone says:
"Rajputi Kangan Mein Utni Hi Taaqat Hai, Jitni Rajputi Talvaar Mein Hai."
This line exhibits the real power of Maharani Padmavati. Viewers look forward to hearing more excellent dialogues by Prakash R Kapadia.
Additionally, what accompanies these terrific dialogues, is the haunting background-score. When the love sequences between Shahid-Deepika are shown, the background music is low-key.
As soon as Ranveer enters the scene, the music's volume increases and the melody becomes more intense. This is as the drama unveils on screen. Sanchit Balhara's background score captivates the viewer.
In addition to the performances and music, the costumes and set design are utterly spellbinding. The outlook of lavish forts and outfits of the main cast exudes royalty.
Watch the trailer of Padmavati here: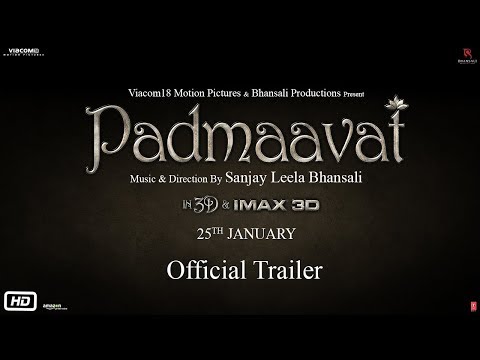 Overall, it is clear that Padmavati is yet another Sanjay Leela Bhansali epic. With extravagant sets, talented actors and captivating music, one has high expectations from this period drama.
Will the film conquer our hearts? We will wait to find out!
Padmavati releases in cinemas on 1st December 2017.