"The most standout moment has been just working with my sons"
A creative father and his two 8-year-old twin boys have managed to turn the restrictions of lockdown into an entrepreneurial success called Rocketsonic.
Digital marketer, Tandy Virdee, has an astonishing 30 years of experience within the creative industry, working for elite corporations such as Google, Vodafone and Microsoft.
However, he began noticing how intrigued his two sons, Deivan and Rylan, were about his work projects.
Tandy saw this as a tremendous opportunity to teach his children some unique skills that they would not have been taught at school.
Starting the 'Homeschooling Project', Deivan and Rylan began learning the basics of marketing. From logo design to branding to social media posts, the boys became captivated.
Displaying their innate creativity and impressive determination, Tandy was jubilated at how well his children grasped the concepts of graphic design.
This led the trio to create Rocketsonic, a boys clothing and lifestyle brand. Suddenly, what started as a side hustle turned into a thriving business.
DESIblitz spoke exclusively with Tandy about the roots of Rocketsonic and the importance of development.
The Homeschool Project
As the world went into lockdown amid Covid-19, most parents started working from home.
This transition proved to be challenging for parents and adults alike with routines crumbling under the confines of the pandemic.
However, Tandy had a very different outlook on this situation.
He saw this as a chance to utilise the boys' curiosity and his spare time to teach them some exclusive talents, stating:
"They would come home from school and ask about what projects I've been working on.
"I thought there's no better way, on me as a parent, showing them what I do as a living.
"I'm a digital marketing professional, being in the industry for nearly 30 years and thought why don't I just show them.
"They've responded so well to learning about the projects and been inspired by what I do."
Moreover, it was imperative that Tandy had a simple teaching style to keep things fun instead of complicated.
This allowed Deivan and Rylan to truly understand the ideas of marketing and graphic design.
Tandy expresses:
"My teaching techniques are very simple.
"Teaching them real simple things from developing a logo and how to market the logo, market the brand and branding as a whole."
This intimate collaboration between Tandy and his two sons provided a distraction from the panic of the Covid-19.
In a sense, the pandemic allowed Deivan and Rylan to challenge themselves in a rare way for two 8-year-olds and they have excelled exceptionally. Tandy emphasises:
"We love homeschooling.
"The boys love learning different things, it could be anything from history, geography to religious education.
"Their brains are like sponges."
Interestingly, the 'Homeschooling Project' promoted academic as well as personal growth. It was not just a concept focused on Tandy's expertise, but more so an ideology to 'never stop learning'.
Persevering & Staying Motivated
As an established designer, consultant and marketer, Tandy has faced some challenges trying to balance his own work and the momentum of this project:
"I work full time and obviously that's a challenge of juggling."
However, Tandy's unparalleled encouragement has helped him and his kids prevail when they lacked motivation.
He believes parents have a duty to not only care for their kids but also to guide them so they reach their full potential.
Tandy's determination to help shape the way Deivan and Rylan apply themselves has been noteworthy, he expresses:
"As a parent, you have to give them all the tools for them to develop and we've enjoyed it across the year that we've been in lockdown."
Impressively, the skills Deivan and Rylan have picked up during the 'Homeschooling Project' lay the foundations of how the real world works.
Such as working on different areas of a business, collaborating with other people and being creative.
Tandy does believe that education is important, but this type of homeschooling has propelled their character development:
"They'll always get their books out, always trying to teach themselves different things.
"Make sure they're opening up their minds and learning different things they want to learn."
The key phrase here is "things they want to learn."
Children often go through education being taught restricted subjects that hardly deviate from the curriculum.
The 'Homeschooling Project' has provided an innovative and refreshing way to learn by allowing the 'students' to choose their 'subject'.
Rocketsonic
Formed on the back of the 'Homeschooling Project', Rocketsonic was created so Deivan and Rylan had the first-hand experience of how a company works.
The brand produces high-quality boyswear that focuses on minimalist designs for an effortless look.
Furthermore, Rocketsonic has expanded into quirky accessories and sporty yet artistic canvases.
This highlights the freedom that the brand represents as it aims to create a community that celebrates individuality.
Impressively, the boys played a vital role in creating the logo and even came up with the brand name by themselves.
Rocketsonic stems from the keen attitude of Deivan and Rylan. To learn, grow and test themselves in an environment that has been so restrictive.
Tandy beautifully highlights how:
"The brand represents anything is possible.
"It doesn't matter what age you are, as a parent you are the teachers of showing them (kids) what can be done."
As the trio began producing more content for their social media channels, the brand started to gain traction.
However, the growing spotlight on Rocketsonic did not halt the fresh-faced entrepreneurs as Tandy reveals:
"My sons will obviously learn a bit more about the ins and outs of advertising and how to purchase a product, work with manufacturers."
He adds:
"I'm there to lead them the way."
Notably, Rocketsonic is still a new company trying to establish itself in a tough industry.
Even so, the brand has remarkably already been featured in The Ilford Recorder and received mass praises from customers as Tandy mentions:
"The feedback has been really good.
"We've had customers loving the brand, loving the products and buying our products."
Excitingly, Tandy has also been interviewed on The Robert Elms Show for BBC Radio London. This illustrates the relentless attention Rocketsonic is receiving as it continues to flourish.
Inspiring the Youth
This profound collaboration between Tandy, Deivan and Rylan has been incredibly uplifting.
What started as an ingenious method of learning through the 'Homeschool Project', evolved into a distinguished business.
It can be easily forgettable that two-thirds of this brand has been constructed by the minds of two extraordinary 8-year-old boys.
Tandy recognises this and emotionally declares:
"The most standout moment has been just working with my sons.
"From literally a homeschooling project and we've taken it from the ground up and they've been so excited seeing how the brand has grown."
One can imagine as the brand grows, so will Deivan and Rylan's creative flair.
They personify hard work and dedication whilst maintaining pleasure and fun.
Looking forward, Tandy teases the idea of new products and projects, which is news that customers will be ecstatic with.
Although, reenforcing Rocketsonic as a lifestyle brand, Tandy interestingly mentions:
"We're not only a brand but we're also supporting youngsters."
He adds:
"We're open to collaborate with kids who have got great ideas and hopefully we are an example of showing that."
This displays the fearless nature of Rocketsonic.
It has a business side but will happily explore social change and support for young entrepreneurs like Deivan and Rylan.
Watch a Video interview with Tandy Virdee about Homeschooling and Rocketsonic: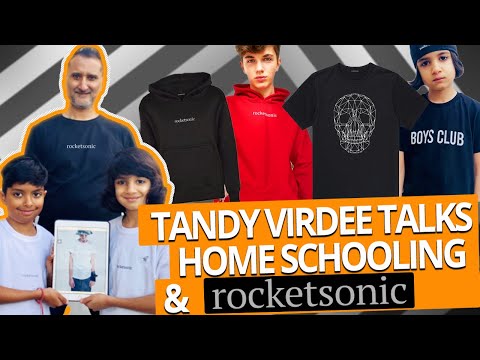 Significantly, Tandy and his two boys have dramatically overcome the hardships of Covid-19.
Their willingness to learn, adapt and create whilst preserving their family unity has been awe-inspiring.
In fact, the foundations that Tandy has helped lay will prove invaluable for Deivan and Rylan when they enter a post-Covid world.
Surely, Rocketsonics story emphasises the idea that time is what you make of it.
When many people understandably struggled, two twin boys sparked a sequence of events that will inspire thousands.
Check out the extraordinary nature of Rocketsonic here.