"COVID-19 has not gone away and we cannot lower our guard."
Doctors at University Hospitals Birmingham have been at the forefront during the coronavirus outbreak.
Dr Srikant Bellary is a Consultant Physician at the Diabetes and Endocrinology Centre, Birmingham Heartlands Hospital.
The acute general hospital is part of the University Hospitals Birmingham NHS Foundation Trust (UHB).
As a Clinical Director, he has been leading the Heartlands Diabetes Team during COVID-19.
Obesity management is one of the areas he specialises in.
His colleague Dr Muhammad Ali Karamat also works as a Consultant Physician in Diabetes and Endocrinology at the same hospital.
His expertise lies in several areas. This includes family and community diabetes, training and education, along with the role of technology to name a few.
Dr Muhammad Afrasiyab Cheema is a Junior Specialist Doctor (Standard) – Renal Medicine at Queen Elizabeth Hospital Birmingham, UHB Trust.
He was amongst many other doctors working around the clock on a COVID rota during the peak of these strange, unprecedented and challenging times.
The three doctors exclusively share their thoughts on the impact of COVID-19 and much more.
Coronavirus and Effects
Dr Srikanth Bellary describes COVID-19 as a "game-changer."
Dr Bellary says he has "not seen anything like this" during his career of over twenty-five years:
"It has changed the way we think about medicine. Managing people with COVID has been a very stressful thing as well.
Dr Muhammad Ali Karamat acknowledges that on a personal level it has been a challenging 2020-2021.
Dr Karamat says UHB have taken care of many patients, including some people with serious COVID-19.
He tells us some of his fellow doctors and staff members have had COVID-19, with a few sadly losing their lives in the line of duty:
"Unfortunately, we have seen a lot of our colleagues suffer from COVID-19.
"In some instances, we have seen deaths amongst our colleagues, which has been a very difficult aspect to deal with."
He points out that when working in a high-risk environment, doctors have to be careful not to take COVID-19 back home.
"When we are working in a full COVID-19 area, we have to make sure when getting home, you are protecting your family as well as yourself."
According to Dr Karamat, in some cases, some doctors have had to "move away" from home. This is so that they could protect their loved ones.
He also told us about the "heartbreaking" element of junior doctors in the NHS suffering from mental health.
Dr Karamat believes the impact that COVID-19 has had will take years to address.
He feels adequate "support" for doctors and other colleagues at the NHS are key to their recovery going forward.
Dr Muhammad Afrasiyab Cheema reveals that with COVID-19 his working pattern and responsibilities were quite challenging:
"During COVID, our rota was changed to COVID rota. We had to continuously work for 4 days on 12 and a half-hour shifts.
"Then we had 4 days off to regain our energy before our next shifts. Obviously, during these 12+ hour shifts when doing 4 continuous days…
"We had to see patients workload, take decisions about them. Do we need to send them to ITU? Will they stay on a ward?
"Definitely, the workload had increased, which was mentally strenuous."
Despite it being a tough period, Dr Afrasiyab acknowledges his seniors for being supportive at all times.
Conditions, Risk and Locality
Dr Muhammad Ali Karamat says those that suffer from diabetes are vulnerable to the coronavirus.
He emphasises that patients with diabetes will not necessarily catch the disease.
However, should they have COVID-19, complications may arise, with recovery becoming difficult.
From a local perspective and in relation to UHB, Dr Karamat identifies the high-risk ethnic groups:
"If you talk about even our local experience in Birmingham, within our own organisation, what we've seen is that people who are from the South Asian ethnicity with COVID-19 have a higher risk of diabetes.
"[They] are also presenting at a much younger age, but are much sicker."
He also mentions kidney disease being affected by COVID-19, with some high-risk patients not surviving.
Dr Srikanth Bellary reveals when COVID-19 first hit the UK during March 2020 there were two common factors found in patients. These include "diabetes" and "obesity."
Dr Bellary believes those that are overweight were at the highest risk level of catching COVID-19:
"If you talk about existing illnesses, top of the list of course is obesity."
"That has been a common factor across the world."
Dr Muhammad Afrasiyaab Cheema tells us that investigation into the effects of COVID-19 on existing illnesses are still taking place.
Though. he does disclose some diseases, which have been impacted:
"Research is happening about which existing illness has been affected by COVID.
"In terms of comorbidities, at first, we have hypertension, diabetes, cardiovascular disease and cancer patients who are taking immunosuppressants.
"COVID has affected all these diseases and patients in a big way."
Anyone suffering from these diseases are potentially at risk of getting COVID-19 infections.
Managing, Treating and Results
Dr Muhammad Ali Karamat says the initial managing of COVID patients that take admission in a hospital involves supportive care:
"If we look at how we are treating people with COVID-19, the first step would be generally doing some investigations and managing them supportively.
"If they require oxygen, we would be giving them oxygen.
"They might require some antibiotic treatment because of superimposed infection."
In terms of diabetic patients, he mentions the difficulties and subsequent treatments:
"A lot of times their diabetes might get more difficult to manage.
"So they might need to be treated with things like injections of insulin while they're admitted in the hospital."
Speaking about the different results and support, he adds:
"We have seen good outcomes with treatments such as steroids.
"There are some other new treatments in terms of medications as well, which are coming along.
"Unfortunately these treatments. do not always lead to cure from COVID-19.
"And some instances, people do need to go beyond medical admissions area or admission medical wards to intensive care units or critical care units.
"Again, in the critical care units, in some instances, they might need things like artificial breathing machines or ventilators."
Dr Karamat tells us some people are fortunate to recover, whilst others meeting a sad ending.
Dr Srikanth Bellary explains COVID-19 patients have varied "clinical causes."
The Consultant Physician states that those with a "good immune" system have made a full recovery after successfully "fighting the infection."
He acknowledges that the "hardest part" was not being able to "save lives."
He admits elderly patients with "poor control of their diabetes" were most affected.
Dr Bellary told us some COVID-19 patients are given a particular drug, but doctors have to be careful with those that have diabetes:
"Sometimes we have to use a steroid called dexamethazone and that can make the sugars go up very quickly.
"So, obviously in those patients with diabetes, when the sugar control gets worse because of this treatment, we have to monitor them carefully and treat them well."
Dr Muhammad Afrasiyab Cheema reveals that "preventive" and "curative" are two key aspects when managing patients. He divulges further, saying:
"Under preventive, the entire infectious control team is involved.
"So, we try our best that COVID does not transmit from COVID patients to Non-COVID patients.
"The second aspect is curative. For this, there is a hospital guideline, which all junior doctors to consultants follow.
"When any COVID patient comes to the hospital, it depends on their situation. Do they require oxygen or not?
"If the patient is sick and requires oxygen, then we have a certain protocol.
"Then there is a score, which accordingly we categorise and start antibiotic for the patient."
Dr Afrasiyab also alludes to the fact that there are mixed outcomes:
"Our successful rate in curing patients, I can see is getting day by day better."
"In terms of tragic stories, definitely during COVID, I was disappointed.
"There were some patients who had multiple comorbidities and due to COVID left this world.
"So, definitely from a humanity point of view, you feel sad for the patients. But we try our best and are positive."
Despite the fatalities, Dr Afrasiyab suggests the long term picture is bright.
Vaccination, Defence and Misconception
Dr Srikanth Bellary believes it is a major accomplishment to create a vaccine in such a quick time and also be efficient:
"Normally takes about ten to twelve years to develop any vaccine, which is effective.
"But fortunately, due to the advances in science, we are in a position where we got the vaccine within a span of about nine months.
"And that's an incredible achievement for science to be able to do this.
"We have seen that in clinical trials, the vaccine has been very effective and it keeps up to 95% protection in certain types of vaccine.
"But of course we use about three different types of vaccine in the UK. Most of them offer about between 75 to 80%.
Dr Bellary stresses the importance of the vaccine in terms of protection and transmission across a wide base:
"I cannot overemphasise the fact that vaccine is an important way to protect ourselves, our families, our friends, and as well as the whole of our communities."
He also dismisses false information that is spreading about the vaccine:
"I'm afraid that there are lots of rumours about the vaccine that it's not safe.
"There are some kind of nanotechnology particles included in the vaccine that will track us.
"But, fortunately, they're not true and they do not have any evidence.
So, vaccines are absolutely safe and they should be encouraged in every population."
With ethnic minority groups "falling behind" with the vaccine, Dr Bellary feels it important to "fight" any widespread misinformation.
Dr Muhammad Ali Karamat encourages everyone to take up the vaccine, saying that he has had both doses.
He tells us that the vaccine is one of the exit strategies from the virus.
Dr Karamat states that the infection rate is dropping down, with vaccine rolling out in the UK.
However, he told us that it is vital to keep up the momentum:
"We've seen really good results in terms of the infections coming down.
"But at the same time, it is important that we keep going on with the preventive strategies as well.
"The vaccines take a few weeks to start effect.
"I would always say to people is when you've had your dose don't think straight away that protection is going to kick in.
"It does take about three weeks for the prevention to actually be at its peak."
Dr Karamat reassures all that the vaccine is applicable for most groups, including Muslims, with it being completely halal.
Dr Muhammad Afrasiyab reassures everyone that the vaccine rollout has had the necessary approval from the relevant body, following successful tests:
"The vaccine is approved by a proper authority and then reaches the population. The vaccine has undergone proper trials, with significant success.
He urges everyone to take the vaccines available, as they will save many from critical illness.
South Asians, Factors and Services
Dr Muhammad Ali Karamat says diabetes does pose a COVID-19 threat for South Asians.
He explains in detail, along with touching on South Asian patients likely to develop diabetes during COVID-19:
"If you're looking at it from a South Asian health perspective, then I think one of the areas, which is important to remember is that the risk of diabetes is there.
"There have been some studies, suggesting following COVID 19, slightly higher incidents of developing diabetes.
"But these studies are at an early stage at the moment, and we need to follow them up to see what that entails."
Dr Karamat also sheds light on other key factors relating to South Asians and COVID-19.
"With South Asian populations, there are unique aspects in terms of how we live, the jobs that we do."
"[This] would always have an impact on the services and actually how the risk of COVID-19 remains, particularly to multi-generation households."
Despite being in a pandemic, Dr Karamat assures everyone services, including "diabetes management, primary and secondary care" remain open.
Dr Karamat also mentions they are still providing a face-t0-face service for patients, where there is a requirement.
He claims others are being seen virtually.
He points out that for primary care and diabetes management, there was a "similar structure" in place.
Dr Karamat also alludes to the fact that there are some excellent resources available on the NHS websites.
He reveals other key aspects for diabetic patients during the pandemic. These include attending all appointments, controlling blood pressure, nutrition, diet, lifestyle and physical activity.
Dr Srikanth Bellary states COVID-19 is a major threat for British South Asians having "high levels of type 2 diabetes."
To minimise the risk of infection, Dr Bellary advises diabetic patients to frequently monitor their sugar levels and have regular consultations with their GPs and consultants.
Dr Bellary also emphasises that those who suffer from obesity, which can go in tandem with diabetes should keep their "weight in check."
Future, Precaution and Acknowledgement
Dr Srikanth Bellary states COVID-19 is probably going nowhere.
Whilst, he hopes that people will eventually have immunity, there are certain ramifications:
"I think COVID-19 is a different virus and it's very likely it is going to stay.
"We hope that over time populations become more immune and develop the ability to resist these infections.
"But equally the virus can mutate as well. We may still be able to cope with it.
"We may have to take a COVID vaccination every year.
"But if the mutations are more serious then we would have to see how we can tackle."
Thus, Dr Bellary adds with the battle still ongoing, everyone must be cautious:
"We need to be mindful that we have still not won this war. We are still fighting it.
"COVID-19 has not gone away and we cannot lower our guard. We still need to be very careful."
Dr Muhammad Ali Karamat believes moving forward during COVID-19, the world will continue to work virtually.
He says the virtual world allows flexibility for everyone.
Dr Karamat mentions it will be a similar scenario for the medical fraternity. This is by holding education sessions with medical teams and staff on a virtual basis
He also adds there are some plus points of going virtually:
"The advantages of these aspects are you can always go back and look at those sessions and keep yourself refreshed afterwards."
Dr Muhammad Afrasiyab Cheema acknowledges the majority of the public who are following the rules:
However, he does give a friendly reminder:
"We all know in public we must wear a mask.
"We have to wash our hands again and again and we have to use hand sanitisers.
"Like this, we can save ourselves and others."
He went onto praise everyone working at University Hospitals Birmingham, especially the team spirit amongst all.
Finally, he also commended his colleagues who sadly lost their lives due to COVID-19.
Watch an Exclusive Video featuring Doctors at UHB talking about COVID-19: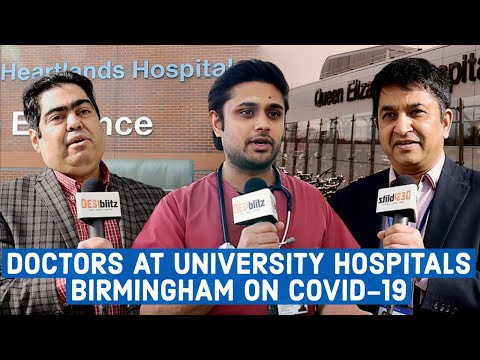 The trust has provided figures concerning patients with coronavirus, linking to diabetes:
"As of June 2020 at UHB 40% of COVID patients had diabetes. They are one and a half more likely to die due to complications.
It will interesting to note if these figures have dropped post-May 2021.
Hence, all doctors advise everyone with comorbidities to look after their health and well being.
Meanwhile, DESIblitz pays homage to everyone connected with the University Hospitals Birmingham NHS Foundation Trust.
After all, the doctors and staff members at UHB are the real heroes of corona.
For further information about the UHB Trust, including more on the coronavirus, please check here.