"Our married life has been impacted immensely."
A couple from Nottingham have been working hard on the COVID-19 frontline, dealing with sick patients during the pandemic.
The husband-wife pair are doctors who work at different hospitals under two respective trusts.
Dr Isha-Ter-Razia Habib works at King's Mill Hospital Nottinghamshire (Sherwood Forest Hospitals NHS Foundation Trust).
Her hubby Dr Muhammad Afrasiyab Cheema is working at Queen Elizabeth Hospital Birmingham (University Hospitals Birmingham NHS Foundation Trust: UHB).
Dr Afrasiyab had a hectic schedule on COVID-19 shifts from October 2020 in Renal Ward 303.
His wife Dr Isha was on the COVID-19 frontline at the beginning of 2021 in Geriatric Ward 51.
In an exclusive conversation with DESIblitz, the couple shed light and their experiences of life on the COVID-19 frontline, along with some key advice.
Impact and Married Life
COVID-19 had impacted both doctors individually and as a couple.
Dr Afrasiyab cites that on a professional level, he had to "work 12-hour shifts." He often felt tired after reaching home from a shift.
Dr Isha agrees with her hubby, adding that it was "very hectic and challenging."
She also admits that the COVID-19 rota had affected their life as husband and wife.
Whilst they live together in one city, the doctors have different jobs at two different hospitals:
"Our married life has been impacted immensely.
"I think one of the reasons being because I work in King's Mill Hospital, Sherwood Forest Hospitals, and he works in Birmingham, Queen Elizabeth."
"And we are based in Nottingham. So both sides are quite a distance apart.
"We have different hours of working. And there have been times when we have not met one another for quite a few days."
Dr Afrasiyab very romantically adds to his wife saying:
"There are times that I miss her, [as) we don't spend much quality time during this pandemic."
Despite living in the same household and not being able to see each other reinforces how difficult it was for the couple.
Routines and Outcomes
Working in the geriatric department, Dr Isha states her working days had variations due to workload during COVID-19.
According to Dr Isha, she was attending to elderly patients with dementia. This includes "ward round, getting medications" and carrying out "specific investigations."
However, Dr Isha tells us she was also on duty at the Acute Emergency Unit (AEU), dealing with COVID-19 patients.
She explains patients in the AEU were requiring oxygen, with the health of some deteriorating very rapidly.
Dr Isha says those on the decline were shifted to the Intensive Treatment Unit (ITU).
She mentions over this "long journey" outcomes for patients had varied too:
"There have been success stories. We've been able to treat patients."
"But at the same time, we have faced quite a few fatalities."
Dr Afrasiyab discloses during the COVID-19 peak, every morning began with a team meeting.
He reveals, along with his consultant and registrar, they had to review patient's lists and overnight admissions.
Dr Afrasiyab told us thereafter, in consultation with his seniors they had to decide a course of action.
He emphasises that key decisions included whether a patient required more oxygen or to involve the ITU.
Dr Afrasiyab points out that he has seen certain patients requiring up to a maximum of 15 litres of oxygen.
He divulges that despite these patients remaining on oxygen and staying in hospital for some time, many made a full recovery.
Dr Afrasiyab expresses mortality rates were higher during the second and third peaks in comparison to the first wave.
He recalls the most stressful time for doctors and relatives was when patients were on the verge of death.
Nevertheless, Dr Afrasiyab specifies that they took into consideration "the best interest of the patient's health" when treating them.
The Challenges, Vaccinator and ITU
Dr Afrasiyab says one of the major challenges for him was working outside of renal medicine.
He mentions due to the pandemic and shortage of staff, junior doctors like himself were divided as per "floor requirements."
Hence, D Afrasiyab tells us that on any given day he was working in the gastro, liver or cardio ward.
According to him, working in a "new environment" and "new ward" was a "professional challenge" during the COVID-19 outbreak.
However, Dr Afrasiyab is grateful for the support he had from his senior colleagues.
Dr Isha reveals the biggest challenge for her was when treating elderly dementia patients in a state of confusion.
Dr Isha speaks about the link between COVID-19 and mental abilities in such patients, as well as the difficulties in treating them.
"Patients who have COVID at this age tend to develop delirium. And the delirium is very long-lasting.
"And this delirium hinders our treatment because these COVID patients, most of the time need oxygen.
"[But] these patients won't keep the oxygen mask on.
"They will not comply with the treatment. They become very agitated."
"So, getting them to calm down, getting that treatment into them and obviously just planning ahead becomes very difficult for us.
Dr Afrasiyab believes he has done everything in his capacity during this challenging period.
He also appreciates his trust for allowing him to train as a vaccinator for the COVID-19 vaccine.
Thus, Dr Arasiyab confirms that he will continue to work on the "clinical side" and can "give jabs to patients."
Dr Isha has done her best under the circumstances too but wants to go further.
She expresses an interest to undergo training for ITU, overseeing "very sick patients."
She acknowledges that the trust she works under does offer to train junior doctors in this area.
South Asian Risks and Assessments
Dr Afrasiyab says the British South Asian community are at risk from COVID-19.
He references a report titled: Disparities in the risk and outcomes of COVID-19 (Public Health England: June 2020).
He reveals a key finding from the report about survival analysis, which states:
"Bangladeshi ethnicity had around twice the risk of death than people of White British ethnicity."
According to Dr Afrasiyab, the report also concludes that Indian and Pakistani people have a 10 – 50 % higher risk of dying from the virus in comparison to the British White population.
Dr Isha adds other COVID-19 risk factors, which are quite common amongst South Asians include diseases such as diabetes and obesity.
Thus, she recommends a healthy lifestyle, which includes a good diet and regular exercise.
In reply to a question about why fit and healthy South Asians are passing away, Dr Isha said:
"I think one of the major reason we know is actually the ethnicity."
"But one particular thing I would like to mention is that male gender tends to have a higher risk as compared to the female gender.
"So when we're having a risk assessment, the male gender tends to score just for the sex other than having other comorbidities."
Both doctors mention with time there will be further studies into the risk factors relating to South Asians.
Vaccine, Guidelines and Message
Dr Afrasiyab encourages everyone to take up the COVID-19 vaccine.
He references the COvid Convalescent (COCO) Study undertaken by the UHB trust, involving a set of two groups.
The study concludes a group that was vaccinated were equal or more protected than people who had the disease and then developed antibodies.
Dr Afrasiyab reassures everyone that the vaccines have had the approval of the relevant authorities.
He states these vaccines are no different to any other jabs, as they have particular side effects. However, he tells us that any reaction rate is still "really low."
Dr Isha says whilst the majority of the people follow the rules, there are still quite a few that "think COVID-19 does not exist."
She conveys to those who have taken the virus lightly that "this is not a joke." She continues her message saying:
"We being, doctors have seen patients dying, being on ventilators and without their family."
"I wish I could actually take some of these people to hospitals where patients are sick to make them believe, actually, this is something true.
"And as a nation, we should rise up and help ourselves and help those who are suffering in the hospitals.
Watch an Exclusive Video Interview with the Couple on the COVID-19 Frontline: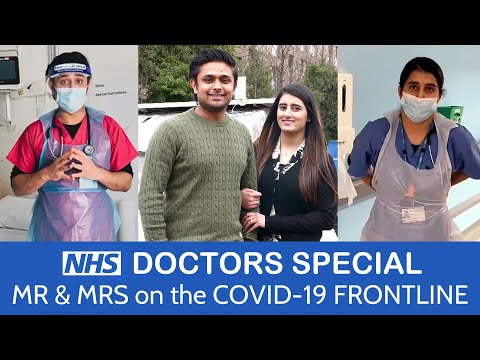 Since April 2021, Dr Afrasiyab has returned to his normal rota, working in renal medicine.
Dr Isha continues to progress in her training, going from geriatric to respiratory medicine.
Meanwhile, before signing off, Dr Isha stresses it is important to stay vigilant, concerning the coronavirus.
The pandemic has certainly been a challenging period for the Mr & Mrs on the COVID-19 frontline.
However, the couple has come through with flying colours and are hoping to continue their hard work in the medical field.